Tennessee License Plate Lookup
Looking to find out about a Tennessee registered vehicle? Know the plate but need to know more? Perhaps you want to know the vehicle's exact specs and service history or who owns it. This guide explains different ways to search for a license plate in Tennessee, what data you can expect to find and the limitations of these searches.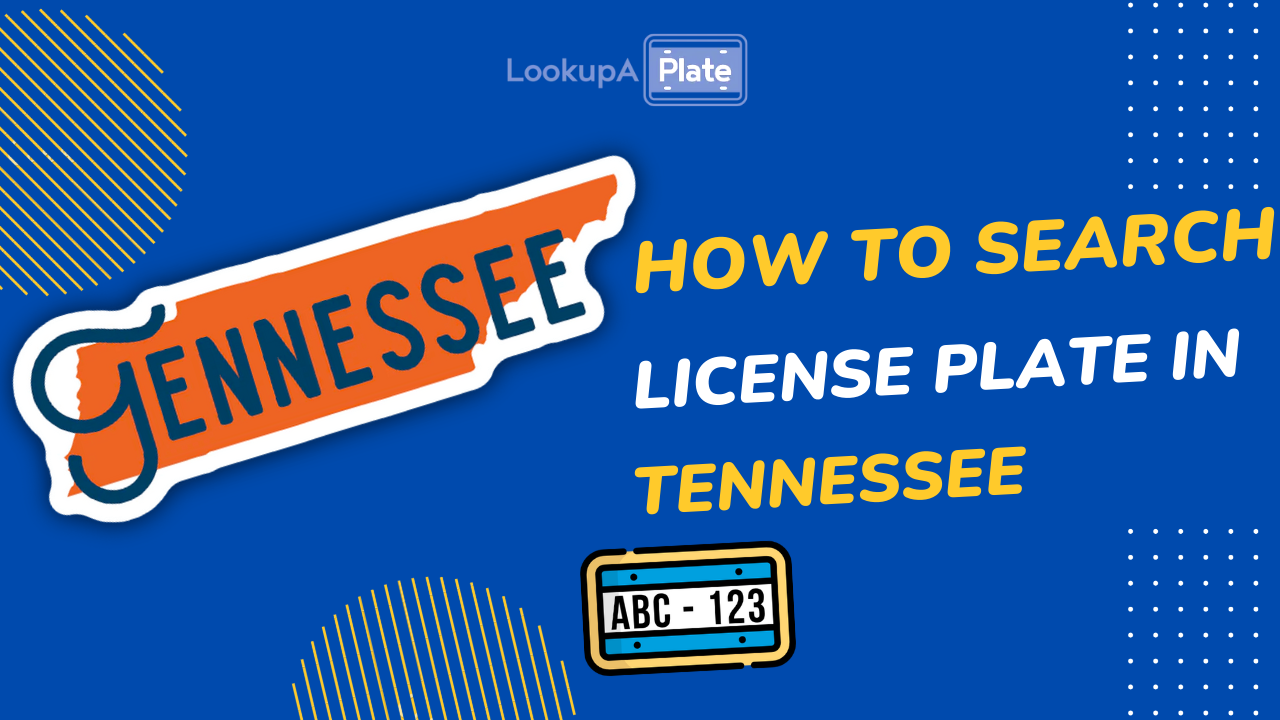 How to Search A Tennessee License Plate
1) Tennessee Department of Revenue
In Tennessee, the Department of Revenue handles the registration and titling of the vehicle in the state. So the obvious starting point may seem to contact the Department of Revenue, but before you do that, there are a few things to keep in mind.
Details associated with the license plate records are sensitive information, and the department only releases the data to authorized individuals for permissible reasons or your vehicle.
If you are eligible, you need to fill out the 'Vehicle Information Request' form with your details and include a cashier check of $1.50 (for online records) or $5 for paper records and mail it to:
State of Tennessee,
Department of Revenue Vehicle Services Division
500 Deaderick Street Nashville, TN 37242
2) Online Lookup Services [Free/Paid]
If you don't want to get into mailing the documents and waiting for the report, you can try one of the many online lookup services. These services are online and you can expect the records in seconds. But then what's the catch? First, most of the services are paid, and the report is more oriented towards the vehicle and its history. Only select services show ownership data and need you to abide by the DPPA regulations.
While we can't recommend any particular service, we would like to chime in about our offering LookupAPLate.com - a free service to lookup a license plate. The basic search is free and yields vehicle specs and for a nominal fee, you can also request a comprehensive report from our partner service.
But wait, we offer more! Beyond lookups, our community platform allows you to leave feedback against a plate and report bad drivers. Your comments, pictures and videos can help others identify reckless drivers on the road and, in a way, contribute to the community.
How to Identify a Tennessee License Plate?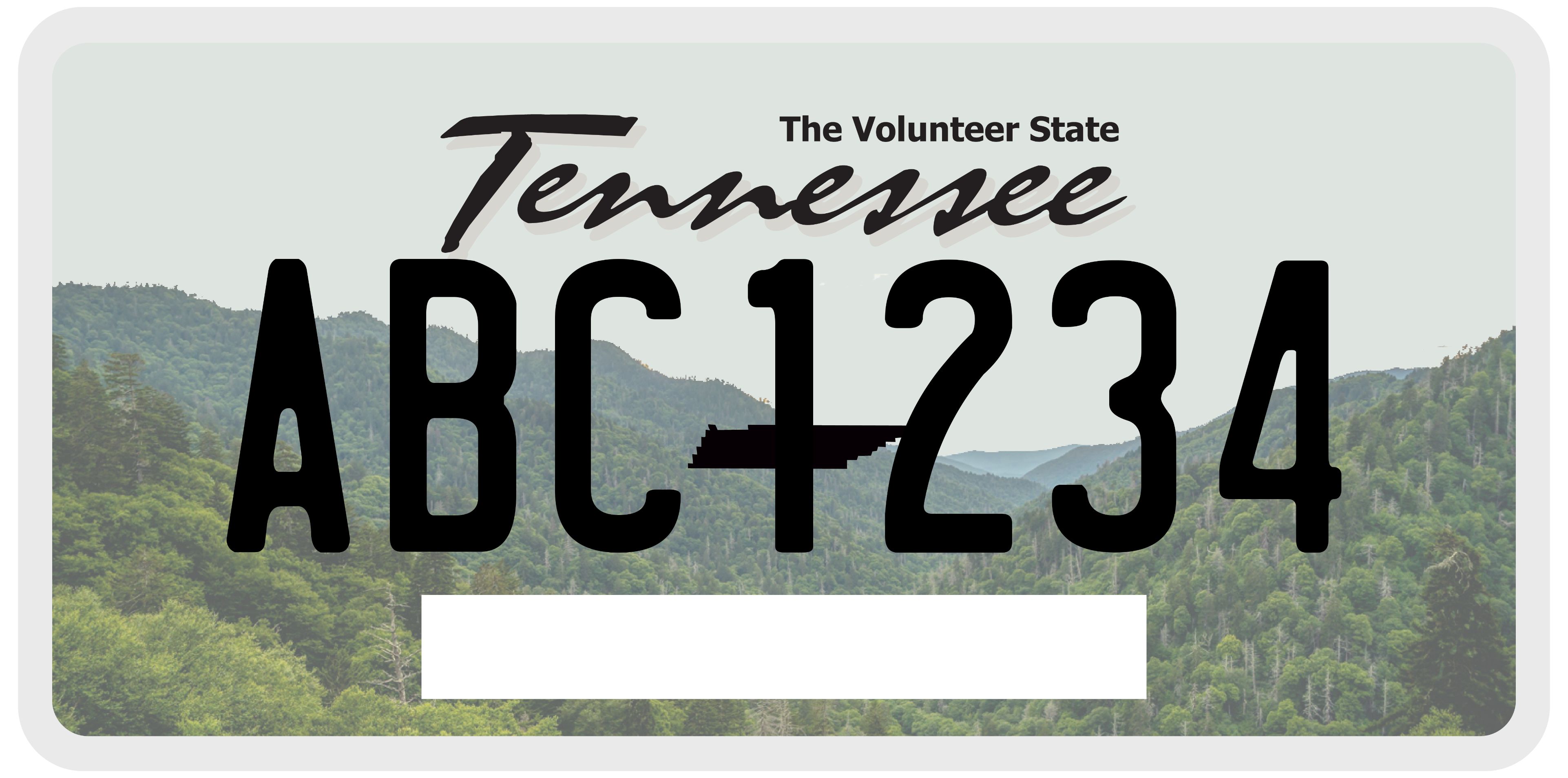 Tennessee plates have changed quite dramatically over the years. The most recent edition, issued since January 2022, is dark blue with white lettering, with 'Tennessee' written at the top inside an outline of the state and 'The Volunteer State' in the top left corner. The separator is a starred flag logo; right at the bottom is a sticker with the county name.
You're more likely to recognize the Tennessee plate as a white plate with pale green hills set behind black lettering, which was used from the beginning of 2006 through to the start of 2022. Although the plate format has changed several times over the years, the format is typically 6-7 digits, separated after the third. Such as ABC-1234.
Did you know that until the 1950s, Tennessee license plates were in the shape of the state? After 1956, the plates took on the same 6x12 inch dimensions standardized across the rest of the United States.
License Plate Laws
Like some other southern and eastern states, Tennessee only requires vehicles to have rear license plates.
In Tennessee, you can transfer your existing plates to a new car and you would only be required to pay a transfer fee to do this. You can't transfer your existing plates to a new owner.
Additionally, you must surrender plates if they are no longer needed (by way of selling the vehicle or moving away), if you no longer meet the criteria for your disabled plates, or if you no longer hold valid insurance.
Similarly, you have a duty to report stolen plates to the police and the Department of Revenue (who will assist you in acquiring a new set.)
Cost
Tennessee plates cost $35, with additional fees for specialty plates and in certain counties. An annual registration costs $26.50, with an increased fee for personalized plates.
Types of Plates
There are a variety of non-standard plates you can see in Tennessee. One important type is the disabled plate, which any physically disabled person (mobility, vision etc.) or their guardian is entitled to. These have a wheelchair emblem on the left and a plain white background – for veterans, the plain background is filled with the American flag.
Other specialty plates exist to show support for everything from Dolly Parton's Dollywood Foundation to colleges to sports teams.