Rhode Island License Plate Lookup
The Ocean state is not only the smallest (area-wise) in America but also ranks in the bottom ten for having the least amount of motor vehicles per capita. However, there are still nearly 866,625 vehicles on the state's roads, and searching for a Rhode Island license plate can be useful in certain situations. For instance, a quick vehicle tag search can come in handy when buying a used car from a private party or towing an abandoned vehicle.
In this article, we'll share different ways in which you can get started with the search, what data you can expect from the search and the limitations of each method.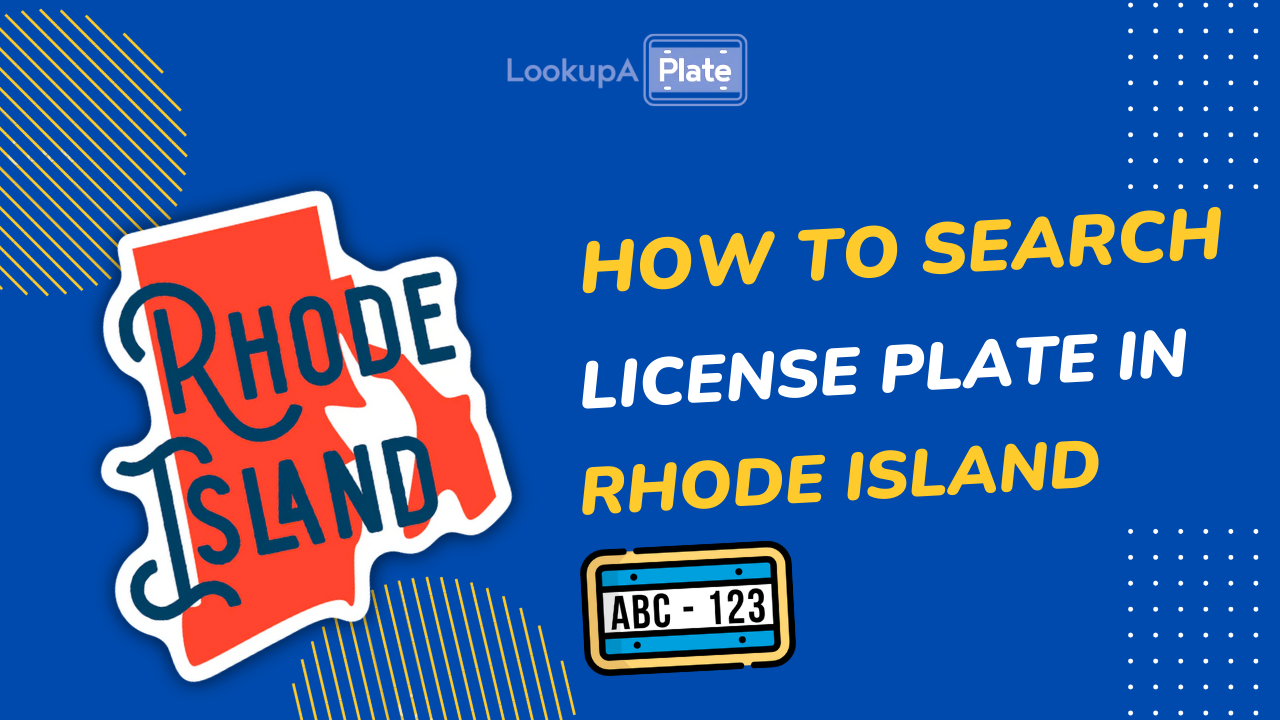 Ways to search a license plate registered in Rhode Island (RI)
1) Rhode Island Division of Motor Vehicles
The official way to request a vehicle plate record is through the DMV, but it requires you to meet certain eligibility criteria, and it can take up to one to two weeks for the report to be processed.
Due to privacy reasons, the DMV restricts who can access the plate date and for what reason it can be disclosed. Government agencies, attorneys, towing companies, insurance companies and private investigators are some authorized individuals/entities. The DMV doesn't allow individuals to request plate data for a private search.
You can read more about the reliability conditions here. If you qualify for a plate search, you need to fill the form "Certificate of Acceptable Use" [Link]and mail it to the following address:
STATE OF RHODE ISLAND
DIVISION OF MOTOR VEHICLES ADMINISTRATION
OFFICE 600 New London Avenue Cranston,
RI 02920-3024
Phone: 401-462-4368
2) Online Public/Private Search Platforms
Several third-party online services allow you to search for the plate of any Rhode Island registered vehicle. Such services offer rather instant results, but more often, the granular report is inclined towards the vehicle history, accident history, sale history and more. Only certain services allow you to request ownership details, but they also fall under the periphery of DPPA regulations.
ABOUT OUR OFFERING
LookupAPlate.com allows you to search for any plate for free on our platform. However, the report is restricted to the history and technical specs of the vehicle. Additionally, you can also leave feedback against a license plate that you may have experience with [Good or Bad].
We've also tied up with a third-party service that gives a very comprehensive report of the vehicle and, in some cases, the ownership details [provided you have a valid reason].
How to identify a Rhode Island License Plate?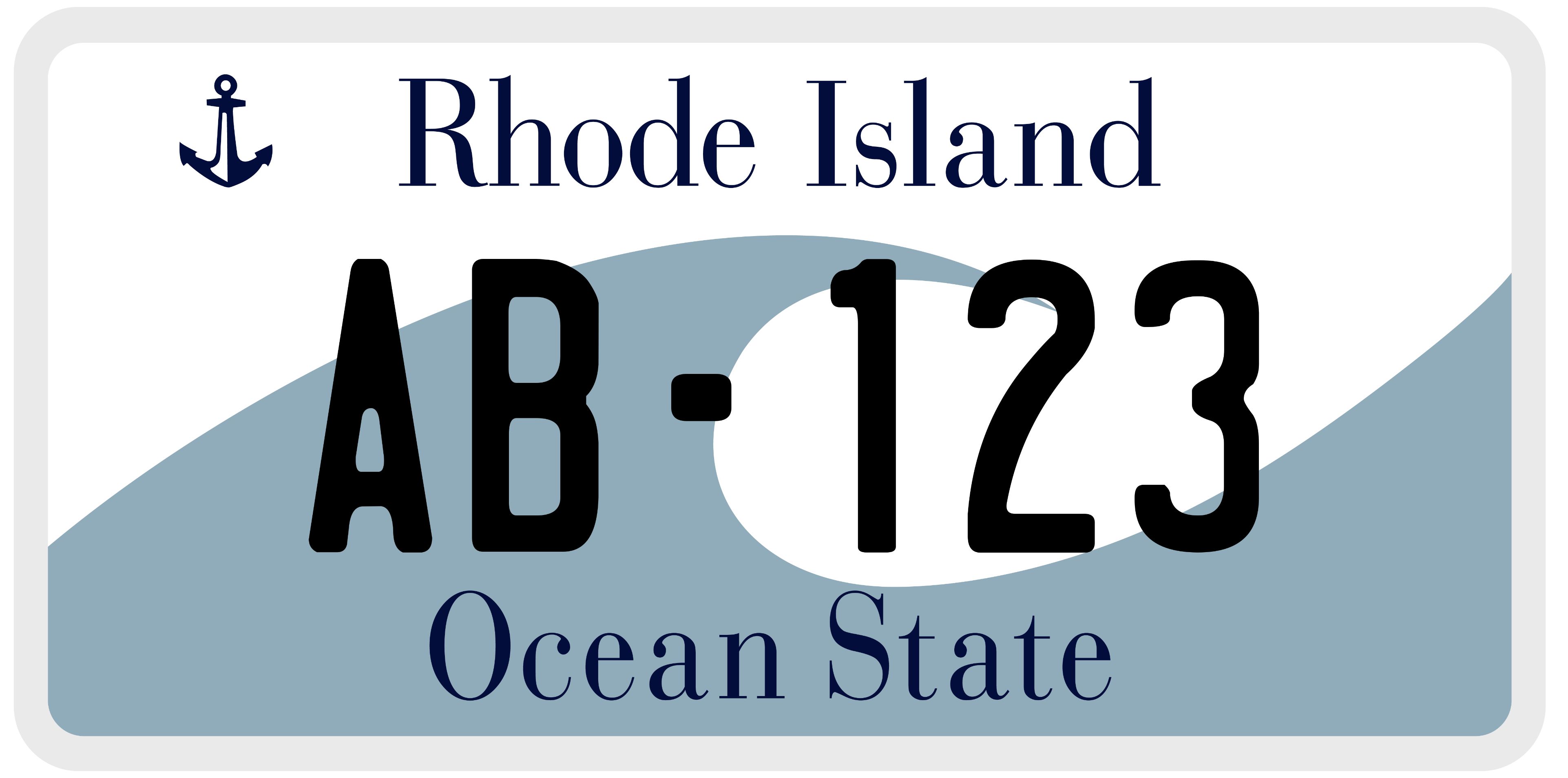 The Rhode Island DMV issues license plates with different designs, but the most common and official license plate is the blue wave design.
The license plate measures 6 inches by 12 inches and is made out of aluminum. The plate features a gray and light blue ocean wave design in the background. The top of the plate has the state name, "Rhode Island", and a graphic of an anchor in blue. The bottom of the plate has the nickname of the state printed "Ocean State". The validation sticker is placed on the bottom right corner.
The license registration number is embossed in blue in the center of the plate. The registration number is 5 or 6 characters long and is alpha-numeric.
Typical registration number format: AB-123, 123-456, 1AB234
Rhode Island License Plate Types
Like the rest of the states, Rhode Island DMV offers a variety of license plates for different types of vehicles as well as different designs.
Standard vehicle plates: These are the most common type of license plates that are issued to passenger vehicles, commercial vehicles, campers, RVs, trailers and vans.
Electric vehicle plates: Rhode Island residents who own an electric vehicle are eligible to get a green-themed license plate.
Special plates: There are over 15 different types of special interest license plates that the Rhode Island DMV offers. These include plate designs for organizations, causes, charities, colleges, etc. The DMV allows custom license plate designs as long as there is a minimum of 600 applicants for the design.
Bristol Fourth of July
Conservation Through Education
Gloria Gemma Breast Cancer Resource Foundation
New England Patriots
Plum Beach Lighthouse
RI Community Food Bank - Mr. Potato Head
Red Sox Foundation
Rocky Point Foundation
Wildlife Rehabilitators
Autism Awareness
Boston Bruins Foundation
Boy Scouts of America
#DSTRONG
Gaspee Days Committee
Providence College
RI Day of Portugal
Rhode Island Saltwater Anglers Foundation