Illinois License Plate Lookup
Do you need to perform an Illinois license plate lookup? Maybe you've seen a car driving around your neighborhood with a strange license plate and you want to know more about it. Or maybe you're considering buying a used car and you want to make sure the vehicle has never been in any major accidents.
There are many other reasons people do a license plate search, but the big question is: how to do a license plate lookup in Illinois?
3 Ways to Search an Illinois License Plate
There are three main ways to do a license plate lookup in Illinois. These are:
Getting information from the state or the DMV
Using information brokers or third-party websites
Hiring a private investigator
It's common for sellers not to disclose all the information to you when buying a car. Conducting a license plate search can save you a lot of trouble in the future. The methods listed above can provide you with different types of information to help you make an informed decision on your purchase.
Let's look at each method in brief detail.
1) Getting Information from the State or the DMV
To get vehicle information at the DMV, you need to fill out the Illinois Vehicle Records Request Form. You can do this by visiting the website or going to the DMV offices. The state will only give you basic information like;
Accident history
Driver criminal history
Fuel efficiency
Maintenance history
Repossession history
Mileage
Weather/natural damage
Although license plates are part of public records, you cannot get personal information about the previous owners of a particular vehicle.
Personal data in the state of Illinois is protected under the DPPA laws. However, this doesn't mean that you can't get a driver's personal information. Individuals and businesses can get personal data if they fill in a request form promising to use the information for legal purposes.
The people authorized to get personal data about a driver are the police, government agencies, and investigators. They, too, must operate under the DPPA laws and prove why they want this information.
2) Using third-Party lookup services
Third-party or private lookup services allow you to search for a license plate online conveniently, but more often than not, you need to pay a fee. Usually, such services have access to a wider database, including dealership networks, repair shops, Copart marketplace feed, etc. The report tends to be more comprehensive and includes detailed vehicle history - service records, odometer readings, accident history and more. Some services can also fetch vehicle ownership records if you have a DPPA-compliant reason.
While we can't recommend any particular service, we'd like to mention our offering. LookupAPlate allows you to search for a license plate in Illinois and other US states for free. We offer a free basic search that includes vehicle make and model, pictures and more. You can also read any existing reports filed by other users and file your report. You can also request a vehicle history report from our partner data provider for a nominal fee.
3) Hiring a Private Investigator
This is the most expensive option to look up a license in Illinois. Private investigators are efficient because they can get accurate information quickly. They will use third-party websites and their contacts to confirm if the information is correct.
Private investigators work for law firms, but it is legal for you to hire one if you want hard evidence about someone. If you are a victim of a hit and run, you can hire a private investigator to look up the license plate of the suspected driver so he can be found and brought to justice.
How to Identify an Illinois License Plate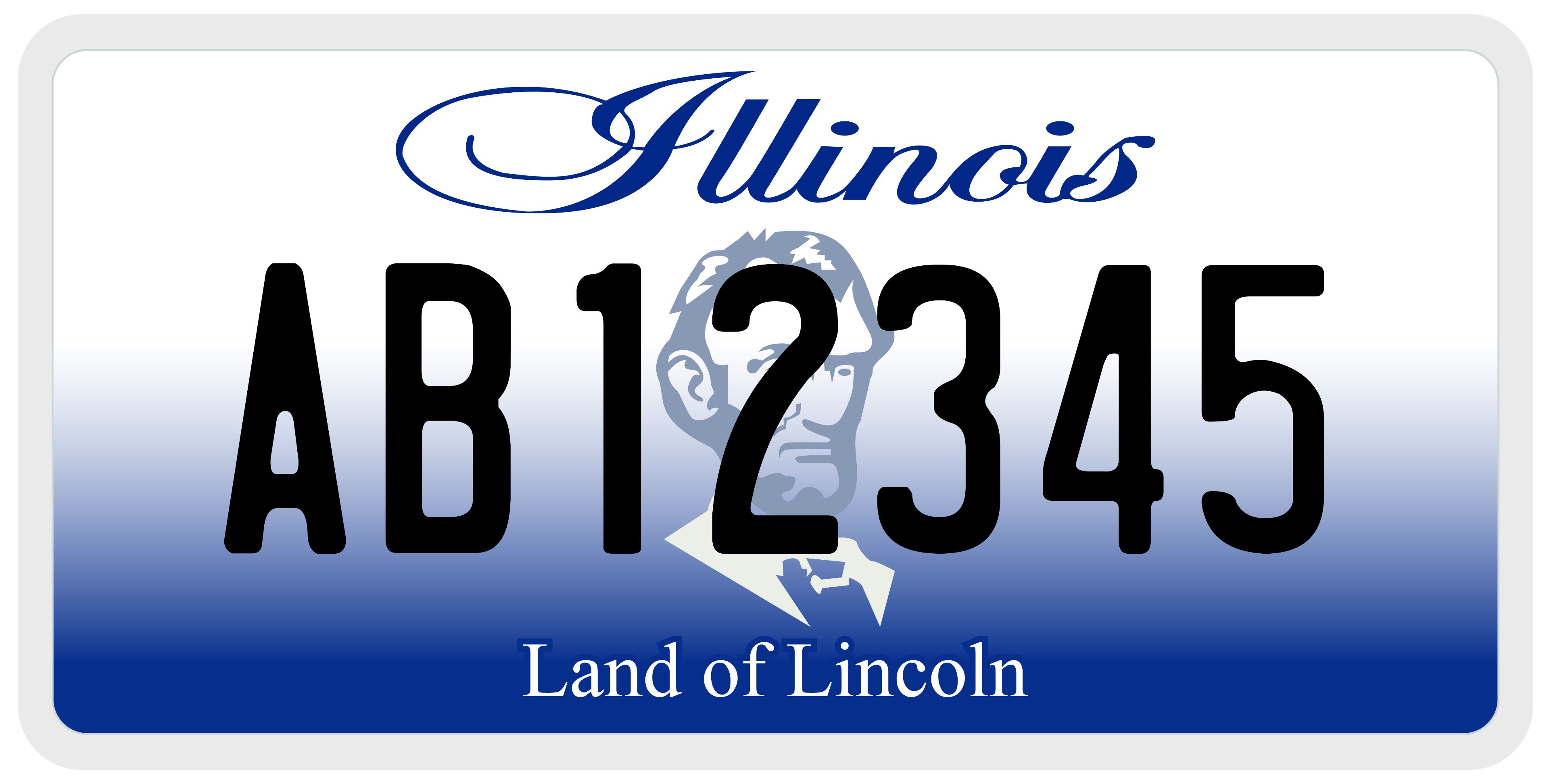 The current Illinois license plates have Illinois written in caps, serif front at the top. It also has a picture of Abraham Lincoln on the left side and a skyline with a picture of the Willis Tower and the state capitol building in the background.
An Illinois License plate size is 12 x 6 inches or 30 x 15 centimeters. It is made from aluminum, and the serial number format starts with three letters followed by four numbers.
Illinois License Plate Laws
Here are some of Illinois' most common license plate requirements that every driver should know.
All vans, trucks, and passenger vehicles must have a license plate in the front and back of the car.
You are not allowed to have a license plate cover.
License plate frames should not hide or cover any of the information displayed on the license plate.
Motorcycles, trailers, mopeds, semitrailers, and buses registered under apportionment provisions need to have one license plate at the back of the vehicle.
The license plate belongs to you and not the vehicle.
Apportioned straight trucks and truck-tractors should have one license plate at the front of the vehicle.
Illinois License Plate Cost
A basic driver's license in Illinois will cost you $30. However, it might differ depending on a person's age. For example, a person over the age of 87 will get a driver's license in Illinois for free.
Other costs (depending on age) include:
Age 18-20 - $5
Age 21-68 - $30
Age 69-80 - $5
Age 81-86 - $2
Driver's license costs for other vehicles are:
Commercial vehicles - $60
Motorcycle - $10
School bus - $4
It will cost you $6 to replace your license. If you need to replace both the front and rear license plate, you will spend $9. A sticker will cost you $20. You can pay for these services online via the state's website under the e-services tab.
Types of License Plates Available in Illinois
Besides the standard license plates, Illinois also offers personalized plates for vehicles under 8000Ibs. Personalized plates cost more than the normal ones. You will only get a personalized license plate if your car is titled and registered.
You cannot use a personalized plate on a leased car, a vehicle in a trust, or one that belongs to a registered business.
Illinois has many types and designs such as:
Passenger
Antique
PanHellenic
Sporting series
Specialty
First responders
Military series
Recreational/trailer vehicle
Professional sports
College series
Persons with disabilities
The state also offers standard plates for special groups, foundations, and organizations. Below are a few examples:
Environmental plates
Illinois Hospice
Illinois Nurses
Eagle Scouts
Chicago Bears
Autism Awareness
Alzheimer's Awareness
Rotary Club
Organ donors
Illinois Police