Delaware License Plate Lookup
Are you trying to find out information about a Delaware license plate? Perhaps you need to search a plate for insurance purposes, or maybe you're the owner of a towing company and want to verify the vehicle details. The good thing is you can search for a license plate online or offline in Delaware, but some of the data might be restricted.
How to search for a Delaware (DE) license plate?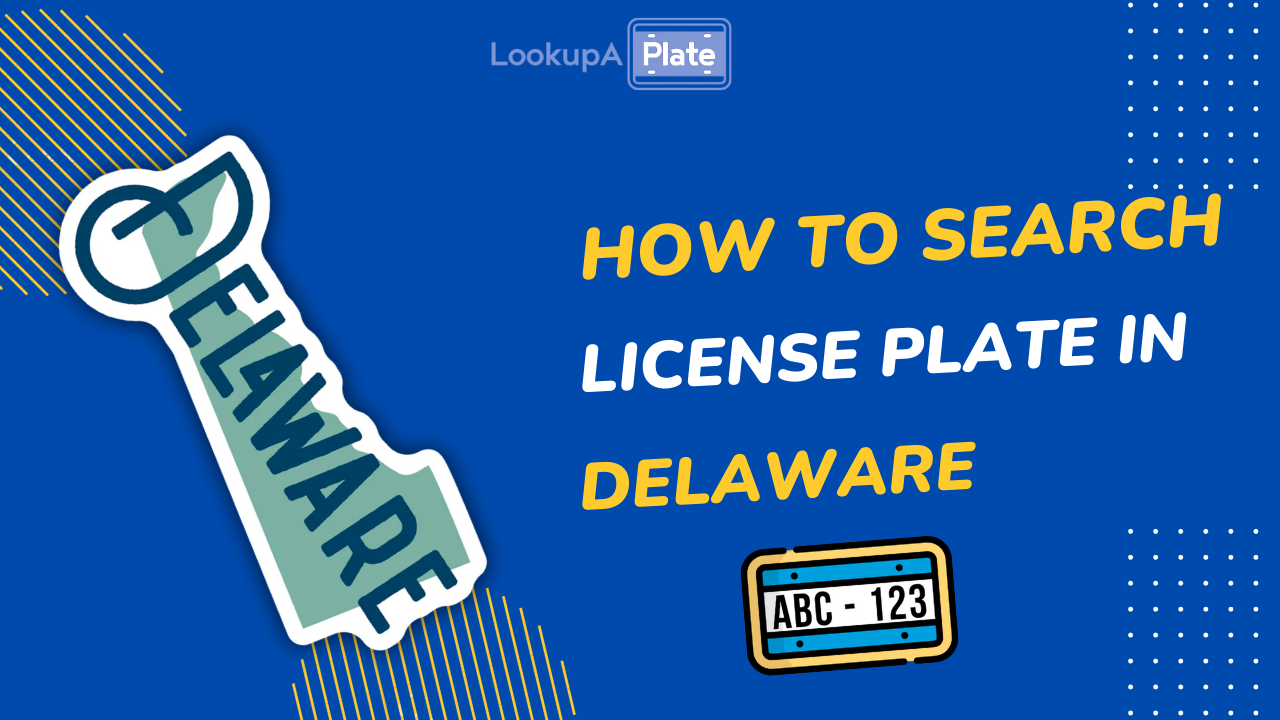 There are a couple of ways that you can go about this depending on whether you're interested in vehicle records or the owner's information.
1) Delaware Department of Transportation, Division of Motor Vehicles
The Delaware DMV maintains all vehicle and driver records in the state. You can fill out the "PERSONAL INFORMATION RELEASE FORM" with the DMV to release the information as long as you've got a valid reason.
You need to mail the form to this address:
Mailing Address:
Division of Motor Vehicles
ATTN: Correspondence
P.O. Box 698
Dover, DE 19903
Phone number:
302-744-2506
302-744-2538
Please note that only authorized personnel, businesses and government bodies with a legitimate reason will have access to this information. The requestor must also have a verifiable reason for the request and provide proper identification.
2) Online public record services
Several online public record services offer license plate lookups. Such websites usually source data from NHTSA, car auction websites and other private sources and offer a more comprehensive vehicle report like the sale history, market value, maintenance records, lien records and more. However, note that some websites may charge a fee for the service. Select service may also be able to find the vehicle owner's information (only if you have a permissible reason).
3) LookupAPlate.com
LookupAPlate is an online community to share and reports bad drivers online. You can also search for a license plate on our website for free and see the vehicle report and if there were any complaints or reports filed against the driver.
What does a Delaware license plate look like?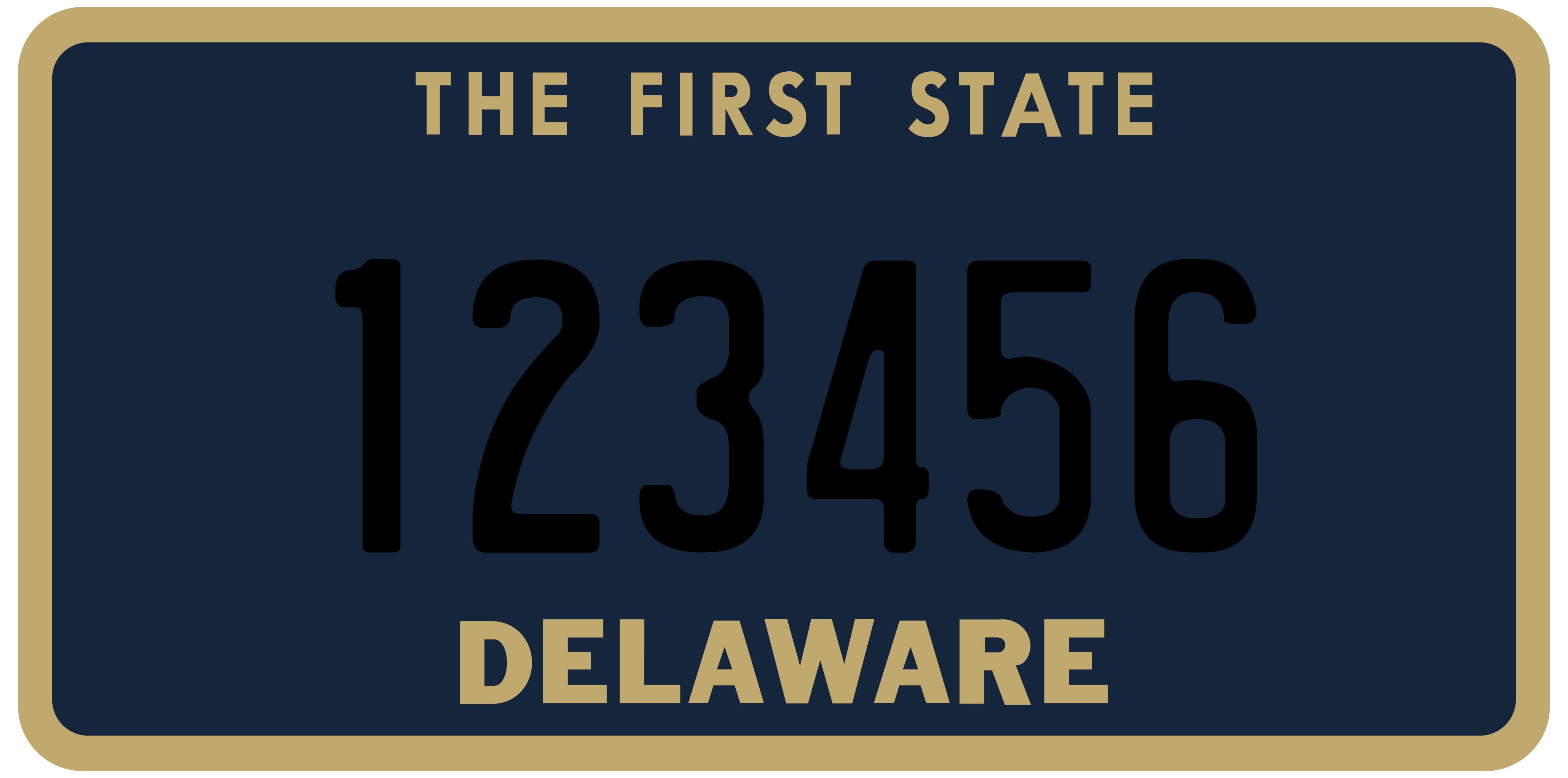 A Delaware license plate has a navy blue background with a golden border and golden letters and numbers. The word "The First State" is written across the top of the plate, and "Delaware" is written at the bottom. The metal license plate measures 6 inches by 12 inches.
Delaware is among the few states with a full numeric license plate numbering system. This means that there are no letters in the serial, only numbers. The license number is six digits long, and the series was last introduced on January 1, 2000.
Types of License plates or tags in Delaware:
You can choose between a standard license plate and a specialty license plate in Delaware. Specialty plates cost an additional fee and have a unique design. You can also get a vanity license plate, which allows you to choose your custom serial number.
1) Standard license plates: These are the basic default plates that vehicle owners get unless they choose a specialty plate.
2) Specialty license plates: These have a unique design and often support a cause or organization. Some specialty license plates have an additional fee, while others require a minimum donation. From breast cancer awareness to environmental causes and military service, there are many different specialty license plates to choose from.
College Plates/Tags: Collegiate plates show support for colleges, sororities and fraternities and also generate funds for college programs. Some of the popular ones are:

Alpha Kappa Alpha
Alpha Phi Alpha
Delaware Technical University
Delaware State University
Delta Sigma Theta
East Carolina University
Goldey Beacom College
Johns Hopkins University
Kappa Alpha Psi
Ohio State University
Omega Psi Phi
Penn State University
Phi Beta Sigma Fraternity, Inc.
Purdue University Alumni
Saint Josephs University
Temple University
University of Delaware
University of Michigan

Military Plates/Tags: Those who have served or are serving in the military can choose from various license plates, including Army, Navy, Marines, Air Force, and Coast Guard.
Organization Plates/Tags: There are also plates for different organizations, such as the National Guard, Delaware SPCA, and Girl Scouts.
Last updated: 18/08/2023