Colorado License Plate Lookup
Searching for a Colorado license plate can serve various purposes, including verifying vehicle title records and ensuring that all details are in order when purchasing a used vehicle.
The most recent figures show there are 6,837,465 license plates registered in Colorado – when you need to find information on just one out of the six million+, it can feel daunting, especially if you don't know where to begin. To save you the hassle, we've put together this guide that explains your options and the limitations of the search.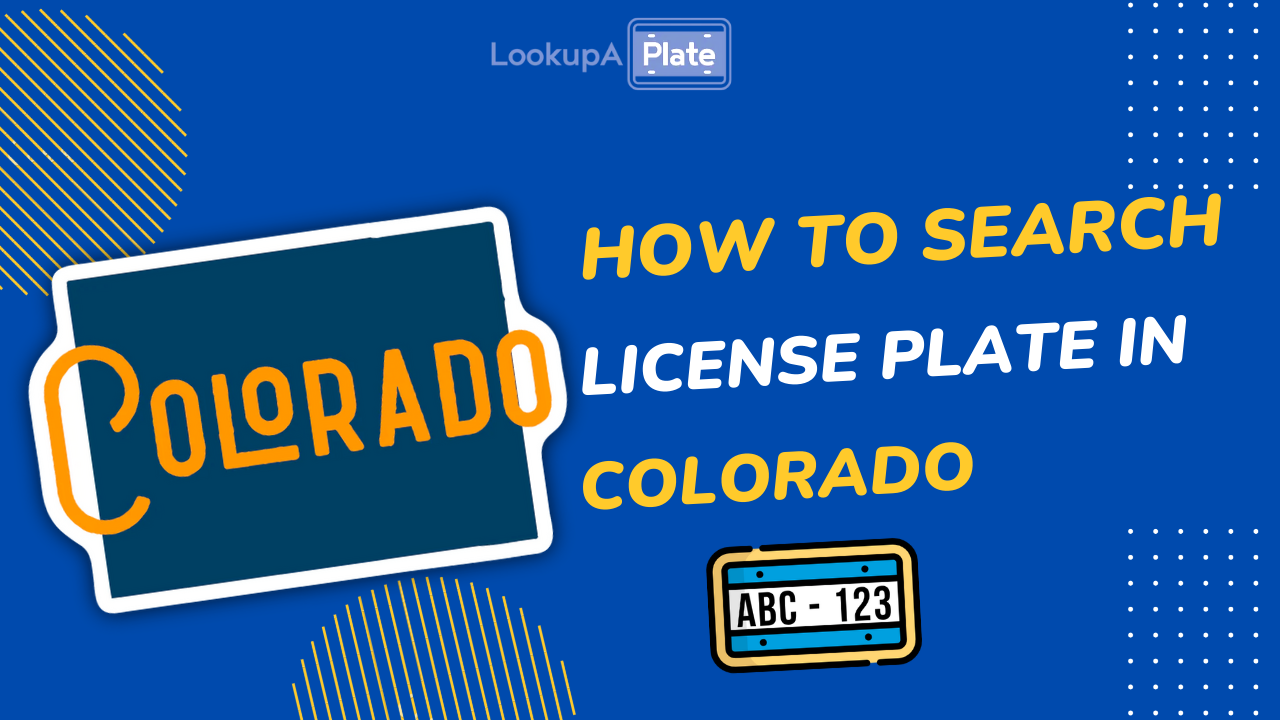 How to Search a Colorado License Plate
1) Colorado Department of Revenue, Division of Motor Vehicles (DMV)
Contacting the DMV may seem an obvious choice for license plate records - after all, the DMV is responsible for issuing license plates in the first place. However, the DMV wouldn't simply hand over or release the records to the general public.
The DMV only releases the license plate records to the registered vehicle owner, authorised parties (law enforcement, insurance etc.) and for permissible reasons. The federal DPPA (Driver's Privacy Protection Act) regulates who and for what purpose the personal information associated with the licence plate can be released.
If you're eligible, you can request the records online or over the mail.
You can do this online at https://dmvpartner.colorado.gov/_/ or by submitting a DR 2489A Motor Vehicle Requestor Release Affidavit of Intended Use. The DMV requires you to disclose your personal information and verify that you are requesting the information under a 'permissible use'. The search costs $2.20, and it takes around three weeks to receive the report back.
2) Third-Party Lookup Services
Requesting the records from the DMV can take weeks and require you to do some paperwork. However, you can use an online third-party lookup service if you're after a quicker and more straightforward option. These services don't have access to the official DMV records, but they tap into public, private and their own databases to provide you with the information. Usually, the report would cover exhaustive vehicle history, which includes service history, odometer tampering information, accident history and more. Select services may also be able to fetch the owner's details as long as you have a valid or permissible reason (as per DPPA).
While we can't recommend any particular service, we'd like to chime in about our offering. LookupAPlate.com offers free license plate lookups in Colorado and other states in the US. With a free search, you'll have records on vehicle specs, recall history, service history, and sale history in a matter of seconds! Our community platform also allows drivers to report other road users for dangerous or concerning behavior. Additionally, you can request a comprehensive report from one of our data vendors.
3) Private Investigators.
Of course, there is always the option of paying a private investigator to find out this information for you, but it will not be cheap, and you'd still need a valid reason. With their experience in information discovery, you will likely be able to find out whatever you would like to know about a given vehicle. If you already have a PI on retainer, they'll be able to get this information for you, but it is not the simplest option for most people!
How to Identify a Colorado License Plate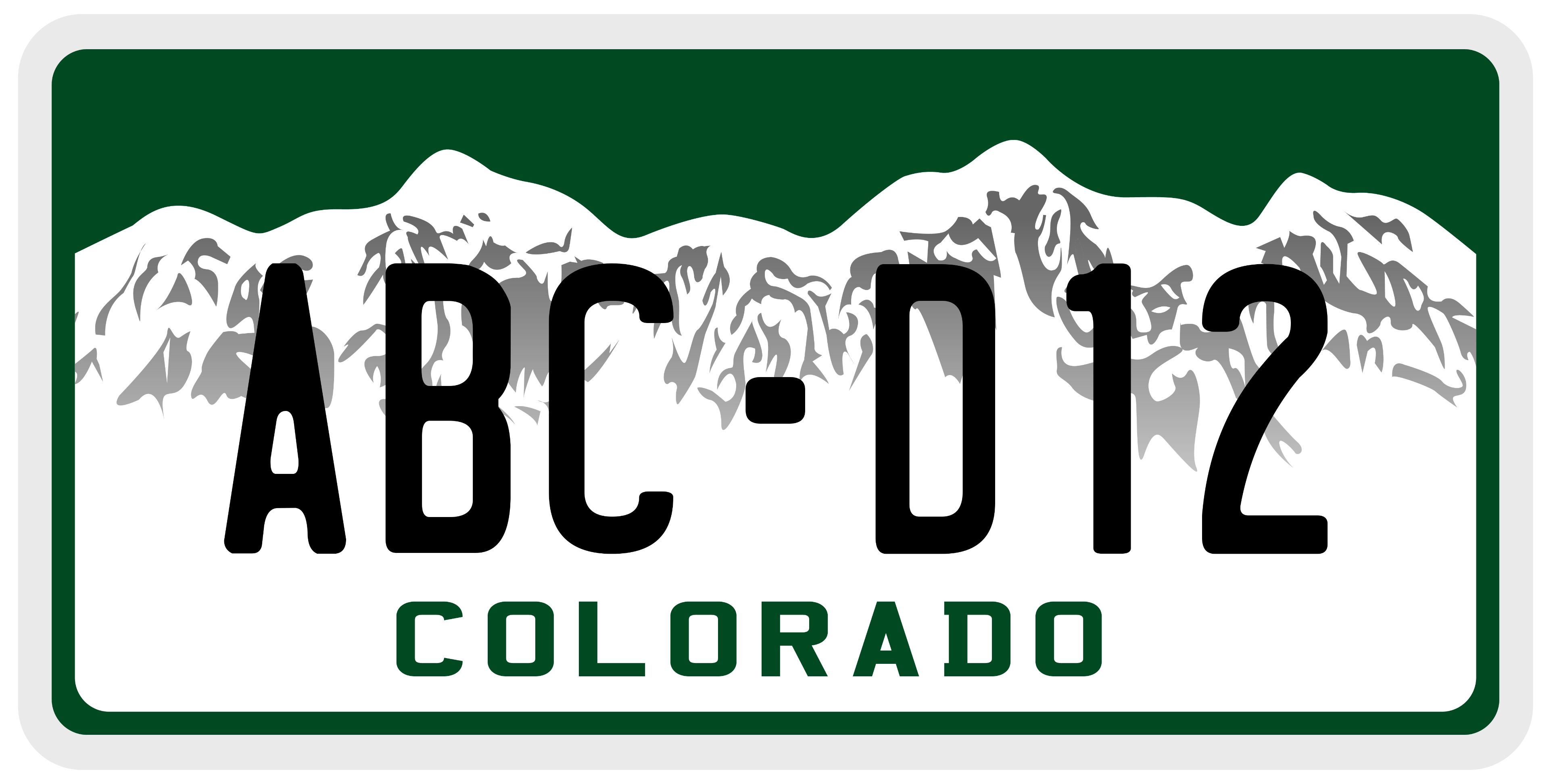 Colorado license plates depict snowy mountains in white and grey against a dark green sky. The lettering is embossed in the same shade of dark green and 'COLORADO' is inscribed at the bottom of the plate.
The plate number format has changed many times throughout the years. Currently, it follows the ABC-D12 format and has done so since 2018. Historically, it has been in ABC(-)123(4) format, though for a period between 2000 and 2015, the numbers came before the letters.
There are various specialty plate options and on non-passenger vehicle plates, the dark green is replaced with red.
Colorado License Plate Laws
Laws regarding license plates differ throughout the United States. Colorado is a state where license plates are issued to the owner rather than the vehicle. This means that upon sale or transfer of the vehicle, the plates do not change hands and the new owner will have to register the vehicle and acquire new plates themselves.
In Colorado, all vehicles apart from motorcycles and trailers are required to have both front and back plates at least 12 inches from the ground.
The plates are 6 x 12 inches, as is standard across the United States. However, the plates for motorcycles are smaller.
Colorado License Plate Cost
Generally, plates are $50, to begin with and $25 for a renewal. However, there is some variation in cost based on county and type of plate. Specialty plates have varying costs.
However, there's a positive to Colorado's non-transfer of license plates. As when you sell your car, you can keep the plates to use on your next set of wheels, resulting in the saving of some money. Likewise, the new owner of your vehicle will either have to use their previous ones (registered to the new vehicle) or register a new set.
Types of License Plates
Apart from the standard green and white snowy mountain plates, there are some other versions of Colorado license plates with different appearances. These are known as specialty plates. Typically, these come at a higher cost, and the cost varies from design to design. In most cases, a part of the amount is donated to charity or a cause that the plate endorses.
Some plates offer unique designs, from showing support for the boy scouts (which comes with yellow and brown accents and a logo) to announcing that you're a greyhound lover (a purple-ish pink plate with a leaping greyhound in the middle.) So if you see a peculiarly colored plate on the roads of Colorado, it could well be one of these! You can additionally personalize the plates with a custom serial number.
Broadly, there are 4 categories of specialty plates in Colorado:
Historical and Special License Plates
5 Year Collector
Amateur Call Letter
Colorado State Patrol
Commercial Fleet-Set
Dealer Demo
Dealer In-Transit
Farm Tractor
Government-Set
GVW Truck
Horseless Carriage
Manufacturer
SMM Exempt
Special Use Truck
Colorado Senator Senate District
Taxicab
Transporter
U.S. Representative
Year of Manufacture
5 Year Collector Truck/Tractor
Apportioned Plates
Commercial Call Letter
Commercial Fleet- Single
Dealer Full-Use
Depot Tag
Farm Truck
Government - Single
Livery
SMM Dealer Demo
Special Mobile Machinery
Colorado Representative House District
Street Rod
Tow Truck
TVW (GVW Tractor)
U.S. Senator
Group Special License Plates
Adopt A Shelter Pet
Aviation
American Indian Scholars
Breast Cancer Awareness
Carbon Fund
Child Loss Awareness
Colorado Nurses
Colorado Rockies
Columbine
Donate Life
Fallen Heroes
Flight For Life Colorado
Greyhound Lovers
Juvenile Diabetes Research Foundation
Mesa Verde National Park
Pikes Peak Hill Climb
Protect Our Rivers
Raptor
Rotary International
Share the Road
Special Olympics
State Parks
Support the Horse
Support the 10th Mountain Division
ALS
Boy Scouts
Broncos Foundation
Court Appointed Special Advocates for Children (C.A.S.A.)
Childhood Cancer Awareness
Colorado Avalanche
Craig Hospital
Delta Sigma Theta Sorority
Denver Nuggets
Epilepsy Awareness
Emergency Medical Services
Firefighter
Colorado Professional Firefighter
Girl Scouts
Hospice and Palliative
Italian American Heritage
Kids First
Pioneer
Pueblo Chile
Rocky Mountain National Park
Ski Country USA
Support Education
Support Foster Families
Support Pollinators
Support the Troops
Wildlife Sporting
Military / Veteran License Plates
4th Infantry
Bronze Star
Civil Air Patrol
Disabled Veteran Handicapped
Distinguished Service Cross
Fallen Army
Fallen Marine
Honorably Discharged Veteran
Medal Of Honor
Navy Cross
Pearl Harbor
Purple Heart
Submarine Service
U.S. Air Force
U.S. Army 10th Mountain Division
U.S. Coast Guard
U.S. Navy
USS Colorado
Veteran of Iraq War
Veteran of World War II
Air Force Cross
Bronze Star of Valor
Disabled Veteran
Disabled Women Veteran
Distinguished Flying Cross
Fallen Air Force
Fallen Coast Guard
Fallen Navy
Korean War Veteran
National Guard
Prisoner of War
Silver Star
U.S. Army
U.S. Army Special Forces
U.S. Marine Corps
U.S Women Veterans
U.S. Space Force
Veteran of Afghanistan War
Veteran of Operation Desert Storm/ Shield
Vietnam Veteran
Last updated: 17/08/2023