Alabama License Plate Lookup
Are you looking for information on a vehicle in Alabama? Maybe you would like to report a bad driver, or perhaps you want to check the vehicle's title records. An Alabama license plate lookup can help track the owner of a vehicle, the make and model, and the associated data. This guide will discuss how to conduct a vehicle owner lookup in Alabama and what kind of information you can expect to find. We will also provide some tips on how to use this information effectively. Let's get started!
As of 2019, in Alabama, there were 5,288,208 registered vehicles equaling 1.9% of total vehicles in America. There are 4,026,151 driving license holders, equating to 1.8% of the national total. In 2020, in Alabama, there was a traffic crash every 3 minutes and 55 seconds.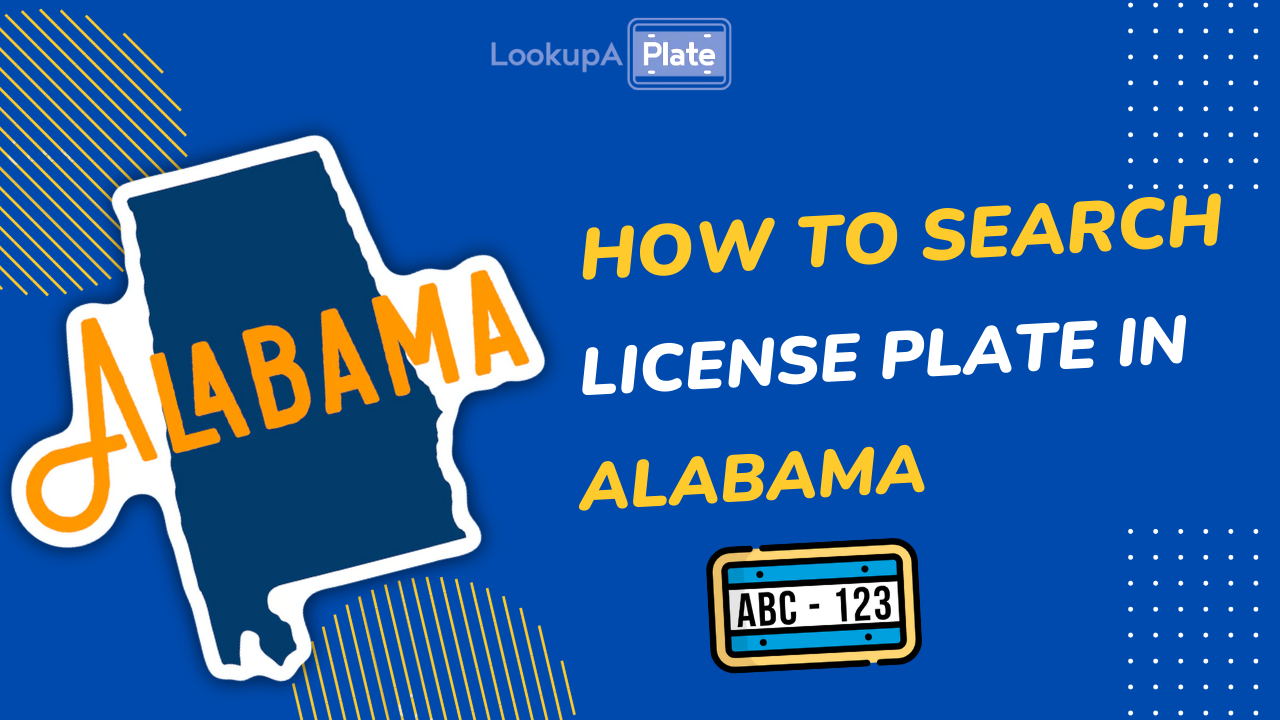 How To Search Alabama License Plates
There are a couple of ways to conduct an Alabama license plate lookup: using our website Lookupbyplate.com, a private investigator, and online background check websites.
Alabama Department of Revenue: The Motor Vehicle Division of the Alabama Department of Revenue maintains the license plate records. However, the department only released the records to authorized parties and under certain circumstances as defined in the DPPA (Drivers Privacy Protection Act). The department generally accepts requests from law enforcement agencies, insurance companies, towing companies or if there is a permissible reason. If you are eligible, you can request the vehicle record using this link.
Using our website Lookupbyplate.com is the easiest way to conduct an Alabama license plate lookup. All you need to do is enter the license plate number into the search bar on our website and press "Search." Within seconds, a full report will be generated that includes important vehicle specs, history, and more. You can additionally request owner details from one of our partners, view community-reported incidents of the particular vehicle and submit your feedback. There is no need to create an account on our website, fill out any forms or provide your personal information.
Using a private investigator is another way to conduct an Alabama license plate lookup, but it is also the most expensive way. The investigators have direct access to Alabama DMV title records and can quickly run the search. You would need a proper cause to look for information about the vehicle and its owner.
The last way to conduct an Alabama vehicle owner lookup is through online background check websites. You will need to create an account on the website and provide some personal information before running a background check. This method is relatively fast but may not always yield results.
How to Identify an Alabama license plate?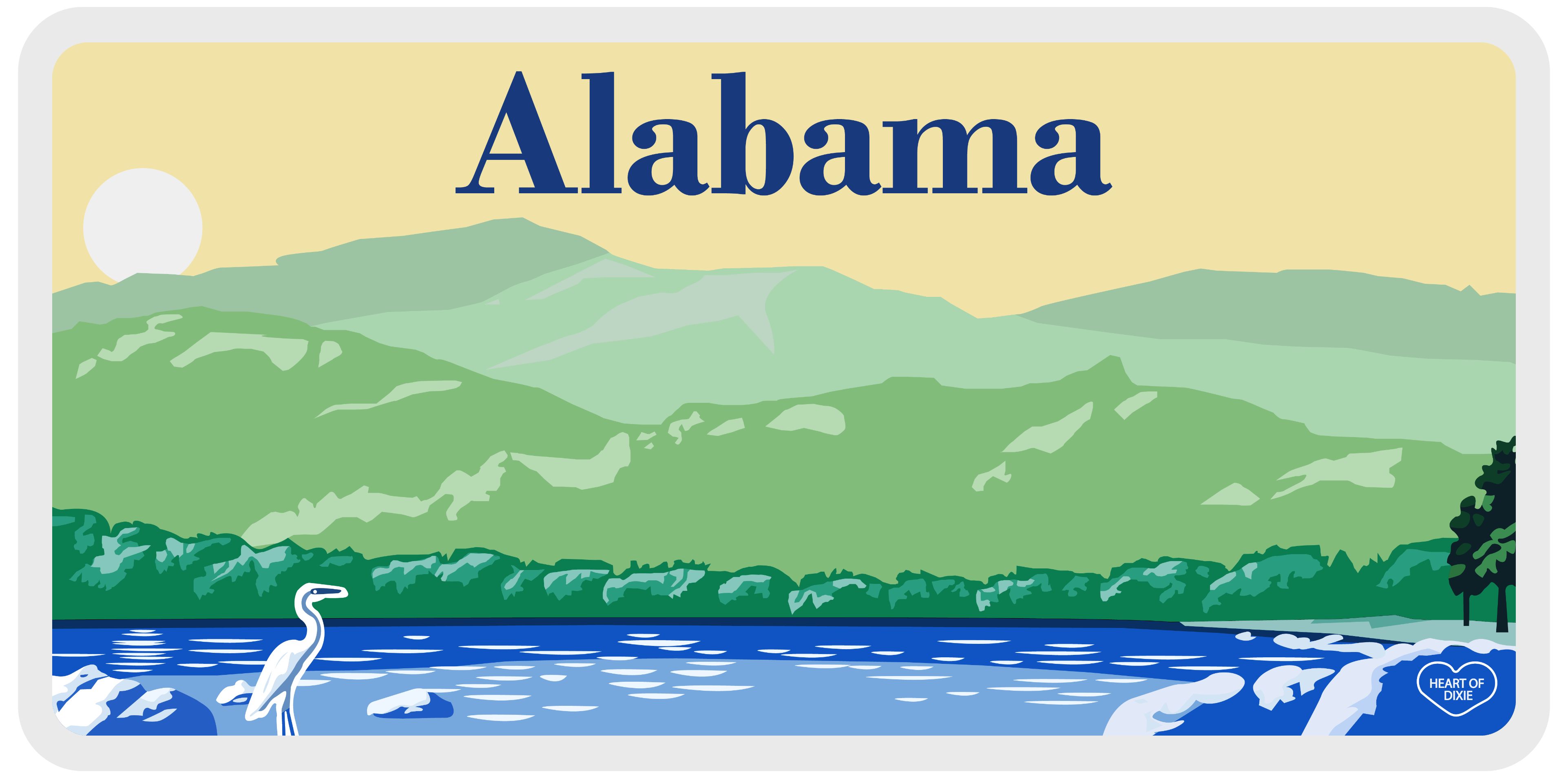 Before conducting the license plate lookup, you must ensure it's an Alabama registered vehicle. Here's how you can go about identifying an Alabama license plate:
A standard Alabama license plate is 6 inches by 12 inches (15.24 cm by 30.48 cm). It has a lake and forest background with a blue, green and yellow colour scheme, and the license number is screen printed in black. Further, on the top, "Alabama" is printed in bold, "Heart of Dixie" is written in the bottom left (small print), and a two-digit year is stamped on the plate. The Alabama Department of Revenue introduced the current series on January 2, 2014.
The Alabama registration number is seven characters long and starts with one or two digits (depending on the county), followed by two letters and then two or three digits.
License number format: 0AB1234 or 00AB123 (depending on the county).
Alabama is one of 21 states that require the license plate to be displayed at the rear of the vehicle only.
License plate cost:
The base registration cost of the license plate is $23, plus there is a $50 annual charge. Additionally, some counties impose local fees and ad valorem tax. The state transfer is $1.25.
Types of License Plates:
There are following types of license plates available in Alabama:
1) Standard License Plates - These are the plates that most Alabama vehicles will have. It's issued to Alabama residents who own private vehicles, motorcycles and pickup trucks.
2) Personalized License Plates - A personalisable license tag with a combination of letters and numbers selected by the vehicle owner. The fee for this type is $50, in addition to regular fees.
3) Specialty License Plates - Specialty or vanity license plates allow you to customize your tag to show your support for a charity, athletic team, college and university of your liking. Such license plates can also be specialized. The Alabama Motor Vehicle Division currently identifies 122 types of specialty plates.
Some of the famous specialty plates in Alabama are:
Alabama Bicentennial
Alabama Cattlemen
Alabama Forests
Alabama Gold Star Family
Alabama Nurses Foundation
Alabama Treasure Forest Association
Alpha Kappa Alpha
Amateur Radio
Autism Acceptance
Barber Vintage Motorsports Museum
Breast Cancer Research
Cahaba River
Choose Life/Support Adoption
Curing Childhood Cancer
Delta Sigma Theta Sorority
Ducks Unlimited
Educator/Retired Educator Plate
Environmental
Farming Feeds (Ag Tag)
Fight Breast Cancer-Joy to Life
Fighting Cystic Fibrosis
Firefighter
Forever Wild
Fraternal Order of Police
Freemason
Freshwater Fishing
God Bless America
Habitat for Humanity
Helping Schools
Hope for Kids With Diabetes
In Memory Of
Law Enforcement Memorial
Mending Kids' Hearts
Ovarian Cancer Research
Professional Firefighter
Realtor
Rescue Squad
Retired Firefighter
Ronald McDonald House Charities of Alabama
Saltwater Fishing
Save the Saturn V
Shriners
Sickle Cell Awareness
Sons of Confederate Veterans
Spay-Neuter
State Parks
Stop Domestic Violence
Support the Arts
Wildlife Federation
National Wild Turkey Federation
Last updated: 18/08/2023