Wisconsin License Plate Lookup
A license plate lookup can help uncover crucial information about the vehicle, which can be helpful in various situations. For instance, when buying a used car conducting a license plate search can help verify the vehicle's history, find out if it was stolen or was in any accidents and more. Similarly, a towing company can use the search to find out information about an abandoned vehicle.
There are a couple of ways to search license plates in Wisconsin, but keep in mind that each method has certain limitations (discussed below).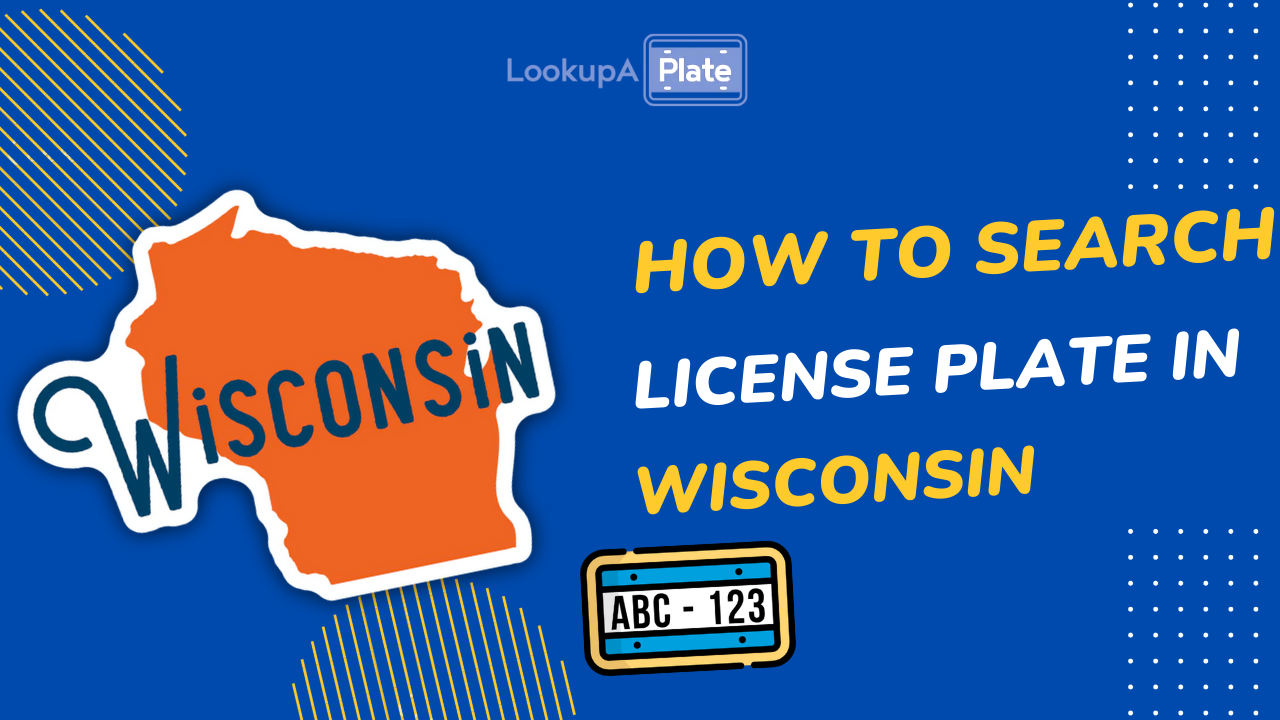 Ways to search a Wisconsin (WI) license plate
Use our license plate lookup service.
You can search any Wisconsin tag or, for that matter, any US license plate for free on our website. You can check technical information and vehicle history, such as VIN, model, year of manufacture, registration details, accident history and whether the vehicle was reported stolen. For a fee, you may also request ownership records and a more comprehensive vehicle report from our third-party data partner (need an acceptable reason).
Through the Wisconsin Department of Transportation (DOT)
The Department of Motor Vehicles (DMV), a subdivision of the Wisconsin Department of Transportation (WisDOT), is the custodian of motor vehicle records registered in the state. While Wisconsin follows Open Record Laws allowing residents to access public records, personal information in license plate records is deemed confidential.
You'll need to provide a valid reason or must have a permissible reason as defined in the DPPA (Driver's Privacy Protection Act) to obtain such information. You can find more information about the eligibility requirements in this MV2896 form (section C).
The vehicle or driver records request can be placed online, over mail or in person. Fill out the form MV2896 and submit it to:
Vehicle Records, WisDOT
PO Box 7995
Madison WI 53707-7995
The fee per record is $2.
How to identify a Wisconsin license plate?
It's important to ensure the license plate you're looking up is registered in the badger state and not an out-of-state plate. While it may seem obvious to be able to tell which state the license belongs to, with newer designs and the introduction of specialty plates, sometimes it can be tricky.
A standard Wisconsin license plate has a pretty basic design - white background with a small lake and farm graphic on the top right. On the top left, the state name "WISCONSIN" is written in all caps in red. At the center of the plate, the serial number is embossed in black and at the bottom, "America's Dairyland" is printed in red.
The license serial number is a unique seven-character alpha-numeric code issued by the Wisconsin DMV. The license number typically follows this format: ABC-1234.
Wisconsin License Plate Types:
There are several different types and designs of license plates in Wisconsin.
License plate design varies based on the vehicle class:
Automobiles
Buses
Dealers
Heavy trucks and trailers
Light trucks
Miscellaneous
Motorcycles
License plate designs:
Standard: Plates with the standard lake and farm design. These are the most common plates you see plying on Wisconsin roads.
Vanity plates: Personalized or vanity plates are also available in Wisconsin. One can choose a personalized plate number as long as it is not already taken, does not contain any obscene or offensive language and is as per the DMV guidelines.
Official: Issued to municipal, state-owned and state patrol vehicles.
Tribal/Indian band: These are issued to recognized Indian tribes and bands.
Bad River Band of Lake Superior Chippewa Indians
Ho Chunk Nation
Lac Courte Oreilles Chippewa Band of Lake Superior Indians of Wisconsin
Lac du Flambeau band of Lake Superior Chippewa Indians
Menominee Indian tribe of Wisconsin
Oneida Indian tribe of Wisconsin
Red Cliff Band of Lake Superior Chippewa
St. Croix Chippewa
Universities: Collegiate license plates recognise Wisconsin colleges and universities.
Eau Claire
UW-Madison
Green Bay
Madison
Milwaukee
Oshkosh
Parkside
Platteville
River Falls
Stevens Point
Stout
Superior
Whitewater
Special plates: There are over 48 different types of special plates in Wisconsin that support and honor various causes, professions, organizations, colleges and businesses.
Amateur radio
Antique
Celebrate Children Foundation
Choose Life Wisconsin, Inc.
Civil Air Patrol
Collector
Collector special
Cure childhood cancer
Disabled
Disabled veteran
Donate Life Wisconsin
Ducks Unlimited
Emergency medical services
Endangered resources
Ex-prisoner of war
Firefighter
Freemason
Gold Star Family
Golf Wisconsin
Green Bay Packers
Harley-Davidson/Share the road
Historic military vehicle
Hobbyist
In God We Trust
Keeping the Lights On
Lao Veterans
Law Enforcement Memorial
Lions Foundation
Marquette University
Medal of Honor
Military group
Milwaukee Brewers
Milwaukee Bucks
Nurses change lives
Operating Engineers
Rescue squad member
Rocky Mountain Elk Foundation
Special designed vehicle
Scouting alumni
Trout Unlimited
University
US veteran motorcycle
Whitetails Unlimited
Wisconsin National Guard
Wisconsin Salutes Veterans
Wisconsin Women's Health Foundation
Submit a community report.
If you encounter a bad driver driving recklessly or cutting you off, you can flag a report against the license plate on our platform. Not only can you write about the incident, but you can also upload supporting images and videos. While the report may not have any legal bearing, it can help alert other drivers in the community and make them aware of such drivers.