West Virginia License Plate Lookup
Searching a license plate in the mountain state can help find important information about a registered vehicle. This includes but is not limited to the following:
Vehicle make, model, year of registration
Service History
* Odometer reading
Vehicle specs like engine, transmission, and body type
Accident history
Whether stolen or not
* Ownership history
Title registration
* might not always be available or have limited information
The technical and non-sensitive information associated with the tag is easily available. However, for personal details such as the registered owner's name and address, there are certain restrictions in place as to who and for what purpose it can be accessed.
In this guide, we'll explain different ways in which you can search a license plate in West Virginia and what data might be easily accessible and what might require additional permission.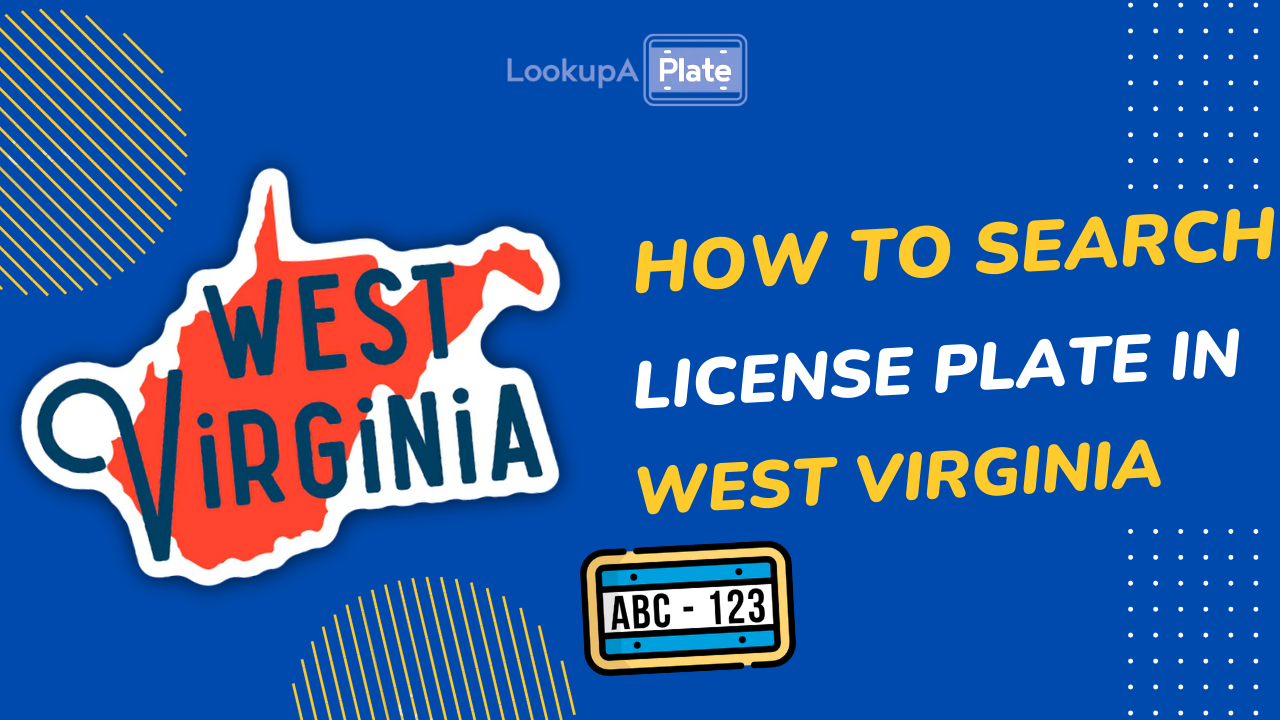 How to search a license plate in West Virginia
There are two ways to go about the search - the DMV and the private databases. Each method results in different levels of information and ease of search.
1) West Virginia Division of Motor Vehicles (DMV)
The first and obvious option is to reach out to the West Virginia DMV for the license data. However, the DMV has certain restrictions regarding who can access the data and for what purpose.
To protect the privacy of vehicle owners, the DMV only allows certain entities to access this information. West Virginia Uniform Motor Vehicle Records Disclosure Act (similar to the federal DPPA) lists down the authorized entities and permissible reasons. These entities generally include law enforcement, insurance companies, towing companies, employers etc.
If you're an eligible entity or have a valid reason, you need to fill out the form DMV-100-TR and mail it to:
West Virginia Department of Transportation
Division of Motor Vehicles
Request for Vehicle Information
PO Box 17150
Charleston, WV 25317
The cost for the search varies from $1.50 to $10, depending on what records you're seeking.
If you don't fall under the list of allowed entities, you can try searching the plate against private databases, which we will discuss next.
2) Private Databases
There are several online license plate lookup services available that allow you to run a search by simply entering the license plate number. Such services usually have access to public, private, and proprietary data sources, thus providing a more comprehensive report. The details may include vehicle history, accident history, sale history, service history and vehicle technical specs. Some services may also allow you to request ownership details as long as you've DPPA compliant purpose.
While we can't recommend any specific service, we offer a free license plate lookup service that allows you to view basic vehicle parameters like engine, transmission, year of registration, etc. For a more comprehensive report, you can request a detailed report for a nominal fee from our third-party provider.
How to identify a West Virginia License Plate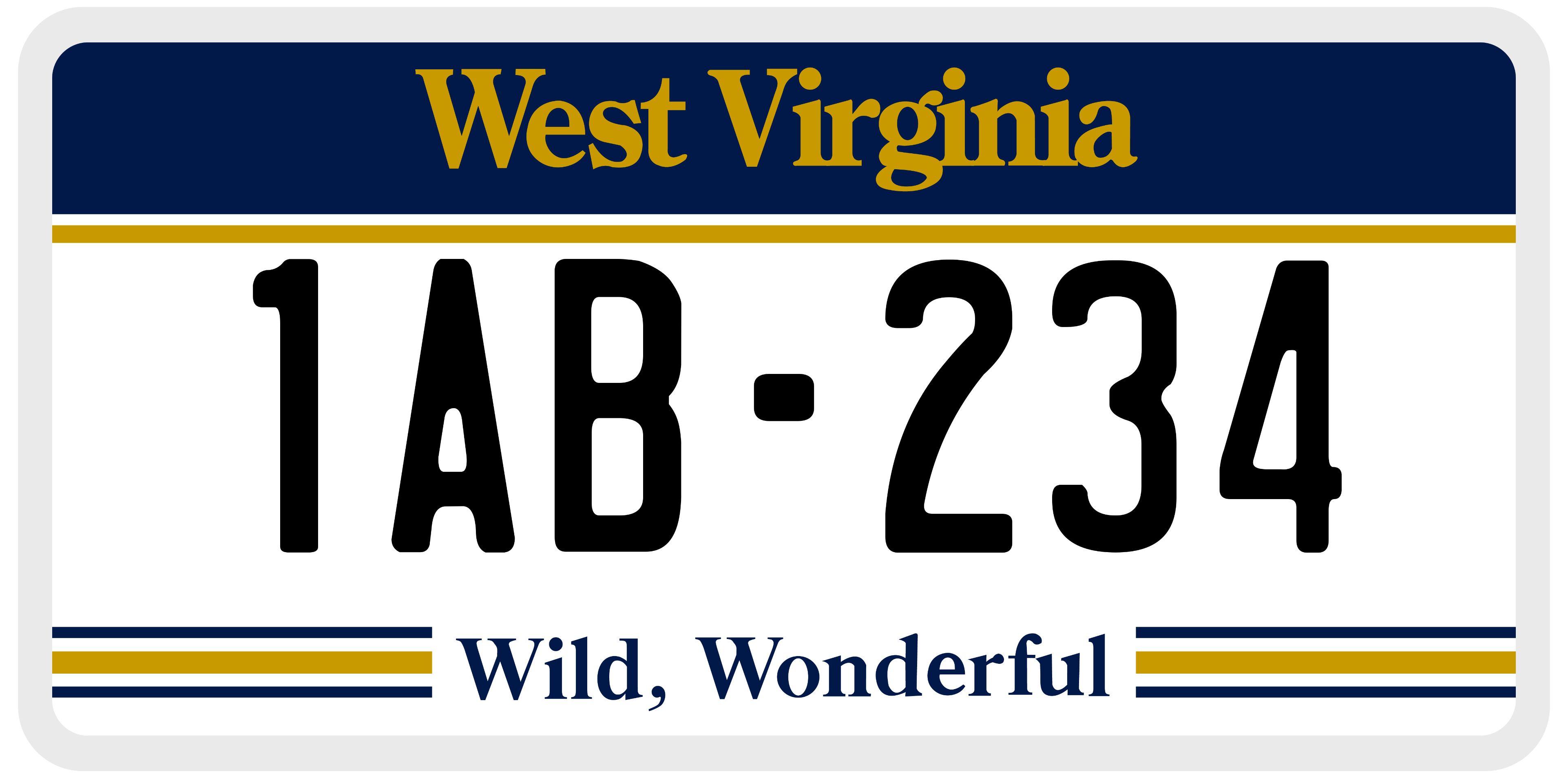 Before you begin your search for a West Virginia license plate, you need to make sure the plate belongs to the Mountain state. It's easy to get confused since specialty and vanity plates may not clearly mention the state of origin.
A standard West Virginia plate has a pretty basic yet classic design. The background of the plate is gray with checkered marks and blue and yellow stripes. The state's name, "WEST VIRGINIA," is printed across the top in yellow on a blue background. The license serial number is embossed in blue in the center. The bottom of the plate has the text "Wild, Wonderful" in blue.
The license serial number is a unique 7 characters alpha-numeric code issued by the DMV. The license number typically follows this format: 1AB 234. The current series was introduced in January 1995.
West Virginia License Plate Types
West Virginia DMV offers several types and designs of license plates. Broadly there are three types of plates:
1) Standard plates: The default plate issued to passenger and commercial vehicles that don't opt for specialty plates or personalized plates.
2) Personalized plates: These plates are available for an additional cost and allow the vehicle owner to choose the license serial number.
3) Specialty plates: These plates are issued for a specific cause, profession, organization, college or group and have a unique design.
Specialty plate categories:
Associations & Organizations
911-Enhanced Council
A.F. & A.M.
Amateur Radio
Back the Blue Wounded in the Line of Duty or Surviving Spouse
Benevolent Protective Order of Elks
Beni Kedem Temple
Bowlers
Certified Firefighter
Contractors Association of WV
Deputy Sheriffs Association
Emergency Medical Services
etc.
Alderson-Broaddus College
Concord College
Davis and Elkins
Marshall University
Penn State Alumni
Virginia Tech
Wesleyan College
West Virginia State College
West Virginia University
WV Tech
150th Anniversary License Plate
9-11 Commemorative
Antique Vehicle
Back the Blue
Breast Cancer Awareness
Character Education
Cure Childhood Cancer
Educator
FFA - 4H
Friends of Coal
In God We Trust
Mobility Impaired
NASCAR® - Carl Edwards #99
Organ Donor
Protect Pollinators
Scenic
United We Stand
Whitewater Rafting
Wildlife - Bluebird
Wildlife - Box Turtle
etc
82nd Airborne Division Association
Air Force Cross
Air Force Reserves
Air Force Retired
Air Medal
Air National Guard
American Legion
Army National Guard
Army Reserves
Army Retired
Bronze Star
Coast Guard Reserves
Coast Guard Retired
Combat Infantry Badge
Combat Medic
Disabled American Veterans
etc.