Virginia License Plate Lookup
Do you need to look up a Virginia license plate? There could be several reasons that warrant the need to search a license plate. When buying a used car, a reverse license plate is the only way to verify the vehicle details if the VIN is unavailable. Instances such as hit-and-run accidents, suspicious or abandoned vehicles on your property, or knowing who the car belongs to might also lead you to search a Virginia license plate.
This guide explains your search options and highlights what information you can expect to find.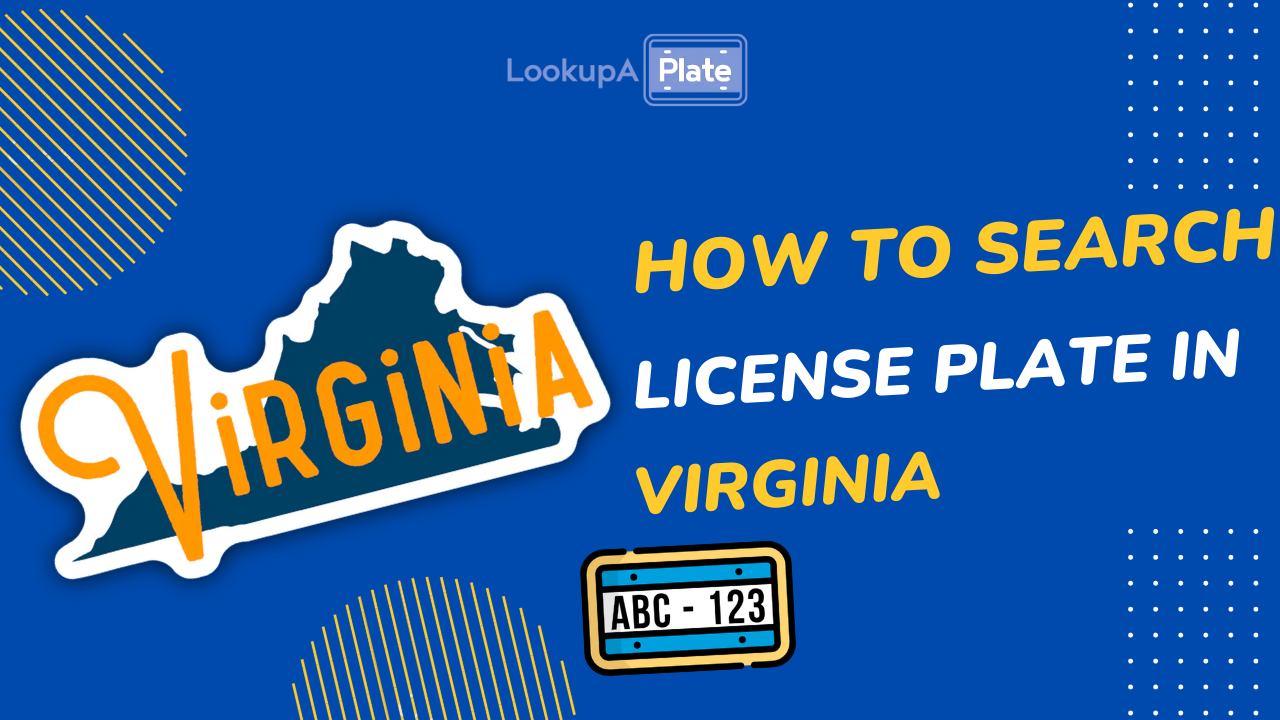 3 Ways to Search a Virginia License Plate
Below are a few ways of performing a license plate lookup in Virginia to find basic information about a driver or vehicle:
1) Virginia Department of Motor Vehicle (DMV)
The DMV is the official source for vehicle and license plate data. However, the federal DPPA (Driver's Privacy Protection Act) restricts to whom and under which situations the PII (Personal Identifiable Information) collected by the DMV can be released.
Under DPPA, DMV may share information for situations linked to theft, driver's safety, market research activity, product alterations, recalls, motor vehicle emissions, for use by any government agency, etc.
Eligible personnel need to submit the form CRD93 and the fee of $9 to the DMV to perform a license plate search. The form can be filled online (link) or mailed to the following address:
Virginia Department of Motor Vehicles (DMV)
2023, P.O. Box 27412 Richmond, VA 23269
2) Online Third-Party Lookup Services
Getting the information from the DMV can be lengthy and is completely avoidable if you're only after the vehicle history report. There are many online third-party lookup services that allow you to look up a license plate online and retrieve the results in minutes.
These services provide instant access to information, including vehicle history, service history, recall history, whether the car was in an accident and more. Select services may also fetch the vehicle ownership history if you have a permissible reason. The downside is that the information from these services might not be always accurate and secondly such services are usually not free.
If you're looking for a free option, LookupAPlate allows you to search any Virginia registered license plates and the rest of the U.S. states for free. The free search shows vehicle specs, recall history and community-reported feedback. For a comprehensive vehicle history, you can request a premium report from one of our data partners.
3. Private Investigators
For the last option, you can also decide to hire private investigators. However, private investigators can become expensive quickly since they include data from 3rd party sources, consumer databases, and social media. They also have a network of contacts who can assist them in obtaining information unavailable online.
How to Identify a Virginia License Plate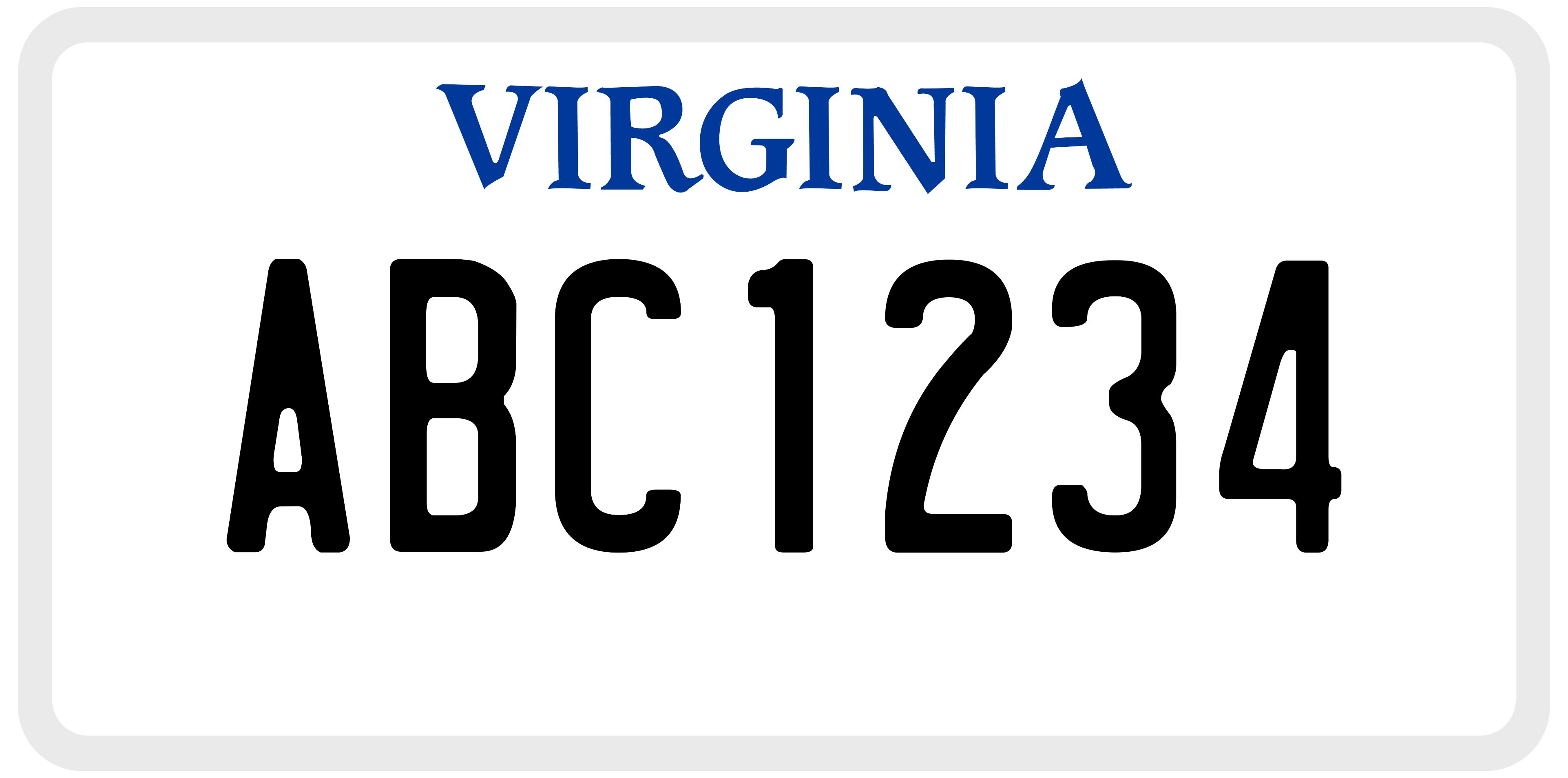 Virginia first required its citizens to register their cars and display license plates in 1906.
The registration section of the plate comprises three letters, followed by a hyphen and four numerals. Above these registration details is a VIRGINIA in blue capitals.
Virginia State's standard license plate also includes the "Virginia is for lovers" slogan. This tourism slogan is displayed near the bottom of the license plate in black letters, with a red heart replacing the "V" in "Lovers." Slightly below it, in smaller letters, is "Virgnia.org."
Virginia License Plate Rules
Let's take a look at some of the most common Virginia license plates rules to be aware of:
To buy a new VA license plate, you must complete form VSA-14. You can opt to register your car for one or two years.
Virginia DMV furnishes only one plate for every registered vehicle.
Licensed plates in Virginia must be attached to the rear and front of the vehicle.
You must have a validation sticker on your vehicle and keep a copy of your registration certificate with you at all times.
Virginia License Plate Cost
In Virginia, license plate fees vary by vehicle year, weight, type of plates being used, length of renewal, etc.
Standard registration fees for:
Vehicles under 4,000 lbs - $40.75 for new plates
Vehicles over 4,000 lbs – $45.75 for new plates
Replacement or renewal fee: In case you dented, lost, or wish to renew your license plate, you will pay a fee of $10.
Transfer fee: The license plate transfer fee in Virginia is usually $2.
Keep in mind, there are different types of plates in Virginia, and each of these plates may attract an additional fee besides the standard registration fee.
For example, the personalized plates will cost you $10 in addition to the standard registration fee. The special interest plate, such as the breast cancer foundation plate, costs $25 in addition to the standard registration fees (the same goes for the collegiate license plates). An antique/vintage plate costs $50.
All payments for registration or renewal of license plates can be made via check, cash, visa, or credit card.
Type of License Plates Available in Virginia
Besides the standard license plate, Virginia offers over 250 unique plates to its citizens!
We won't cover them all, but here are some of the most noteworthy VA license plate categories:
Special Interest Plates – These plates allow you to show support or patronage for: A special cause, professional organization, city, sports team, etc.
Collegiate Plates – These license plates show support to universities and colleges such as the University of Virginia, United States Military Academy, Florida State Academy, etc.
Military Veteran Plates – Military veteran license plates are issued to those representing military branches like U.S. Army or Navy, Military honors like The Bronze Star or the Purple Heart, etc.
Vanity License Plates – You can personalize your VA plate by selecting the design and characters you want. Confirm the availability of your preferred characters by visiting the Virginia DMV website.
Antique/Vintage License Plates (e.g., for vehicles over 25 years old)
Disability License Plates and Placards – If you have a disability, you qualify to apply for a special plate that allows you to park your vehicle in designated spaces across the state. However, you will be required to present medical proof to be eligible.