Texas License Plate Lookup
Looking to find a vehicle owner's details of a Texas (TX) vehicle? Maybe you want to check the title records of the vehicle or perhaps you're looking to report a bad driver. You aren't alone. There are over 24 million registered vehicles in Texas, and in 2019 alone, over 256,797 folks were injured in road crashes. That's about a one-vehicle crash every 56 seconds.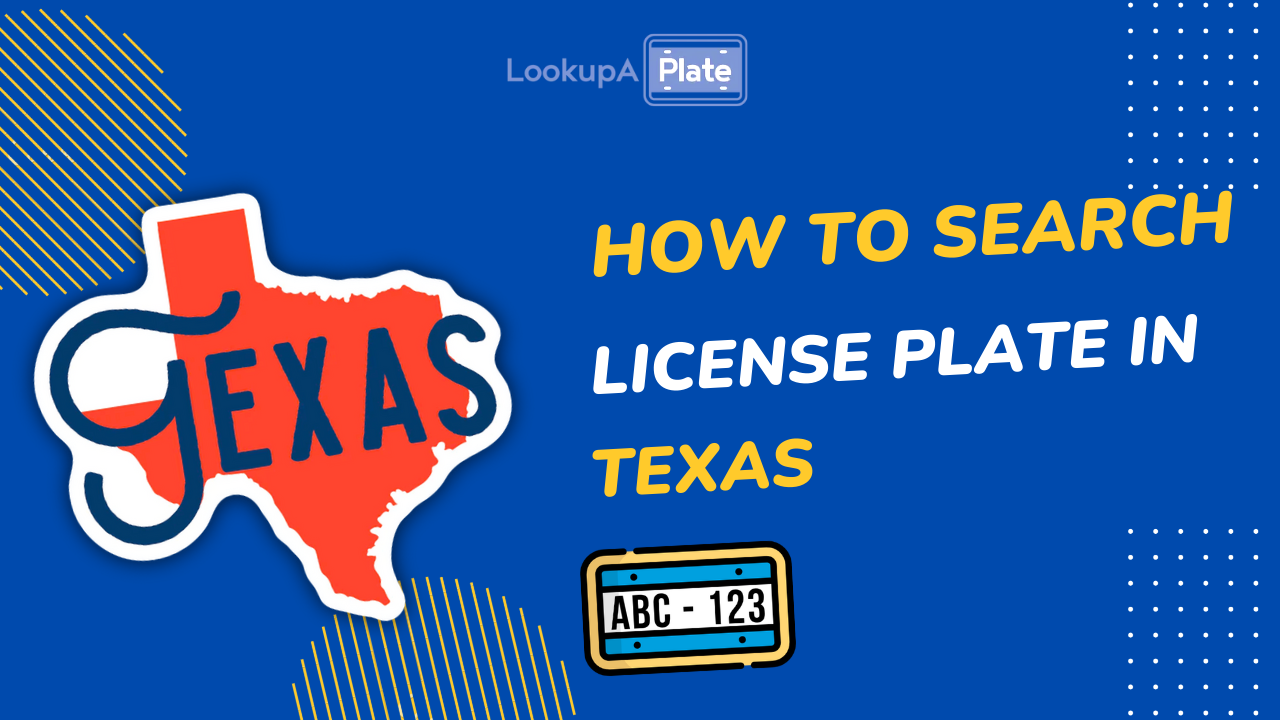 There are a couple of ways in which you can look up vehicle owner information in Texas:
1) If you're looking for a free option, you can search for the plate on our website - LookaPlate.com. Just enter the plate, select the state as Texas and hit the search button. You can view basic vehicle information like specs, photos, and in some cases, even title, accident and service history. You can also view community-reported incidents and leave comments, videos, and pictures. The comments you submit are publicly viewable, while your details remain completely anonymous.
2) The next option is to file Form VTR-275-K with the Texas DMV. The personal information of the vehicle owner is protected under DPPA. However, with a permissible reason, you request the DMV to share personally identifiable information like name, phone number and address of the vehicle owner.
You need to fill out the form and send it to:
Texas Department of Motor Vehicles
Attn: VTR-VDM
4000 Jackson Avenue, Bldg. 1
Austin, TX 78731
Alternatively, you can email the form to [email protected].
The process can take anywhere from two to four weeks.
3) Hire a licensed private investigator or agency - Private investigators have direct access to the vehicle records and can fetch you the vehicle owner details provided you have a valid reason. However, this can be an expensive option.
4) Online background checking databases: Many online background lookup services have sprung up in the last couple of years that allow you to search for the vehicle owner for a nominal fee. Such websites rely on public and private databases, but they may not have information on all the vehicles. On the bright side, the search is completely online and takes minutes. The downside is most of these services are paid, and you can expect to pay anywhere from $2 to $15.
How do you identify a Texas license plate?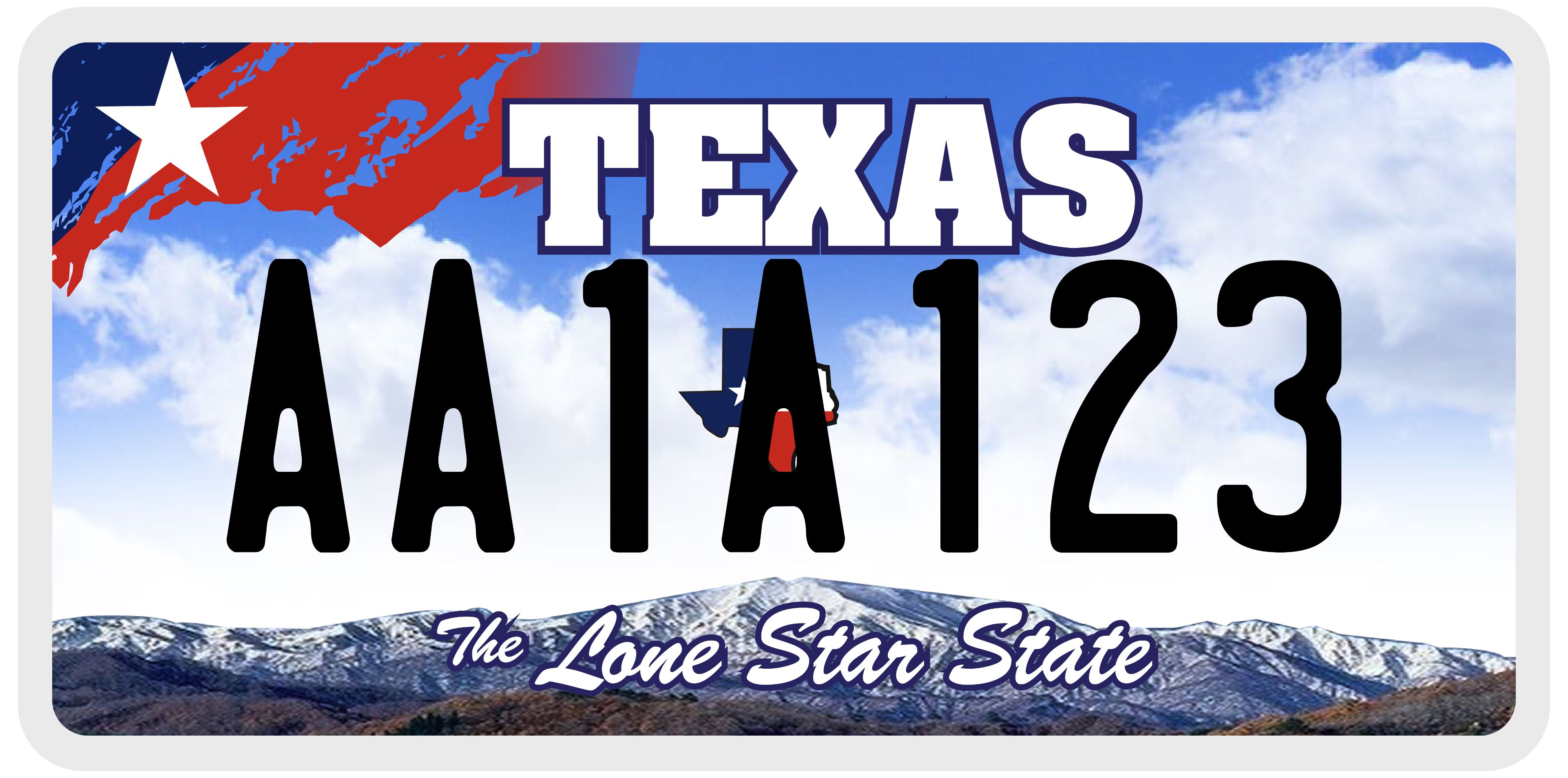 It's pretty easy to spot a Texas license plate unless it's a specialty plate. A standard plate has "Texas" written in bold at the top, a star symbol on the upper left and "The Lone Star State" written at the bottom. The registration number is seven characters long, starting with alphabets, followed by a number, then a letter, and then again, followed by two numbers.
Typical Texas license plate format: AA1-A123
Texas DMV (TxDMV) updates the license plate design from time to time. However, the plate's main design structure and text remain the same and only the colour palette changes. The current design that the DMV refers to as the Texas classic has a light blue background with black letters and design.
Texas License Plate Rules & Regulations:
Texas is one of the 31 states that mandates both front and rear number plates (Section 504.943) for most vehicles except motorcycles, trailers, and certain antique vehicles that require only a rear plate. Further, it's mandatory to display the plate expiration month and year on the windshield.
The license plate must be fitted horizontally and at least 12 inches above the ground. Additionally, the plate must be adequately illuminated with white light (section 547.322) such that it is clearly visible from the 50 feet distance. The typical fine for a license plate violation in Texas is $200. The license plate must be replaced every seven years and the DMV no longer replaces the registration plates automatically.
In Texas, the license plates are digitally printed on the aluminium plate instead of being embossed or impressed on the metal.
License plate cost:
The base tag or license plate registration fee is $51.75 plus the additional county fee, which varies from $10 to $20. You can expect to pay anywhere from $62 to $72 for the registration. If you're buying a used car, the title transfer is between $28 to $33, depending on the county.
Types of license plates:
There are broadly three types of license plates in Texas:
Standard plates – General-issue plates that can't be personalized.
Specialty license plate – Personalizable license plates. An extra fee is applicable.
Souvenir Plates – As the name implies, they're simply for decoration or gifting purposes and aren't street legal.
FAQs
Q: Is it legal to look up a Texas license plate owner?
Yes, as long as you have a permission reason as defined in the federal Driver's Privacy Protection Act (DPPA). Further, the Freedom of Information Act (FOA) allows individuals to request public information collected by various government bodies.
What information can be obtained through a search of a Texas license plate?
The basic search allows you to find vehicle specifications, accident history, service and rollback records. Further, if you have a valid reason to run the search, you can view the vehicle owner's name, address, and phone number.