South Carolina License Plate Lookup
South Carolina might be the 40th largest state in the US, but unfortunately, the palmetto state tops when it comes to vehicle accidents. It also ranks high on vehicle ownership per capita (23rd, to be precise). No wonder the demand for license plate lookup in the state of South Carolina is on the rise.
Typically when buying a used car, you would want to know the history of the car and its maintenance records. A license plate lookup can come in handy here as it can help uncover technical information about the vehicle (age, make, model, service history, odometer reading etc). Additionally, a comprehensive report may include accident history, ownership data and more.
In this guide, we'll look at the ways and what information you can get from conducting a South Carolina license plate search.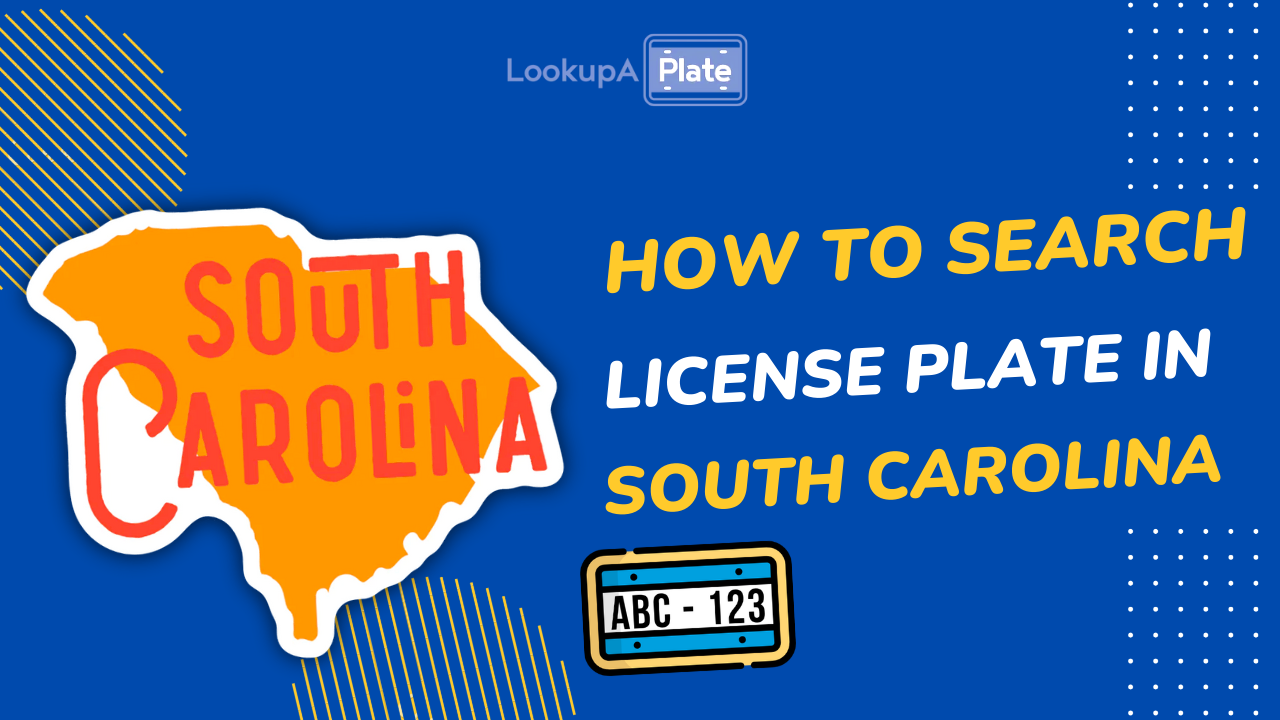 Conducting a license plate search in South Carolina (SC)
Broadly, you've two options.
1) Through the South Carolina Department of Motor Vehicles (DMV).
Personal information associated with the license plate, such as the owner's name, address, phone number etc., is protected under state and federal laws to ensure privacy. Therefore, you'll need to present a valid reason or must be an authorized individual as defined in the DPPA (Driver's Privacy Protection Act) to access the same. You can read more about it over here.
If you fall under the permissible category, head over to this link to raise a request. The cost per search is $6.
2) Using our website or third-party lookup services.
If you're after a rather quick online search, using our website or third-party services might be the way to go. Note that the information obtained this way might not yield the vehicle owner's details.
A basic search, which yields technical information and the vehicle's service history, is free on our website. However, you can consider purchasing a premium report from our third-party data vendor for a more comprehensive report and ownership history.
Identifying a South Carolina license plate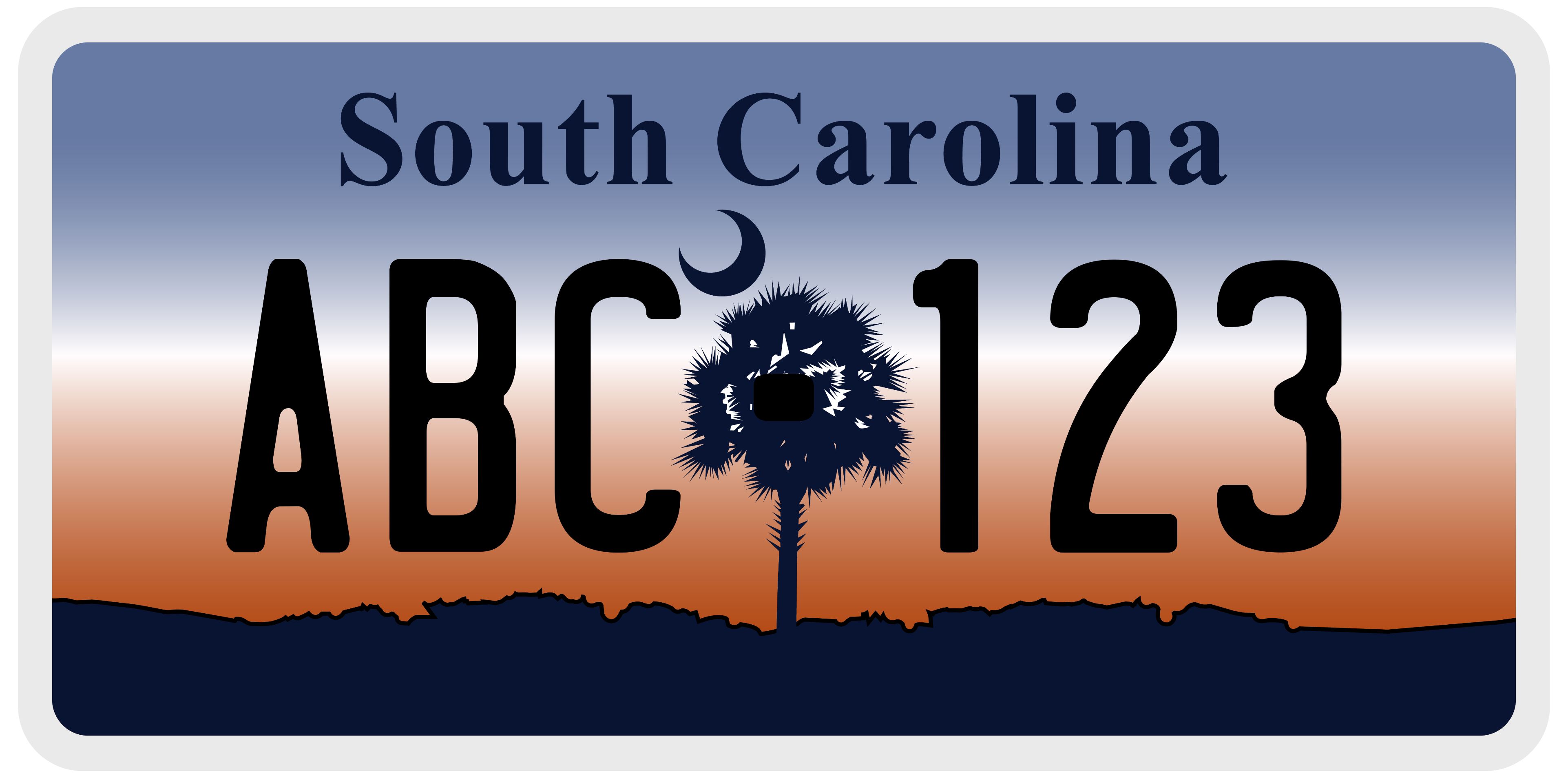 The first step before running a license plate lookup is to ensure that the license plate is actually registered in the state of South Carolina. While standard issue plates are easy to identify but specialty and personalized plates need a closer look.
A standard South Carolina license plate features a white and blue background with a dark blue palmetto tree in the center. The motto of the palmetto state 'While I Breathe, I Hope' is printed on the top of the plate while the bottom features the state name "South Carolina". The license plate number is screen printed in black in the center and the validation sticker is placed on the bottom right.
The license registration number is a unique alpha-numeric code assigned to each vehicle by the DMV. It's six characters long and typically follows this format: ABC 123.
South Carolina License Plate Types
The South Carolina DMV offers a variety of license plate types for residents to choose from. Some of these include:
Standard Plates: These are the default license plates issued to all passenger/commercial vehicles that don't opt for a specialty or personalized license plate. The palmetto tree design is featured on all standard license plates.
Specialty Plates: As the name suggests, specialty license plates are for drivers with specific organizations, interests or affiliations.
Organizations
Camp Sertoma
SC Cattlemen's Association
Play Tennis!
USC Baseball National Champions
Air Force
Air National Guard
Air Force Distinguished Service Medal
Army National Guard
Alpha Kappa Alpha Sorority, Inc.
Anderson University
Appalachian State University
Bob Jones University
Combat-Related Disabled Veteran
Disabled Female Veteran
Personalized Plates: Also known as vanity plates, one can choose custom letters or numbers to be printed on their license plate as long as it meets DMV's guidelines. Both standard and specialty license plates can be personalized.
Submit a community report against the bad driver and make it easy for everyone to identify them.
You can also submit a community report against a bad driver on our website by writing about the incident and uploading pictures/dashcam footage. The comment is shown against the license plate and may help fellow drivers be more cautious when they come across such a driver.
As a policy, your comments remain anonymous and personal information isn't published.