Oregon License Plate Lookup
There could be several reasons why you want to look up an Oregon license plate. You could be interested in a used car and may want to look up the vehicle history before showing interest. While the VIN is the most preferred method to check the vehicle's history, private sellers don't always share the VIN unless you're close to finalizing a deal. Another reason could be that you're trying to find out who owns a particular vehicle – probably the car owner abandoned the vehicle on your property, or worse, was driving recklessly, putting you in danger.
Whatever the case, you can search for Oregon license plates, but some restrictions may apply. We'll tell you how to go about the search and list the limitations as well.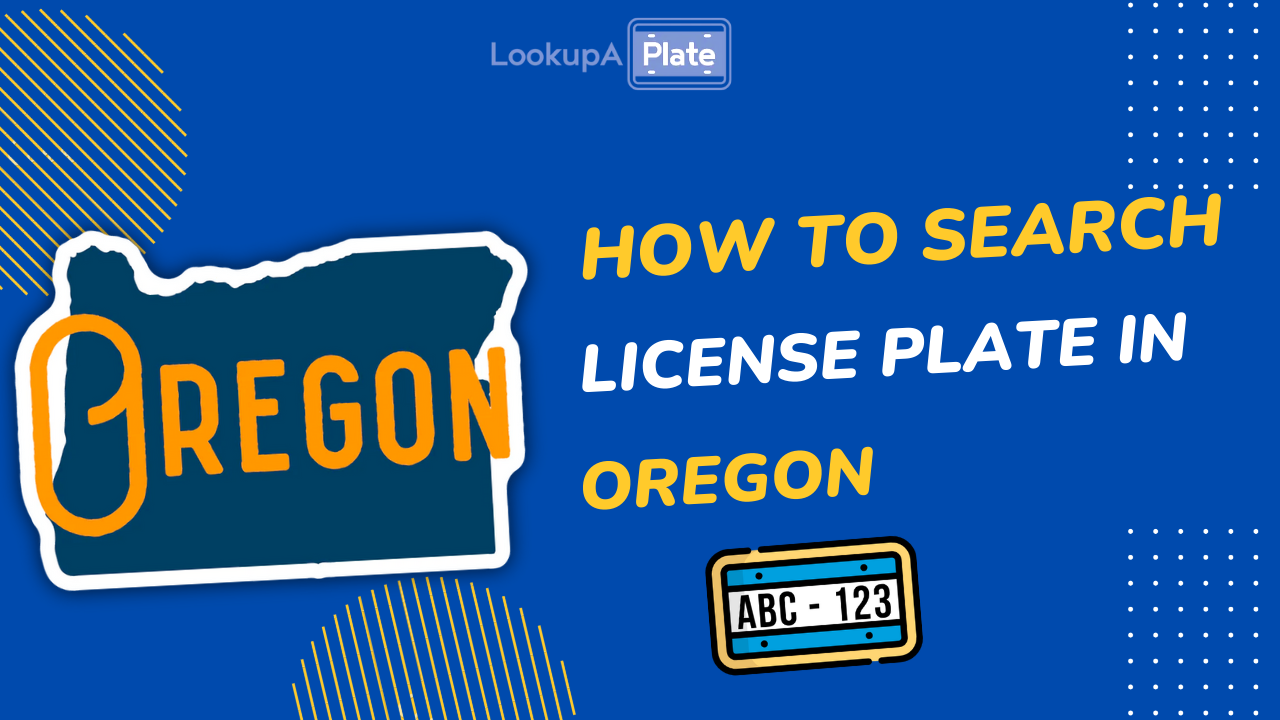 Looking up license plates in Oregon (OR):
1. The Oregon DMV
Most would think to request the Driver & Motor Vehicle Services (DMV) sub-division of the Oregon Department of Transportation (DOT). While the DMV does have the official records of all the vehicles registered in the state, the data can be shared only with certain authorized individuals and under certain conditions due to privacy reasons. You can check the eligibility criteria and access Form 735-6691 here.
2. Use LookupAPlate.com or any third-party look-up service
You can search for any license plate for free on our website. Enter the tag number, select the state as "Oregon", and hit the search button. On the next page, you can view basic information about the vehicle, like make, model, transmission, horsepower, registration year and more. Additionally, you can also request a more comprehensive report which includes the accident history, service history, salvage history and ownership details from our partner sites (fee applicable).
You can also use any third-party look-up services; some might even be good, but we don't recommend or endorse any. However, compared to other services, we offer a detailed vehicle report without needing you to sign up or commit to a subscription plan.
How to identify an Oregon License Plate?
Before you begin your search, it is important to make sure the license plate belongs to a vehicle registered in Oregon. Each state has their own distinct license plate designs, which can help identify the state of origin.
A standard Oregon license plate sports a green fir tree and a gray mountain graphic in the background. The top of the plate has the state name "OREGON" in gray letters, and the license serial number features in the center, which is also in gray. The license plate measures 12 inches in width and 6 inches in height and is made out of aluminum. Additionally, the validation sticker is put on the bottom of the plate.
A new version of the plate was recently introduced on October 1, which features the state's diversity and culture. The plate design is called the "Celebrate Oregon!" and was designed by Liza Burns of Eugene.
Types of Oregon License Plates
Aside from standard passenger plates (green fir tree), Oregon offers a variety of different types and designs of license plates for passenger vehicles, including:
Specialty Plates:
Oregon Professional Firefighters
Paralyzed Veterans of America
Share the Road
Vietnam Veterans of America
Crater Lake
Wine Country
Salmon
Fallen Public Safety Officer
Linfield College
Oregon State University
Gray Whale
Smokey Bear
Trail Blazers
UOAA Ducks
Watch for Wildlife
Cultural
Pacific Wonderland
Amateur (HAM) Radio Operator
Antique Vehicle
Veteran Plate:
Military:
Air Force
Army
Coast Guard
Marines
Merchant Marines
Navy
Report bad drivers plying on Oregon road on LookupAPlate.com
Besides being able to view vehicle-related information, you can also flag a bad driver on our community platform. If you encounter someone driving recklessly, you can do your part by submitting a report against the license plate on our platform, along with images and videos (if available). Your comments are shown against the plate and may help others be more cautious when the tag is spotted on the road.