Oklahoma License Plate Lookup
If you are buying a used car from a private seller in Oklahoma, or if you have been in a car accident caused by a reckless driver and all you have is their license plate number, you can still check the vehicle's history or details.
A license plate search can also come in handy in situations where someone blocks your driveway or parks illegally on your private property.
When searching for vehicle details, the most commonly used method is by using the VIN. However, the vehicle tag number can also be used to conduct the search. There are a couple of ways to look up a license plate in Oklahoma, but there may be certain restrictions on what data can be viewed (more on this below).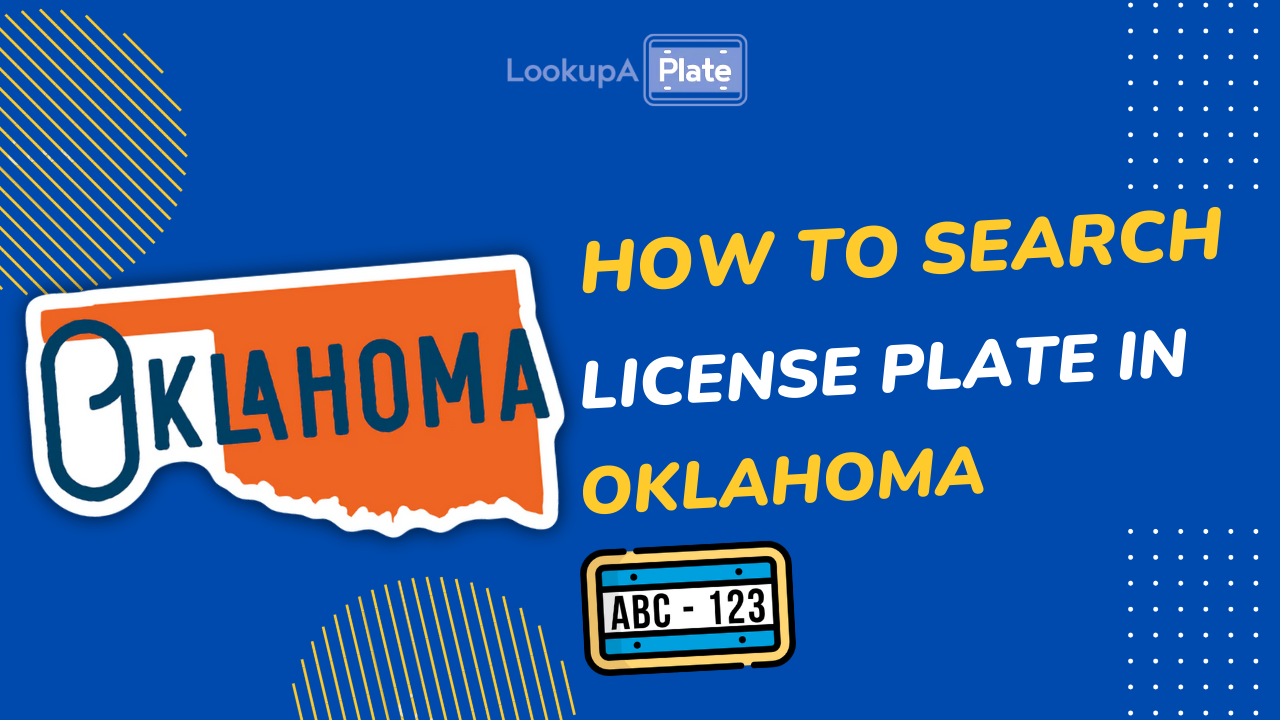 Conducting a license plate search in Oklahoma
There are primarily two ways to look up a license plate in Oklahoma. Actually, three if you want to engage a Private Investigator (PI), but that can be an expensive affair.
1) Using LookupAPlate or any third-party service
Our website allows you to search for any license plate registered in Oklahoma for free. Simply enter the license plate you wish to search for, choose Oklahoma as the state, and click the search button. The next page will display vehicle history, specifications, reported accidents, salvage records, service history, and recall records. Additionally, you can request ownership data from our third-party provider for a fee.
While there are many third-party lookup services available, our free search is what sets us apart. Unlike most of these services, our free reports are detailed and comprehensive.
2) Going the traditional way - Oklahoma Department of Public Safety.
The OK Department of Public Safety maintains the MVR (Motor Vehicle Records) of all the registered vehicles in the state. However, the MVR data can only be accessed by authorized individuals (law enforcement, towing companies, insurance, etc.) or released for a permissible cause. The federal DPPA (Driver's Privacy Protection Act) lists the rules for releasing such data. You can read more about the eligibility criteria and access the DPPA form here.
How do you identify an Oklahoma license plate?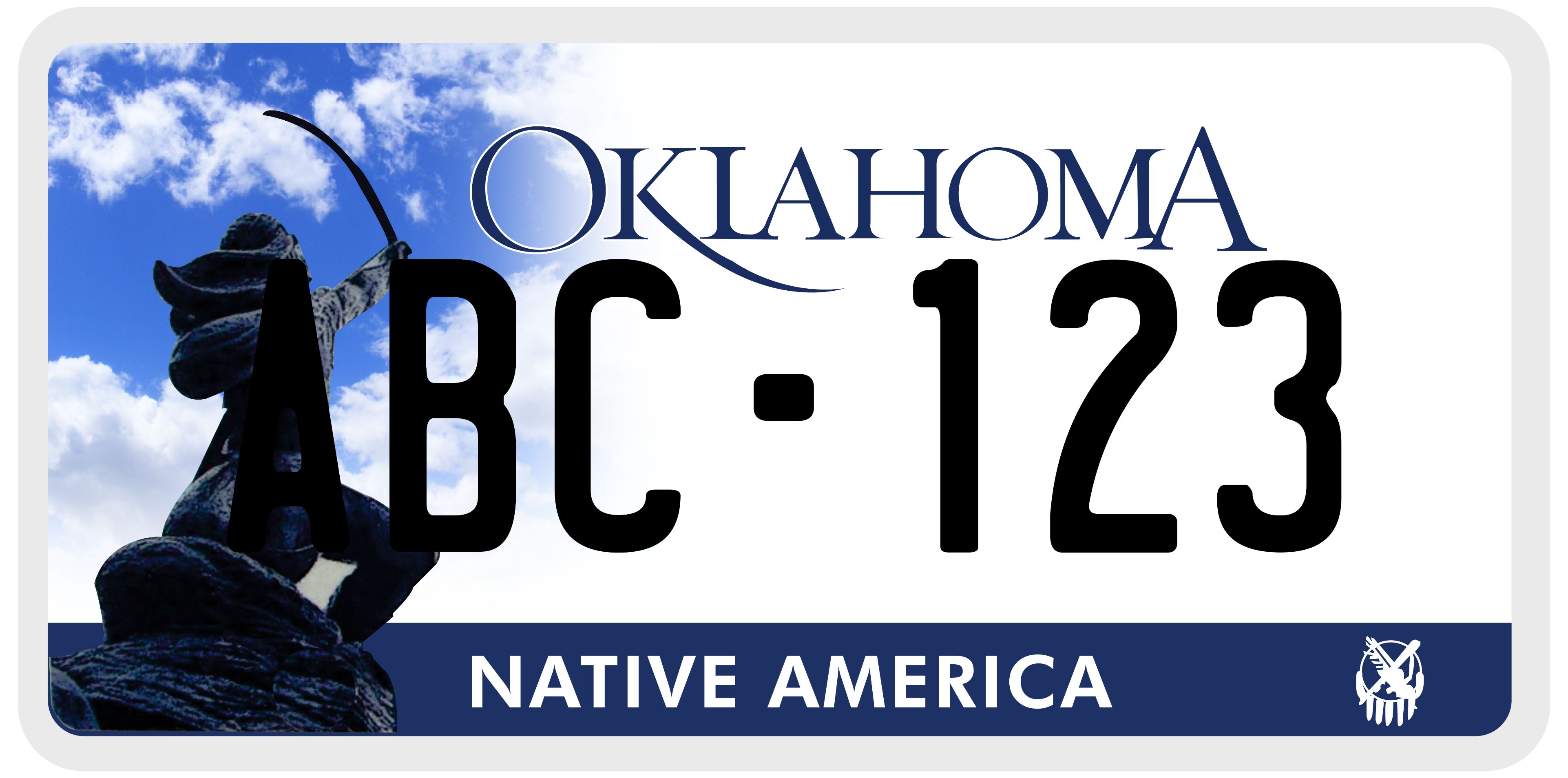 A standard Oklahoma license plate features a white scissor-tailed flycatcher against the blue mountains. The state name, "OKLAHOMA", is printed across the top of the plate and the bottom of the plate reads "TRAVELOK.COM". The plate number is embossed in black in the center, and the validation stickers are placed on the top right.
The license plate is made out of aluminium and measures 6 inches by 12 inches.
A license serial number is a unique 6-character long, alphanumeric identifier assigned to each vehicle. The license serial number follows ABC-123 format unless it's a vanity plate. The Oklahoma Tax Commission introduced the current series on Jan 1, 2017.
Oklahoma License Plate Types
Oklahoma boasts over 300 license plate designs, making it tricky to identify if the plate is from Oklahoma.
Standard Plates: On the roads, you commonly see these plates featuring the scissor-tailed flycatcher against blue mountains.
Specialty Plates: These are plates that support a specific cause, college, profession or organization. Some specialty plates may have their eligibility requirement and cost considerably more than the standard plates.
Specialty plate options:
Military Plates
180th Infantry
American Legion
Bronze Star
Combat Action Ribbon
Desert Storm
United State Army
etc
Education Plates
Alpha Kappa Alpha
Bacone College
Cameron University
Carl Albery State College
Connors State College
East Central University
Murray State College
etc
Tribal Plates
Chickasaw Nation Personalized
Choctaw Nation Personalized
etc
Civil Service Plates
Civil Air Patrol
Civil Emergency Management
Deputy Sheriff
Firefighter
Municipal Official
Police Officer
etc
Special Interests Plates
Amateur Radio
AMBUCS
Animal Friendly
Balloonist
Boy Scouts of America
Choose life
Don't tread on me
etc
Personalized Plates: Also known as vanity plates, the plates can be customized to your liking as long as they adhere to DMV and state regulations. Both standard and specialty plates can be personalized.
Flag & Report Bad Drivers on Our Platform
If you come across reckless drivers on the road, we encourage you to report them by providing incident details and uploading relevant photos and videos. When you submit feedback on our platform, it creates an online record against the said license plate, which can help other drivers stay safe. Additionally, this record may deter the reckless driver from engaging in such behavior in the future.
Last updated: 04/09/2023