North Dakota License Plate Lookup
Are you looking for information about a vehicle in North Dakota? A license plate lookup is helpful if you want to check the service history, title records or accident history of a used car. Or you may want to check for outstanding warrants or tickets.
This guide will help provide the options available to you for searching for North Dakota license plates. We'll discuss your options in this article and we'll also make sure you're informed of any limitations regarding what you can or cannot search.
North Dakota Vehicle Registration Facts
According to the North Dakota Department of Transportation, there were 1,097,305 registered vehicles as of 2021. Of those, 448,416 were passenger vehicles, with 268,691 registered as pickups, 64,731 trucks, and 315,467 vehicles registered as other (including motorcycles, snowmobiles, or even antique and collector vehicles).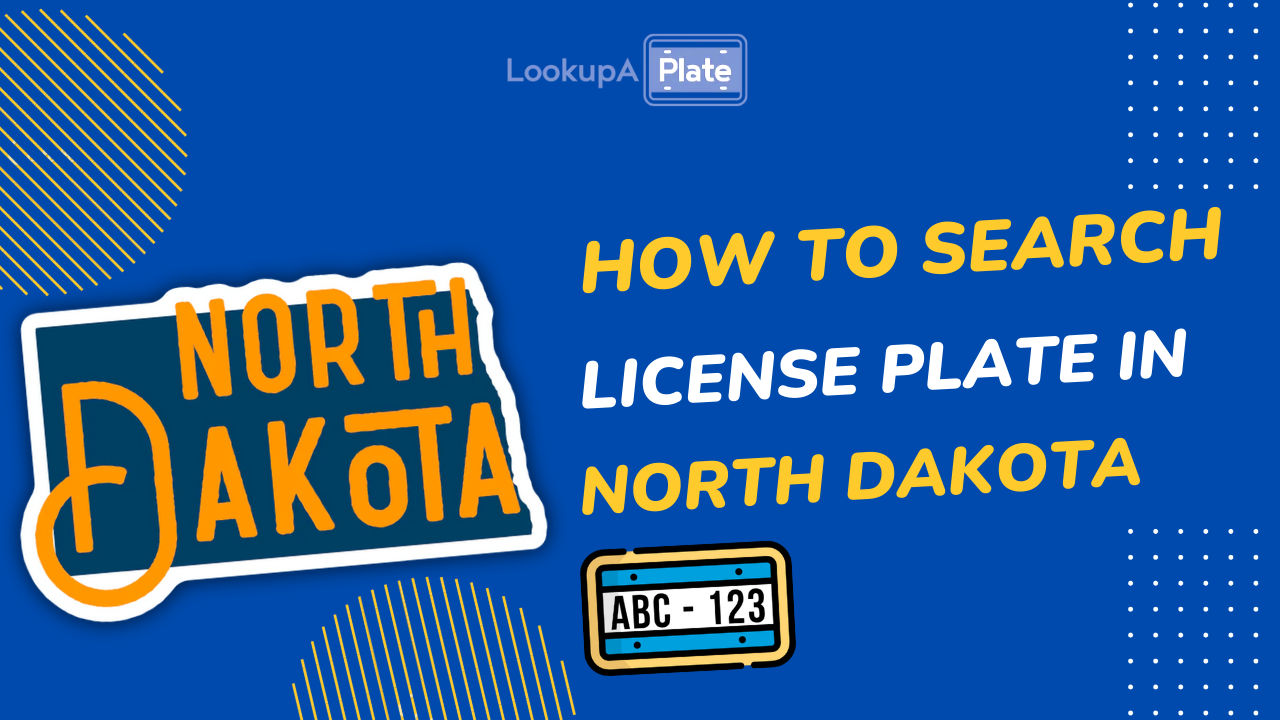 Ways to Look Up a North Dakota License Plate
1) LookupAPlate - Allows you to look at basic license plate data for free
If you're looking for a free way to search for a license plate in North Dakota (or any other US state), you can try our tool above. Simply enter the license plate in the search bar to see available information. This search yields vehicle information and community-submitted reports.
2) North Dakota Department of Motor Vehicles (DMV)
The Driver's Privacy Protection Act of 1994 (DPPA) protects drivers' privacy and can limit some of the information available to public citizens.
The North Dakota Department of Transportation and DMV will review requests submitted via form SFN 51269. You will need to review a list of reasons for your request and initial the reason for the request in compliance with North Dakota law (Century Code 39-33-05) and pay a $3 fee (or more if more research is necessary).
Then send the application and fee (payable by check or money order; credit card payments can be made with another form) to the North Dakota DMV:
Motor Vehicle Division
ND Dept of Transportation
608 E Boulevard Ave
Bismarck, ND 58505-0780
More information is also available at https://dot.nd.gov or by telephone at 701-328-2725.
3) Private Investigator
You may opt to hire a private investigator. Rates may vary in your area, and the DPPA can limit what is available for an investigator to access. If they have legal justification, they can gain a lot of information.
4) VIN searches and other third-party websites
North Dakota refers vehicle history checks to the NMVTIS (National Motor Vehicle Title Information System) database.
This option helps you see if a vehicle you might purchase is possibly unsafe or if it could have been stolen and is being resold.
Some background check websites can also provide additional information but you may need to create an account to look up information.
How to Identify a North Dakota License Plate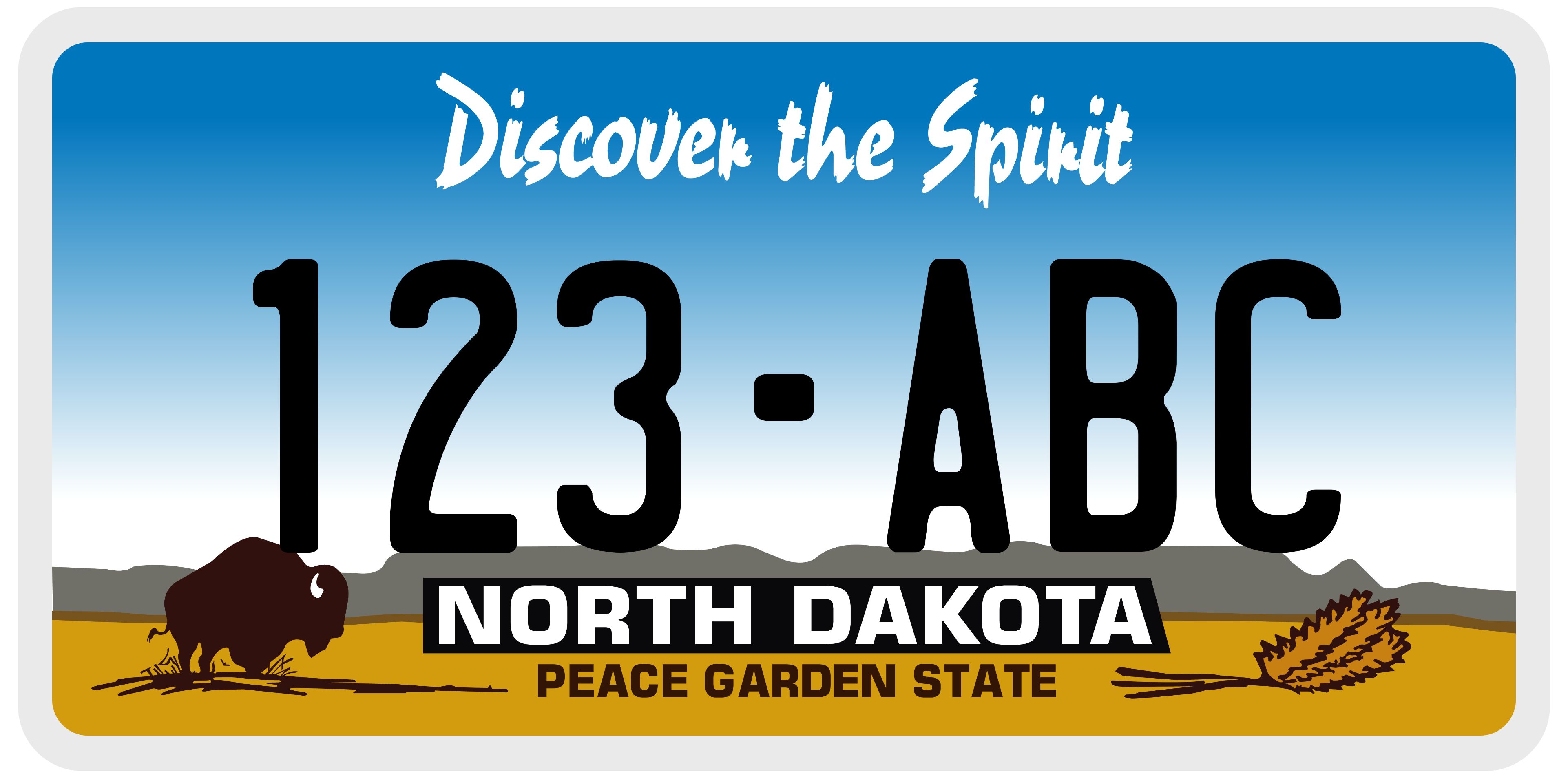 In November 2015, North Dakota updated the design of their license plate and began reissuing the new design during registration.
The current design features an image of the North Dakota Badlands and a blue sky. On the bottom right of the plate is the image of a bison.
The top of the license plate has the word "LEGENDARY" screen-printed in black at the top above an orange "NORTH DAKOTA" above the plate number.
North Dakota license plates are formatted with three numbers, a space, and three letters (123 ABC).
Specialty plates are also available, including a series of "Patriotic Plates" that feature either a bald eagle, the American flag, or the Boonie Stomper, a tribute to military veterans. Other veteran plates and organization plates are available, and all feature the same Sunrise design.
North Dakota License Plate Laws
North Dakota is a two-plate state, requiring plates on the front and back of all motor vehicles. Both plates must be kept clear of mud, snow, ice, or any other visual obstructions. A tail lamp (or separate lamp) must illuminate the rear license plate with white light as well.
North Dakota drivers are required to apply for a license plate when purchasing a new vehicle or if they are new residents of North Dakota.
North Dakota License Plate Cost
Older vehicles (those first registered in 2010 or before) begin at $49.00 for 12-month registration. Registration for commercial, electric, or hybrid vehicles can have additional fees applied. Custom license plates will also add to the total fee.
With each annual vehicle registration renewal, a registration decal will be issued for placement on the front and back license plates.
Vehicle registration can be renewed online and fees can vary depending on the type of vehicle registration, mileage, and year of the vehicle.
Type of License Plates Available in North Dakota
North Dakota allows many different types of specialty plates. Most commonly, these are related to military service, but the state also provides special license plates for farming vehicles, firefighters, and antique and collector plates.
They also provide plates for organizations and commemorative plates, such as for Future Farmers of America, or to honor the Lewis & Clark expeditions.
The North Dakota Department of Transportation has a list of specialty plates, vanity plates, and the costs associated with them as well as other details and requirements related to specialty plates.