New Jersey License Plate Lookup
Do you need to look up a New Jersey license plate? Maybe you've just been in an accident and need information about the other driver. Or maybe you're considering buying a used car and want to ensure it's not stolen. No matter the reason, there are several ways to look up vehicle information online. In this guide, we will discuss the different options to conduct the search as well as what data you can expect from the lookup.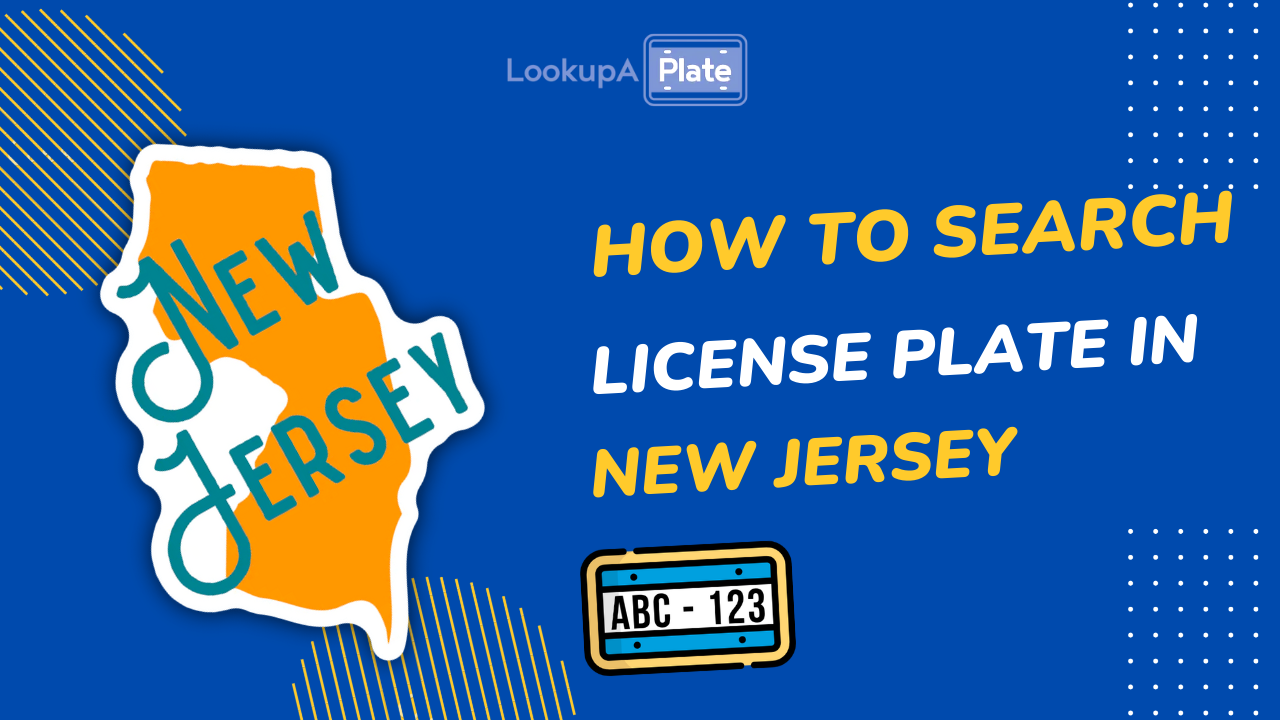 How to Search New Jersey License Plates
Now that you understand a bit more about New Jersey license plates, it's time to learn how to look them up. There are a few ways to do this, but all of them require that you have the license plate number. You can't simply search for a person's name and address.
1) NJ MVC
Fetching vehicle owner information such as name, phone number, and address is an invasion of privacy and protected under the DPPA act. However, if you have a valid reason or cause, you can request the information from NJ Motor Vehicle Commission.
Fill out the DO-11A form along with a $15 check or money order payable to NJ MVC.
Send the filled form to:
New Jersey Motor Vehicle Commission
Certified Information Unit
225 East State Street
PO Box 146
Trenton, New Jersey 08666-0146
One thing to note here is that the DMV can take up to 4 weeks to process your request. However, if you want a quicker option, see our next method.
2) Hire a private investigator
Hiring a private investigator is the most expensive approach to search for a license plate, but it's also the most likely to deliver what you need. Private investigators have access to the NJ DMV license plate records database that is not open to the public. If you opt for this path, make sure you do your homework and choose an agency with good references.
3) Use third-party license plate lookup websites.
Your next option is the private license plate databases. For a nominal fee, you can search a license plate and view the associated details. The whole process is online and takes a mere second. However, the downside is there is no guarantee that your search will yield any results.
But unlike third-party lookup websites, our tool (LookupAPlate) allows you to search for basic data related to licensee plate for free. The basic search shows the vehicle specs, technical parameters and any community reported against the plate. For an additional fee, you can request a comprehensive report from our partner data service. You may also be able to request the vehicle owner's details if you have a DPPA-compliant reason.
What Information Can You Get?
The following are some of the data points which you can expect from a successful lookup:
Vehicle registration date
Vehicle Specifications
VIN number (vehicle identification number) [May not be available for all searches]
Accidents and/or violations associated with the vehicle
Previous owners of the vehicle
Maintenance records for the vehicle
Whether or not the vehicle is currently insured
So, whether you're looking to buy a used car or just want to make sure the one you're driving isn't stolen, a license plate lookup can help verify things.
Is it Legal to Lookup Driver Information?
The driver's privacy in New Jersey is protected by both the state statute (N.J. Stat. § 39:2-3.4) and the federal Driver's Privacy Protection Act (DPPA). Personal information, according to the DPPA, includes name, address, telephone number, social security number, and email address.
However, there are exceptions to the law which allow individuals to access certain information for specific purposes. These purposes are listed in § 27 of the DPPA and include the following:
Any activity permissible under the National Driver Registry Act of 1982
Use by a motor vehicle manufacturer, its agents, or its authorized dealers in connection with the replacement or repair of a motor vehicle or the investigation of a safety defect or noncompliance with federal safety standards
Use by insurers, adjusters, lawyers, and private investigators in connection with claims investigation, evaluation, and determination of the case.
Use by any person, for a purpose not inconsistent with the law, of a motor vehicle record that the person knows or has reason to believe was obtained under false pretences.
What Does This Mean for You?
If you are conducting a license plate lookup in New Jersey, you must have one of the permissible reasons to do so.
New Jersey License Plates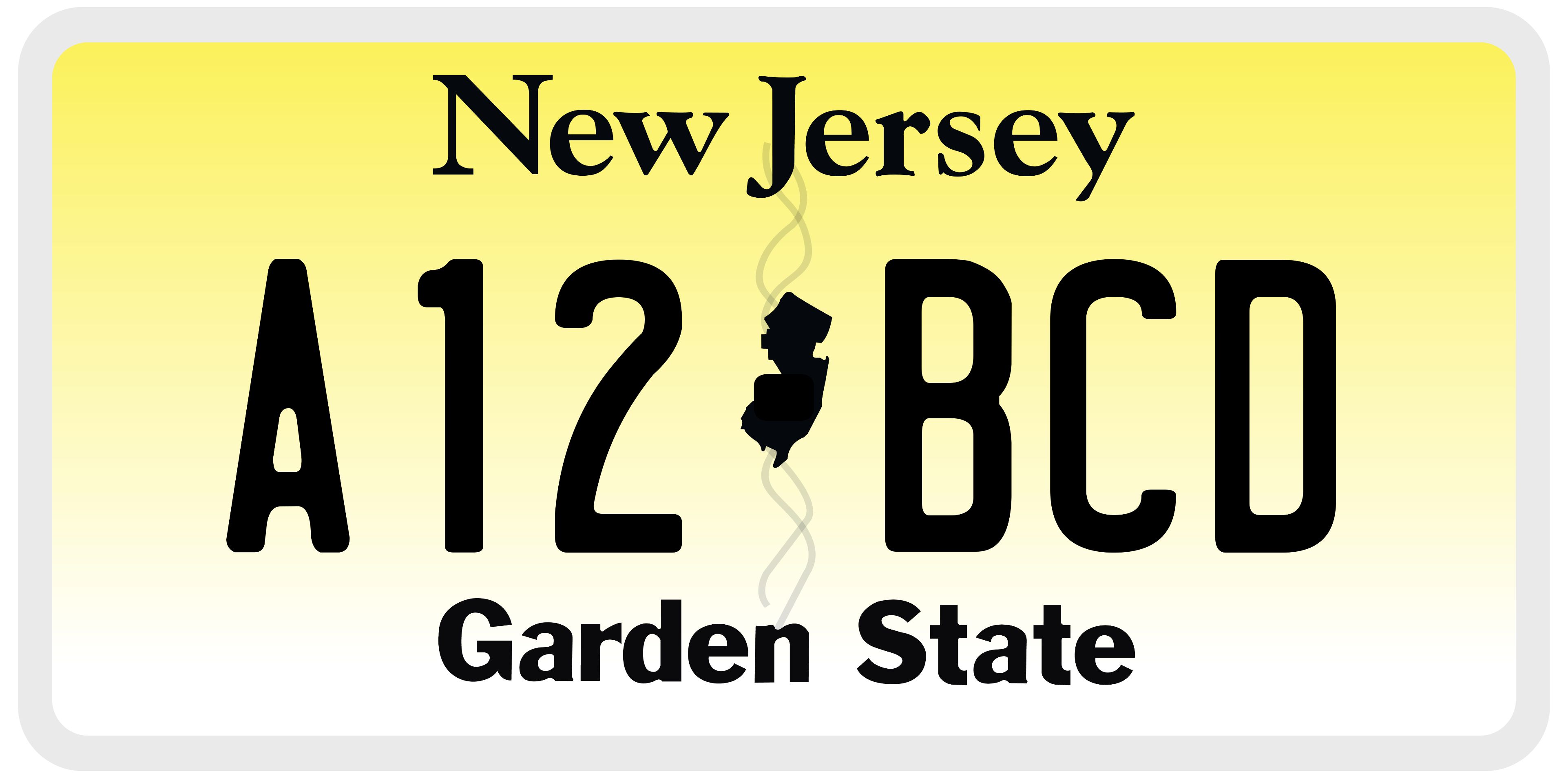 The standard license plate size in New Jersey is 6 inches (15 cm) tall by 12 inches (30 cm) wide. The background of the plate is a yellow gradient with a New Jersey state map with "New Jersey" written at the top and "Garden State" written at the bottom. The license plate number is six characters long and follows the pattern: A12-BCD.
You will get two plates when you title and register your car: one for the front of the vehicle and one for the back.
The MVC, in addition to the basic plates described above, provides the following:
Personalized Plates
Dedicated Plates (Special Interest)
Specialty Plates (Organizational)
Sports Plates
Special Vehicle Plates (Historic/Hot Rod).
Last updated: 14/01/2023