New Hampshire License Plate Lookup
As per 2020 estimates, New Hamshire was home to 1,319,117 vehicles making it the 12th leading state in terms of the vehicle per capita (every 1000 people). With so many vehicles on the road, there can be situations that necessitate the need for conducting a license plate search.
Perhaps you're buying a used car or want to report a reckless driver and want to know the vehicle owner's details. Whatever your reason, this guide explains different ways to search for a license plate in the "Granite State".
Ways to conduct a license plate search in New Hampshire (NH)
There are a couple of ways to do a license plate search. One is the DMV, and the other is using third-party lookup services. Both options greatly differ in terms of scope and ease of search.
1) New Hampshire Department of Safety, Division of Motor Vehicles
Like most US states, the New Hampshire DMV is responsible for vehicle registration, record keeping and issuing license plates in the state. However, for privacy reasons, the DMV has certain restrictions on who and for what reason the license plate data can be released. Generally, vehicle owners, law enforcement agencies, insurance companies and attorneys can get access to the records. You can read more about the eligibility criteria here.
If you are eligible, you need to fill out the form DSMV-505 and either bring it in person at any of the DMV offices or mail it to the following address:
State of New Hampshire
Department Of Safety Division Of Motor Vehicles
Stephen E. Merrill Building 23 Hazen Drive, Concord, NH 03305
Ph: (603) 227-4000
2) Free search with LookupAPlate.com or using any third-party lookup service
The other way to search for a license plate is by using any of the online lookup services. These services have access to public, private and proprietary data sources and usually offer comprehensive vehicle-related data. You can expect to find vehicle history, service history, whether the car was in an accident or stolen and more. Some services may also be able to provide information on the vehicle owner provided you have a valid reason (as defined in the DPPA act).
If you're specifically looking to search for a license plate for free in New Hampshire, LookupAPlate.com has you covered. You can search for any plate without paying a dime and view basic information about the associated vehicle, including make, model, year of registration and more. And if you need more information, you can order a comprehensive report from our partner data vendor for a nominal fee.
How to identify a New Hampshire License Plate?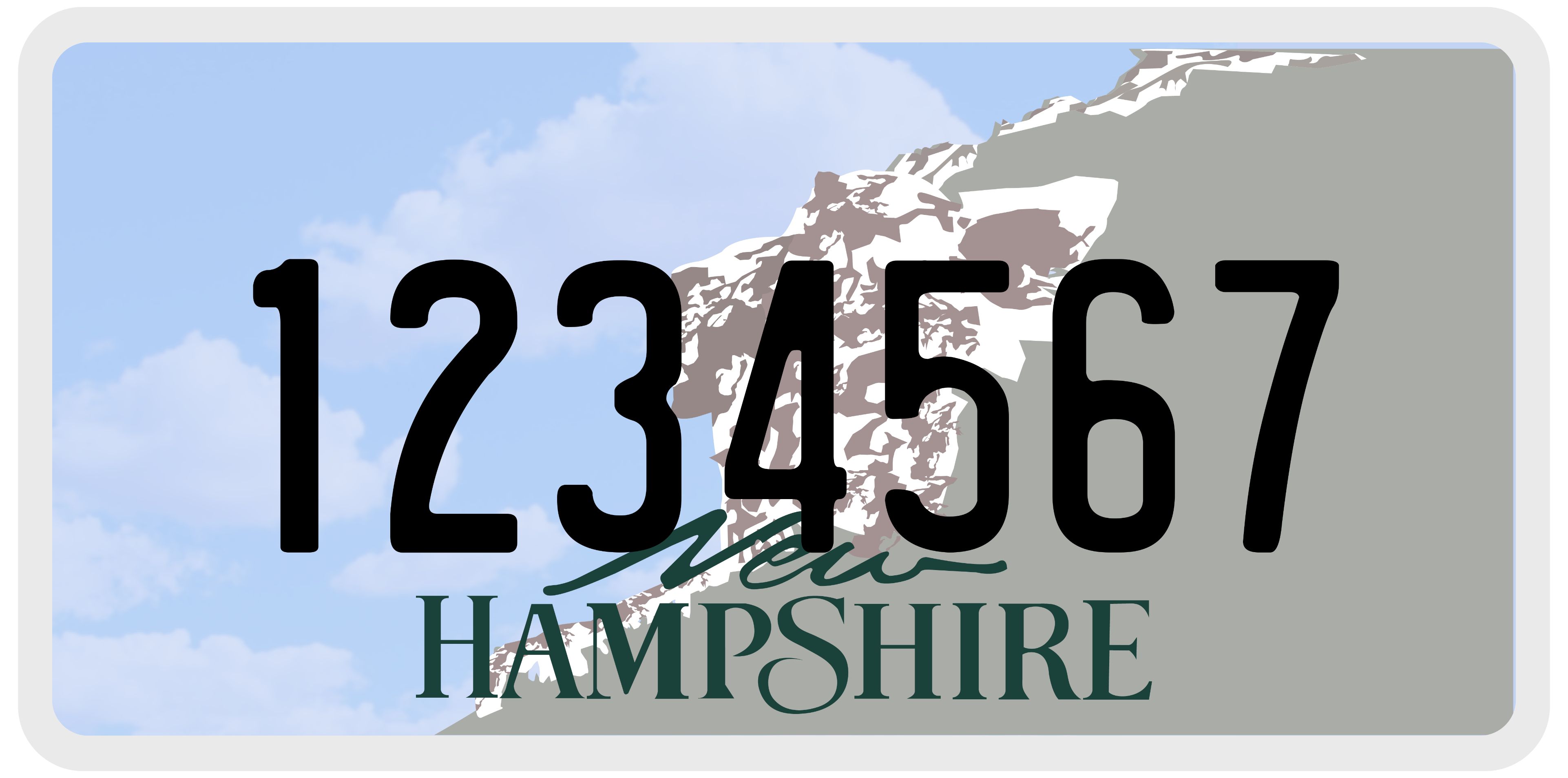 The first step before even running a plate lookup is identifying if the vehicle in question has a New Hampshire license plate. A few key design elements are unique to New Hampshire license plates.
The standout feature of a New Hampshire license plate is the green embossed lettering on a blue-grey gradient with the Old Man of the Mountain graphic. The top of the plate reads "Live Free or Die", New Hampshire's state motto, while the bottom has "New Hampshire" embossed in green lettering. The validation stickers are placed at the plate's bottom right and left corners.
New Hampshire DMV issues a unique 7-character numeric tag number to vehicles registered in the state. In fact, New Hampshire is the only state in the US to have an all-numeric license plate.
New Hampshire license plate types:
There are quite a few different license plate types and designs that the New Hampshire DMV issues:
Passenger Plate - Standard issue plate with Old Man of the Mountain graphic. The plate is issued for all passenger vehicles.
Vanity Plate - Personalized license plate with license serial number chosen by the applicant.
Special Interest Plate - License plates supporting different causes or organizations, such as environmentalism, education, charities, etc.
These include:
Veteran plate
State Parks Plate
Conservation Parks Plate
Decal plates (Special Interest group)
The Grand Lodge of Ancient, Free and Accepted Masons in New Hampshire
Harris Center for Conservation Education or contact James Newsom
Keene State College
NH Firefighters (or current or retired firefighters only)
New England Donor Services
New England Patriot's Foundation
NH Breast Cancer Coalition
NH Catholic Charities d/b/a NH Food Bank
NH Rotary
Plymouth State University
Seacoast Youth Services
Sophia's Fund
University of New Hampshire Foundation
Military
United States Army
United States Navy
United States Air Force
United States Marine Corps
United States Coast Guard
Medal of Valor
Medal of Honor
Distinguished Service Cross
Navy Cross
Air Force Cross
Silver Star
Bronze Star