Nevada (NV) License Plate Lookup
Are you looking for information about a Nevada vehicle but only have the license plate number and not the VIN? You may be buying a used vehicle from a private seller, or perhaps you found an abandoned vehicle on the street. Whatever the case, you can search for a vehicle using just the license plate number in Nevada.
Before proceeding, we'd like to highlight that a license plate search can yield technical and personal information. Technical information includes the make, model, year, vehicle colour, service history, accident history, etc. Personal information includes the owner's name, address and other contact information. For privacy reasons, accessing personal data related to a license plate is restricted and requires a permissible reason.
In this guide, we'll explain your search options as well as what data each type of search yields.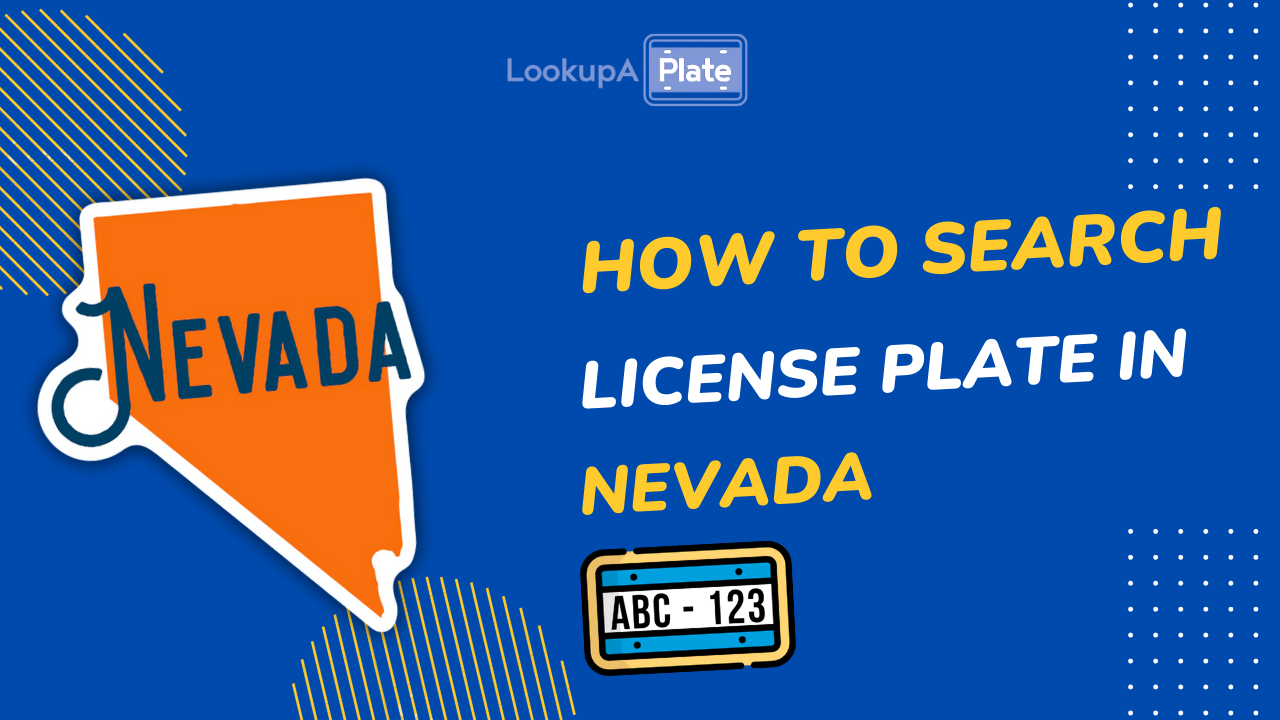 Looking up a Nevada vehicle by license plate number
1) Nevada Department of Motor Vehicles (DMV)
The Nevada DMV is responsible for the registration and record-keeping of all the vehicles in the state. So the obvious thing would be to request the license plate information from the DMV. However, the DMV requires a valid reason for accessing vehicle records (as defined in DPPA), as it's private information.
Law enforcement agencies, attorneys, towing truck companies, private investigators and insurance companies are some of the few who can request these records. Requesting details of an abandoned vehicle or the vehicle involved in an accident isn't considered an acceptable reason.
If you do have a valid reason, you need to fill the form IR002 and send it to the following address:
Central Services Records Division
555 Wright Way Carson City,
NV 89711-0250
(775) 684-4590
The fee for the search is $5.
You can read more about the requirements and eligibility criteria to request the records here.
2) Third-party Databases
There are several third-party services that allow you to look up a license plate online, and it's relatively quick. Such services usually collate data from multiple public and private sources and offer a more comprehensive technical report, including vehicle history, service history, accident history, technical specs and more. The DMV report doesn't provide such detail. For an additional fee, you can also request ownership history. However, the point to note here is that you still need to have a DPPA (Driver Privacy Protection Act) compliant reason or authority.
You can search for a Nevada plate on our website (LookupAPlate.com) for free and view basic technical vehicle data. You can also request a comprehensive vehicle report from our partner data vendor (fee applicable). Additionally, you can also leave feedback against a license plate if you've had a bad experience with the vehicle owner, thus helping others stay safe.
How to identify a Nevada license plate?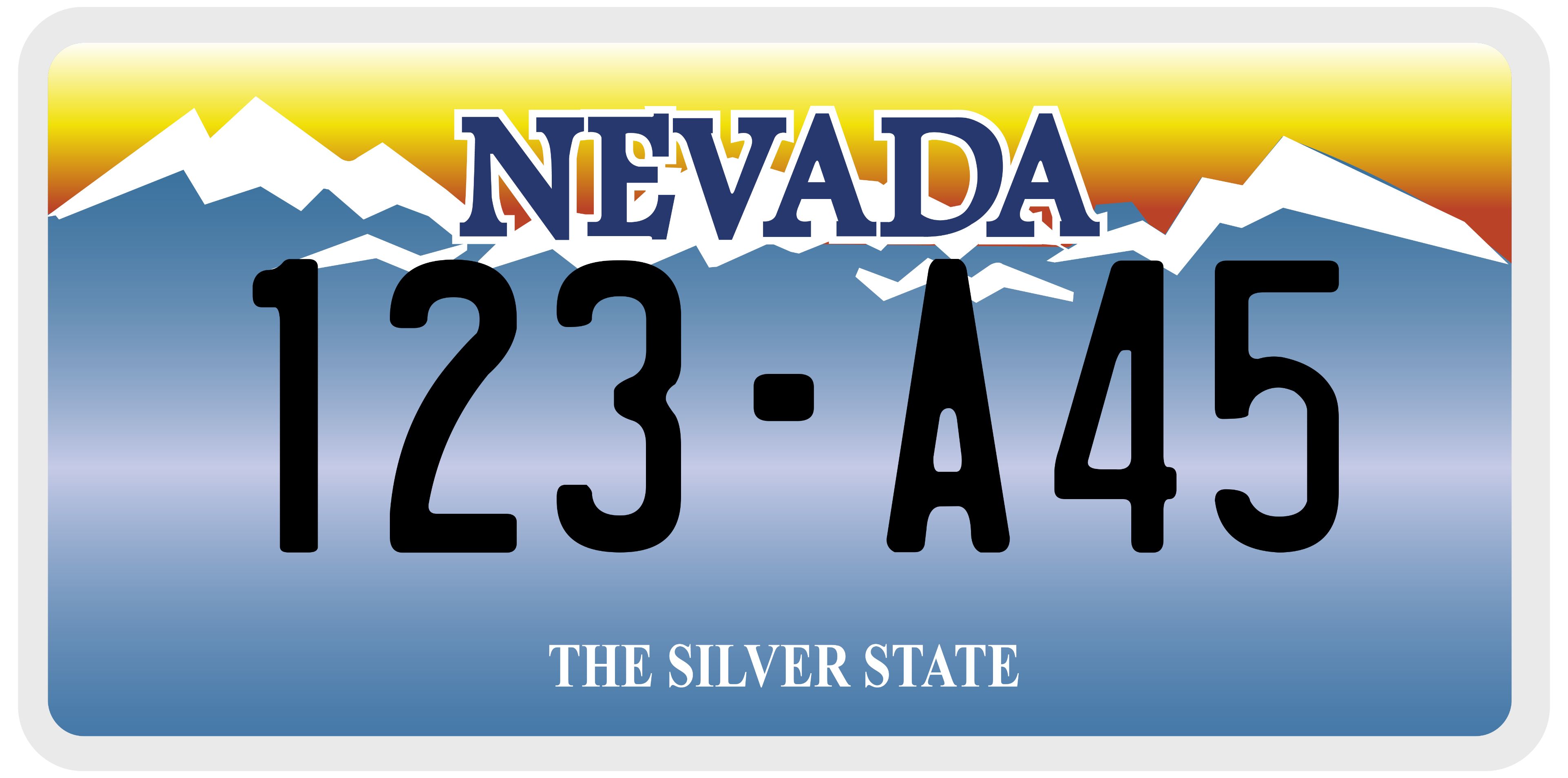 To know for sure if the license plate is from Nevada, look at the design and wording on the plate. A standard Nevada license plate has a light blue background with multicolour mountains mural graphics. On the top of the plate state's name, "NEVADA", is written in black letters. At the bottom, "Home means Nevada" is printed in black letters. The license registration number is embossed in black at the center.
There are also Circa 1982 plates which have a dark blue background with white lettering, but it isn't that common.
A license registration number is a unique alpha-numeric number assigned to a vehicle by the Nevada DMV upon registration. It's six characters long and typically follows this format: 123 A45.
Nevada License Plate Types:
By default, most vehicles will receive a standard license plate. However, several different types of license plates and designs are issued by the Nevada DMV.
1) Standard License Plate: These plates are issued to all motor vehicles that don't choose a custom plate. "Home means Nevada" and "Circa 1982" are the standard issue plates in Nevada.
2) Specialty plates: These are available for an additional fee and come in various designs to show support or affiliation with a certain organization, college profession or cause.
Specialty plate categories:
Charitable and Collegiate
Organizations
Veterans
Standard, Disabled and Circa 1982 Replica
Classic Vehicles
3) Disabled license plates: These license plates are available for people with disability.
4) Personalized plates: These can be customized with a combination of letters and numbers of your liking, provided they're unique, not offensive and unique.