Montana License Plate Lookup
Looking for information on how to search for a license plate in Montana? Perhaps you're purchasing a used car and want to verify the vehicle's history. Maybe a bad driver gave you trouble on the road, and you want to know about the owner or leave feedback online.
The good thing is that it's possible to search a license plate in the "Treasure State". But what information and how much data you can view depends on who and where you're running the search.
This no-fluff guide will discuss different ways to search a Montana license plate and what data you can expect to find.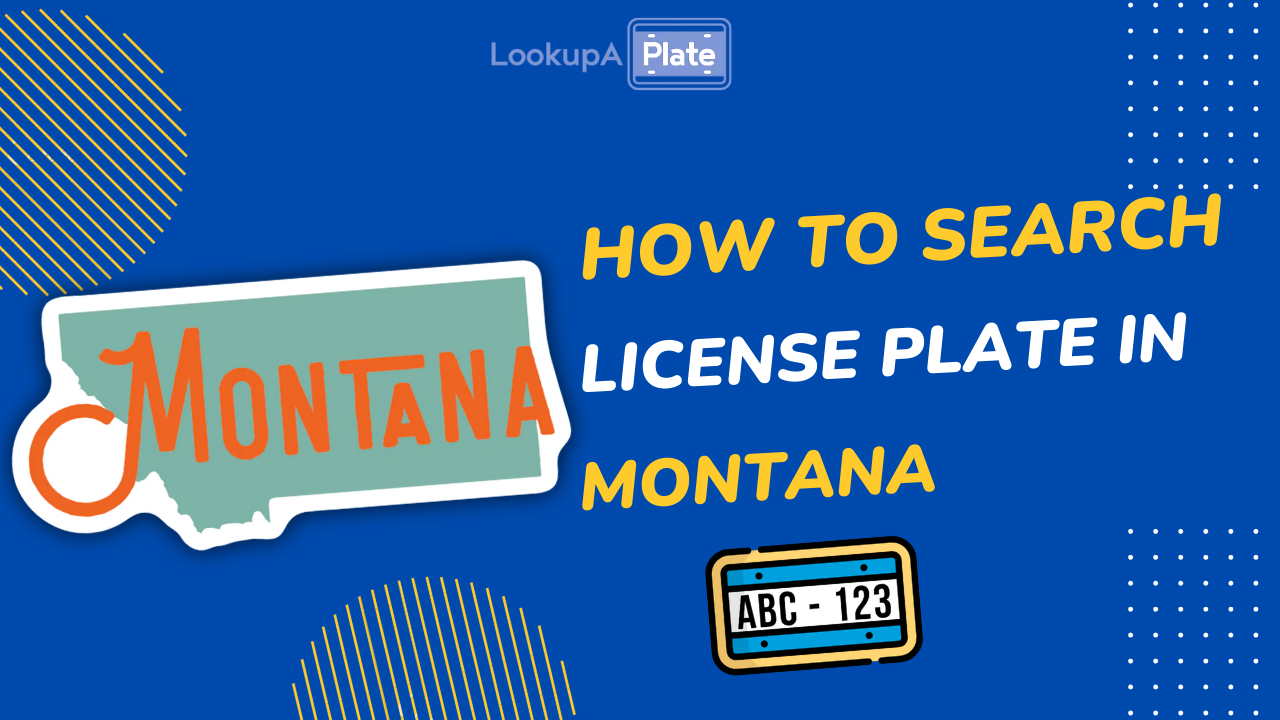 How To Search a Montana License Plate
You basically have two options to look up a plate - the official way is reaching out to MVD and the search yields personal information such as the owner and basic vehicle details. The second way to search for a plate is through online public databases, which generally give a more comprehensive vehicle report but may not include personal details.
1) Montana Department of Justice, Motor Vehicle Division (MVD)
The MVD is responsible for vehicle registration and issuing license plates in the state. So it goes without saying that the MVD will have license plate information, but they do not share it with the public for privacy reasons.
The MVD complies with the federal DPPA (Driver's Privacy Protection Act), which restricts the release of personal information about drivers and vehicle owners to third parties. Only for a valid cause or authorized individuals like government agencies, insurance companies, towing companies, and attorneys may access the data. You can read more about the eligibility criteria here.
If you're eligible, you need to create an account with VITU (https://mt.vitu.com/vehicle) and raise a request for a license plate record.
2) Online Records Lookup Services
If you're after a quick online way to search for a Montana license plate, there are several services available. Generally, such services offer a more in-depth vehicle-specific report like the vehicle history, service history, accident history or whether the vehicle was ever stolen. They've access to several proprietary data sources, including several used car marketplaces, service centres, and dealerships. Some of the services may also be able to fetch the owner's details as long as you have a valid reason.
At LookupAPlate.com, we offer a free license lookup option that allows you to view basic vehicle information like the specs, recall history, pictures and more. If you're after a more comprehensive report, you can buy one from our data vendor for a nominal fee.
How to identify a Montana license plate?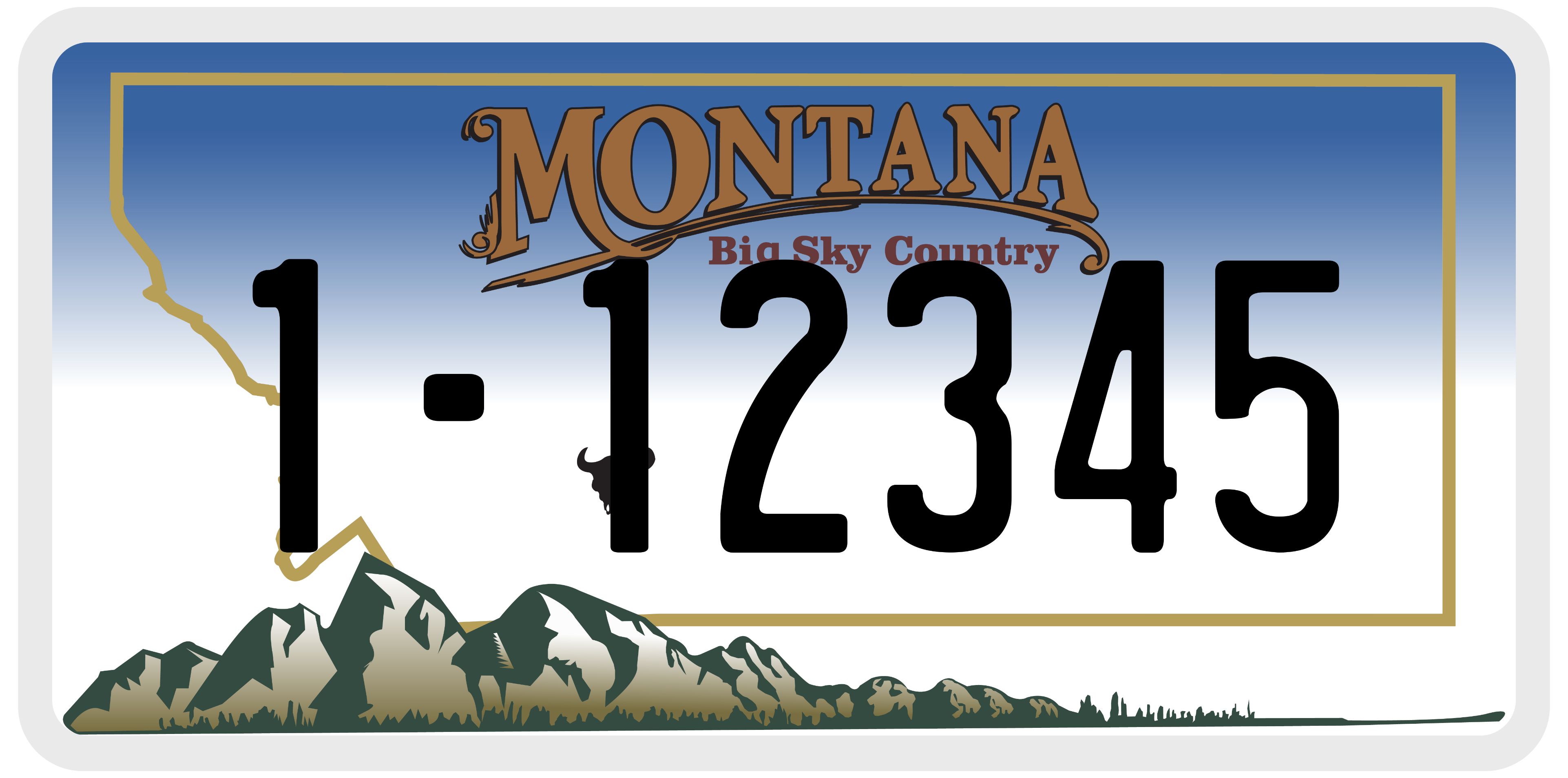 The Montana license plate has a distinctive design making it a standout amongst other state plates in the US. The blue-themed plate has a big white-coloured Montana state silhouette in the centre. On the top, the word "Treasure State" is inscribed, while the bottom has the state name "Montana" printed along with the county code. The validation sticker is placed in the top right corner.
The license plate is made of aluminium and measures 6" by 12" (30 cm × 15 cm).
The MVD allocates each Montana registered vehicle a unique registration number. The license serial is alpha-numeric and seven characters long.
Montana license plate format: 1-12345A, 10-1234A
Montana license plate types:
Montana boasts over 160 license plate designs spread across multiple plate types. The most common plate types are:
Standard Plates
Antique Plates
Military Plates
Veterans
Sponsored Plates
Other including physical disability & parking placards
Temporary Registration Permits
Standard plates: The general blue-themed plates are issued to all vehicles unless the owner chooses a different type of license plate.
Sponsored plates: These are fund-raising license plates with designs supporting various causes, groups, or interests. Some of the plates may have their own eligibility requirements.
Some examples of sponsored license plates are:
1776 Foundation
A Heart for Horses Inc
Absaroka Beartooth Wilderness Foundation
Alliance for the Wild Rockies
Alternative Energy Resources Organization
American Red Cross Five Rivers District
American Rivers Inc
Specialty plates: These plates come with unique designs identifying the vehicle owner as a member of a particular college, profession, or group.
Some examples of specialty plates are:
Agriculture & Forestry
Antique
Arts & Culture
Collegiate
Education
Government & Communities
Military
Museums & History
Parks & Environment
Service Organizations & Associations
Sports & Recreation
Wildlife & Other Animals
Youth Groups