Missouri License Plate Lookup
You might need to conduct a license plate lookup in the Show-me state for several reasons. Perhaps you're buying a used car and want to verify the records, or you're trying to find out who owns a vehicle that was involved in an accident. Whatever your reason may be, there are a few different ways to carry out a license plate search, and there are certain limitations on what data can be obtained and who can request this information.
This comprehensive guide will discuss what you need to know before running a plate, what information you can expect and the state's rules and regulations regarding license plate searches.
How to identify a Missouri License Plate?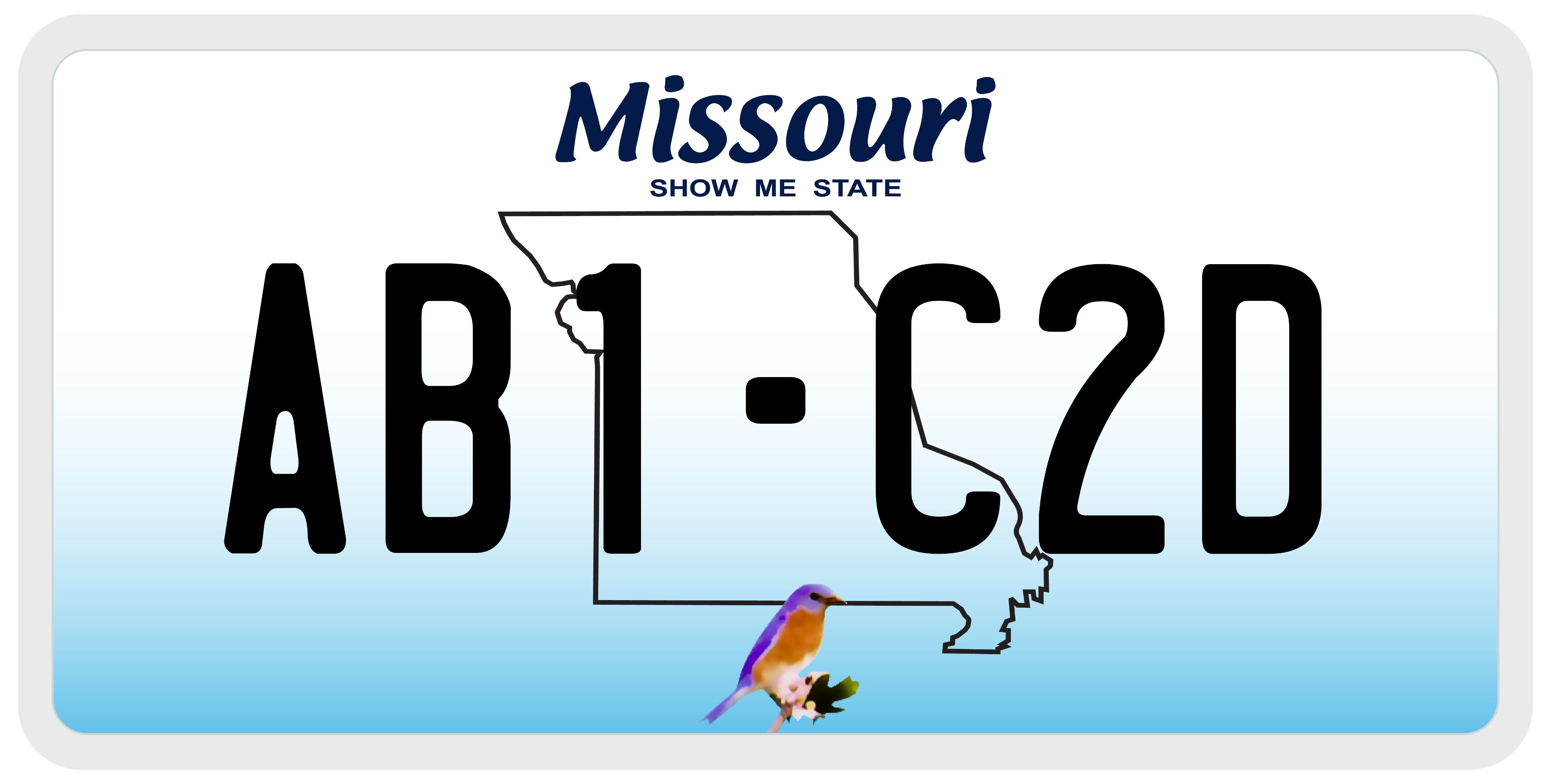 Before you set forth to look up a license plate, it's important to make sure the license plate is from Missouri. Each state has its own unique license plate design, which is generally easy to spot.
Missouri's license plate is predominantly white with a watermark of the state seal at the center, red wave at the top and blue waves at the bottom. The text "Missouri Bicentennial" is printed in dark blue at the top part of the plate. The bottom of the plate has "1821 * 2021" printed in blue, which signifies 200 years of statehood. The license number is embossed in blue at the center of the plate. Additionally, the expiry month is displayed at the top left, and the expiry year tag is placed at the center.
The license plate serial is six characters long and follows the following pattern: 6AB1 C2D
Three ways to search a Missouri (MO) license plate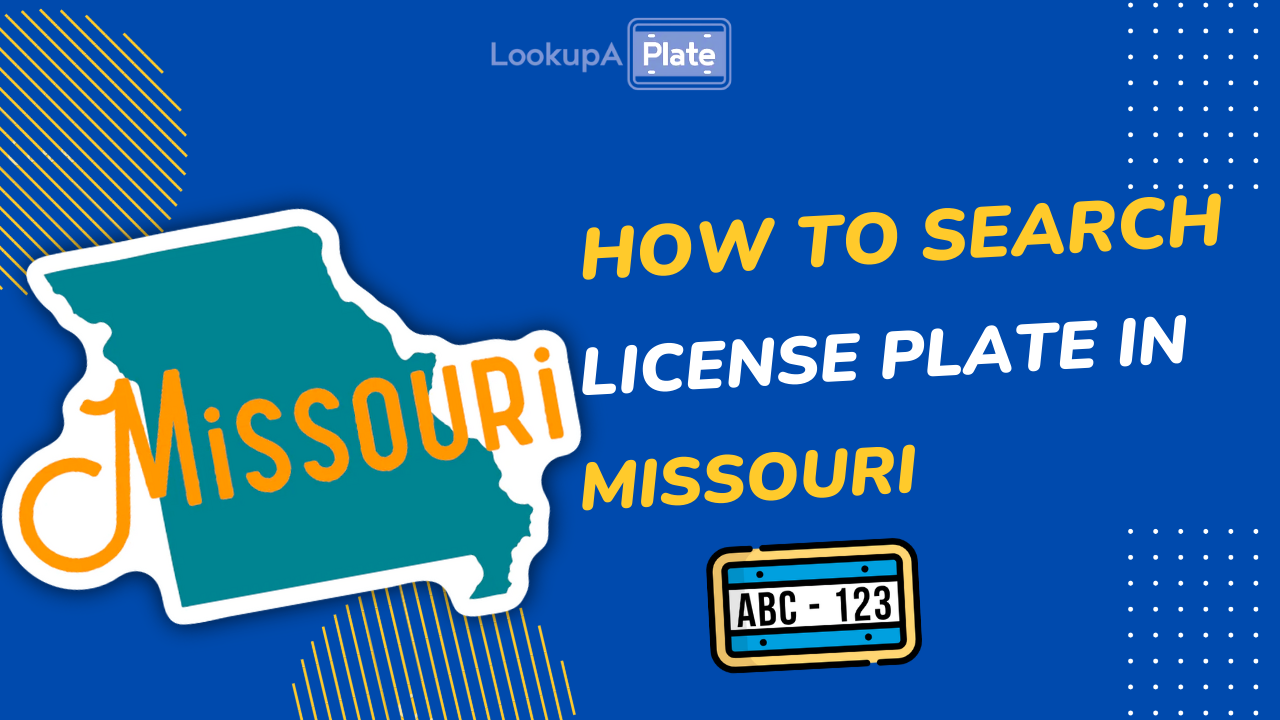 1) Missouri Department of Revenue (DOR):
The Missouri Department of Revenue maintains the records of all the vehicles registered in the state. Anyone can request for vehicle records without personal information. However, DOR releases personal data associated with the license plate only to law enforcement or authorized entities such as banks, government agencies and insurance companies as defined in the DPPA (Driver's Privacy Protection Act).
You can visit the license office or create an online account to request vehicle records without personal information. The report includes violations, speed tickets, vehicle types etc. The fee per record is $2.82.
To request personal information, you can
1) Visit the nearest license office
2) Mail, e-mail or fax form 4681 to:
Driver License Record Center
301 West High Street – Room 470
PO Box 2167 Jefferson City, MO 65101
E-mail: [email protected]
Telephone: (573) 526-3669
Fax: (573) 526-7367
The fee per search is $2.82.
2) Public records search
Several online services allow you to conduct a license plate search. Usually, such services collate data from various public, private and proprietary sources. However, the search doesn't always yield results, and such services typically have more information about the vehicle than the owner. The information you can expect from such services include VIN, make, model, year and type of vehicle, registration date and location, title records etc.
3) Private investigators
If the above two methods don't work for you, your last resort could be to hire a private investigator. Private investigators have access to license plate records through the DOR, and they can conduct the search on your behalf for valid reasons. It'll cost you significantly more, but it's quick and up-to-date.
Types of Missouri license plates:
Besides the standard plates, several different types of license plates are issued in Missouri, including:
Standard plates: These are the general issue plates that are most commonly seen on Missouri roads. All drivers must have a standard plate on their vehicle unless they opt for or qualify for one of the specialty plates.
Personalized plates: These plates can be customized with a combination of letters and numbers of the driver's choosing as long as it is available and meets the state's requirements.
Specialty plates: Unique design plates are available to special interest groups, causes, professions and college alma maters to show support or affiliation. Some specialty plates require an additional fee to be paid on top of the standard registration fee.
Collegiate
Military
Specialty
Some specialty plates may have their specific requirements in addition to the standard requirements.
Report bad drivers: Upload your comments, pictures and videos on LookupAPlate.com
Whether it's a bad driver, reckless driving or road rage, you can put the incident against the plate on our community platform. Leave your comments, pictures and videos and do your small part in making Missouri roads safe. Your experience could help other drivers make informed decisions while on the road.