Minnesota License Plate Lookup
Searching for a Minnesota license plate is something you may need to do for various reasons, and it's something you rarely do often. So it can be tricky and overwhelming to navigate and find the correct information to get started. To help make it easier, we've put together this comprehensive guide highlighting the regulations pertaining to vehicle records searches and your options for accessing them in the state of Minnesota.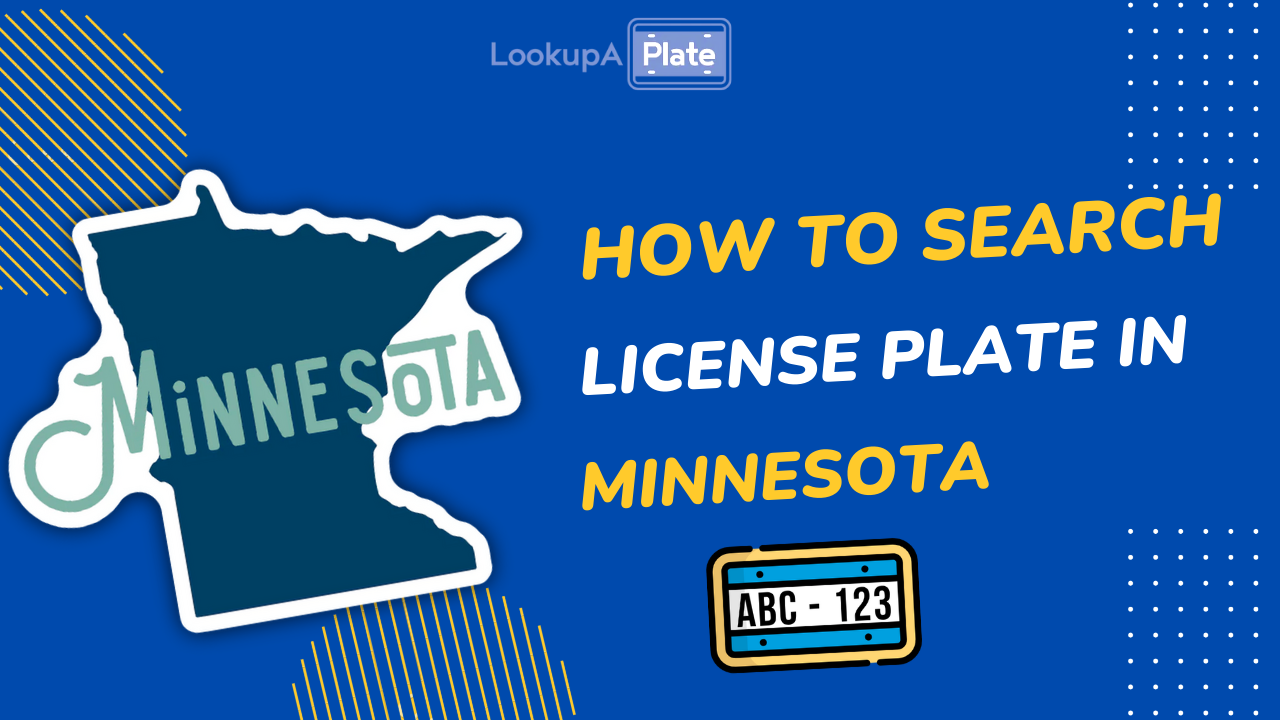 Rules & Regulations
The Minnesota Department of Public Safety - Driver and Vehicle Services (DVS) maintains the records of all registered vehicles in the state. However, Minnesota adheres to Federal privacy laws DPPA (Driver's Privacy Protection Act), which restricts who can access the information and what data can be shared. Only authorized individuals, such as law enforcement, businesses with a valid purpose, and owners of the vehicles themselves, can access vehicle records.
Search Options
There are three ways to conduct a Minnesota (MN) license plate.
1) Minnesota Department of Public Safety
As already mentioned, the Minnesota Department of Public Safety (DVS) is the official keeper of vehicle records in the state. To request a vehicle record, you need to fill DVS request form and mail it to the following address:
Driver and Vehicle Services Records
Unit 445 Minnesota, St., Suite 161
St. Paul, MN 55101-5161
You can read more about the records request procedure here. Only the vehicle's owner, legal representative or law enforcement agency can request vehicle records.
2) Online Databases
If you don't meet the DVS requirements, you can try searching for one of the many online databases. Such services usually have access to public, private and proprietary databases. There is no guarantee that you will find the desired information, but all it takes is to enter a license plate number and a couple of clicks to see what data is available. In most cases, you can expect to find technical specs of the vehicle, VIN, service history, odometer history, recall-related information and ownership history (only for DPPA-compliant reasons).
Most services aren't free, and you can expect to pay anywhere from $2 to $25 for the search. Feel free to use our service if you're after a free option. LookupAPlate.com allows you to search for any license plate in Minnesota and the rest of the US states for free. You can view vehicle specs, recall history and technical parameters. You can also request a comprehensive report from our partner data vendor.
3) Private Investigator (PI)
Hiring a private investigator is the way to go if you want a foolproof way to conduct a license plate search. Although it's a more expensive option, a PI is authorized to run license plates in Minnesota and you can expect to get quick and up-to-date information.
Do note that the PI also require a valid reason or cause to run the search and you may need to provide valid proof for such a request. Typically PI's charge $100 to $700 for a license plate search in Minnesota.
How to identify a Minnesota license plate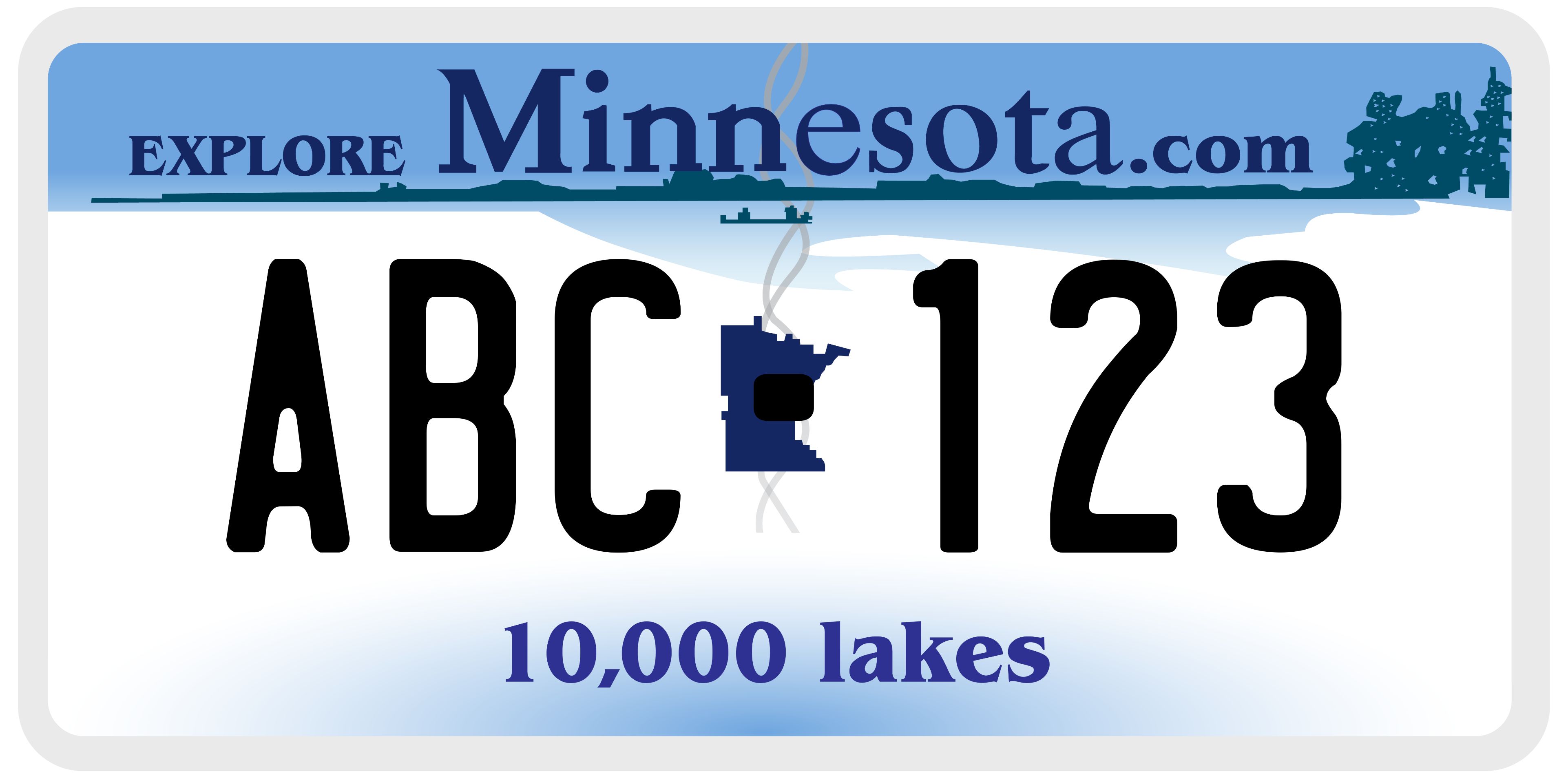 Identifying a Minnesota license plate is easy if you know what to look for. The plate has a white background with a graphic of a lake at the top. The state's name is also printed on the plate. The letters and numbers on Minnesota license plates follow a certain format.
The top of the plate has "Explore Minnesota" printed in the dark blue against a blue and green background, while the bottom has the text "10,000 lakes" in dark blue against a blue background. The center of the plate features a solid map of Minnesota. The license number is screen printed in black at the center. The month of expiration tab is shown on the lower left part of the plate, while the year of expiration is displayed on the lower right.
In Minnesota, the vehicle license number is six characters long and is made up of both letters and numbers. The first three characters are letters, while the last three are numbers.
Minnesota license number format: ABC 123
Minnesota license plate types:
There are a few different types of Minnesota license plates, including:
Standard plates
Specialty plates
Commercial plates
Motorcycle plates
Disability plates
Personalized plates
and more.
Standard plates: These are Minnesota's general issue license plate with white and blue lettering.
Specialty plates: Specialty license plates are available for an additional fee and have different designs to show support for a cause, profession, college or organization.
Some specialty plates have eligibility requirements that must be met.
Some specialty plates options are:
Amateur (HAM) Radio and Citizen Band Radio
Collector
Collegiate
Critical Habitat
Military/Veteran
Remembering Victims of Impaired Drivers
Support Our Troops
Volunteer Ambulance Attendant
Volunteer Firefighter
MN Golf
State Parks and Trails
Leave a comment about a bad driver on LookupAPlate.com.
If you encounter a bad driver or want to share any incident against a license plate in Minnesota, you can leave your comments and upload images and videos on our website. Your experience may help others to identify a bad driver and take the necessary care when driving.
All the comments are moderated, and personal information is struck out.