Michigan License Plate Lookup
Looking for information about a specific Michigan vehicle? Wondering who owns a certain license plate? Or, perhaps you want to report a bad driver. Whatever be the case, Michigan License Plate Lookup can help!
If you're in search of a few options (free or paid) to search for a Michigan registered license tag, this article is for you. Additionally, you will learn how much license plates cost in the Great Lake State and the most important laws you need to observe.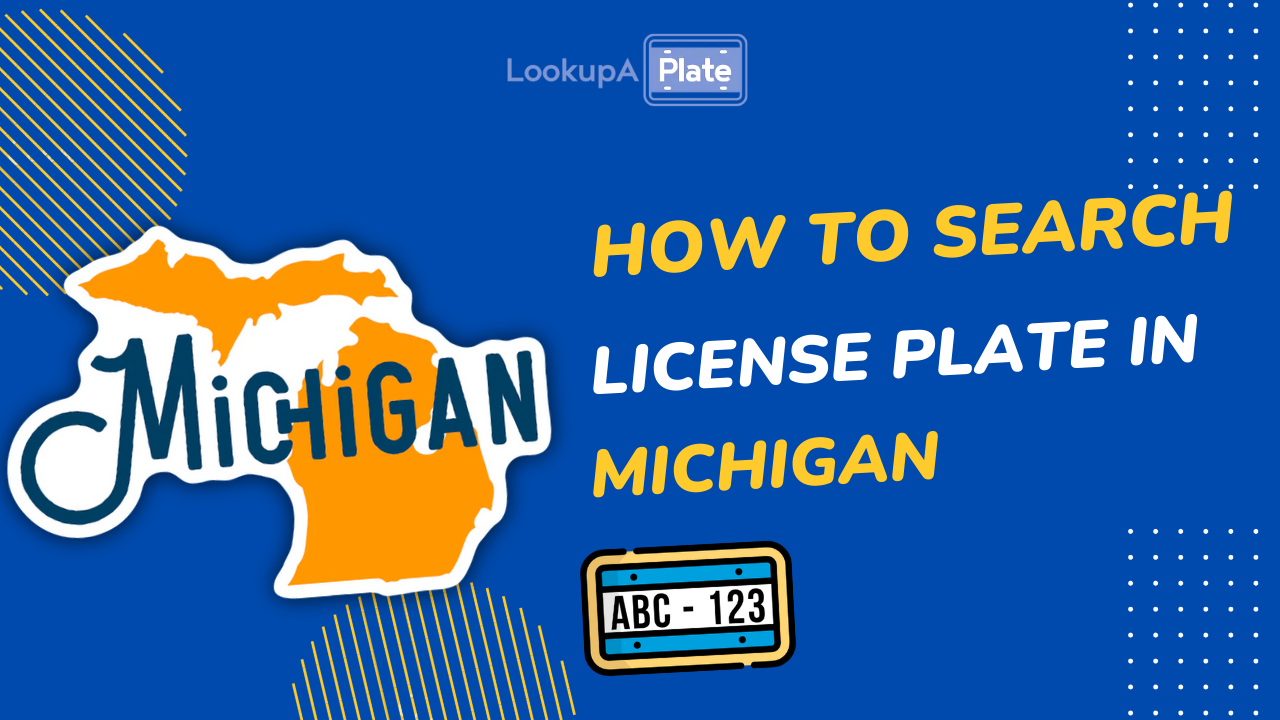 3 Ways to Look Up a Michigan License Plate
1) Michigan Department of Motor Vehicles (DMV)
If you have a license plate number, you can use it to contact the DMV to learn more about a car. You can do a license plate lookup online or via standard mail.
You can receive information about a Michigan license plate through the mail by completing the record request form (BDVR-154). Each record request costs $11, which you pay in advance using a check or money order. You can also request a certified copy by paying an extra $1. The process takes seven to ten business days to complete.
If you don't want to fill out form BDVR-154 by hand and mail it in, you can also do it online from this link. Navigate to the "Additional Services" and tap on "Records Sales Services". From there, you can click on "Request Records" and you're on track to look up that Michigan license plate.
The DMV report you receive will contain the below information:
The make and model. For example, it is a Chevrolet, and the model is a Camaro SS.
Year of manufacture.
Vehicle's specifications such as its color.
An entry on recall history, if any.
The DPPA act limits the DMV from issuing the owner's personal information. However, you can obtain this by submitting a legal reason. Some of the reasons that allow you access to personal information include:
The vehicle is suspect in a crime.
The vehicle owner's safety.
You are conducting a legal market survey
Any other legally permissible reason as per department policies.
To obtain license plate data, you will need to provide the following details:
The seller's title information.
A signed lien termination statement from a financial institution.
The VIN and odometer reading statement.
2) Private Investigators
According to Michigan Vehicle Code, Section 40B, private detectives, private investigators, private security guard agencies, and alarm system contractors can obtain personal information via a license plate number from the Michigan Department of State.
Your PI will need an occupational license number and one of those "legally permissible reasons" mentioned above.
3) Third-party look websites
Alternatively, you can always use third-party websites to obtain a car's history. These sites compile information from various sources to ensure you get a complete picture of the automobile before committing to purchase.
Credible Michigan license plate sites will provide you with details such as:
Complete vehicle details, including the manufacturer, car model, and year of manufacture. Additionally, you will receive the title brands and registration details, depending on the service's information sources.
The car's accident history and inspection reports.
Any other publicly available information such as outstanding loan payments.
The owner's name and address [If you have a DPPA-compliant reason].
Finally, most third-party websites only require you to provide the car's VIN or license plate to obtain the above information. While we can't recommend any particular service, we would like to chime in about our offering. LookupAPlate.com allows you to search for a license plate for free in Michigan as well as the rest of the US states. The basic search allows you to find the vehicle's technical specs, recall history and more. You can also request a comprehensive report from our data vendor - a fee is applicable.
How to Identify a Michigan License Plate?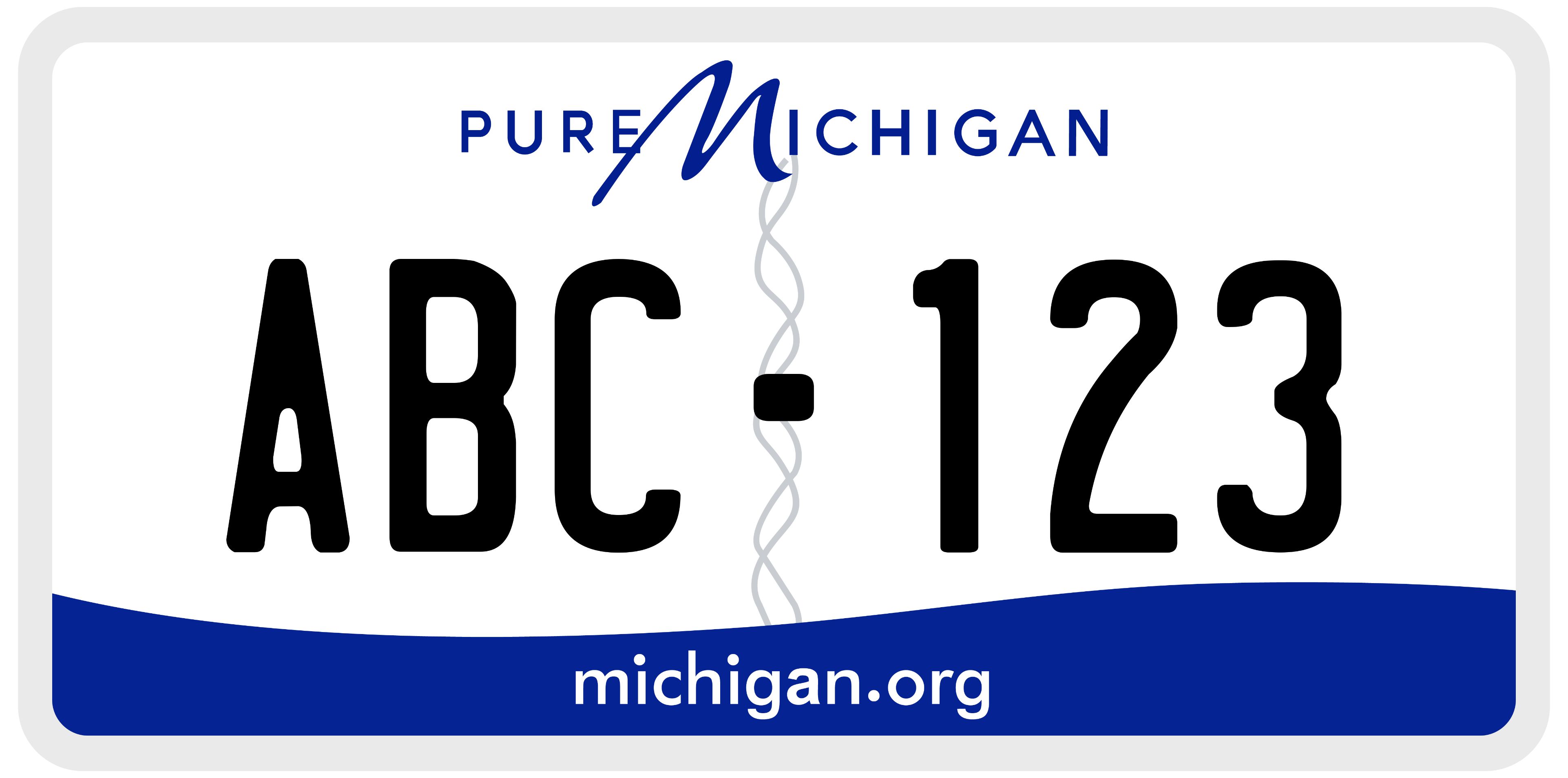 All vehicles get their license plates from The Michigan Secretary of State. Here is how you can identify them:
The 30cm by 15cm license plate displays at the car's rear end. Additionally, it has a blue and white background with Pure Michigan across the top.
Each plate has a combination of three letters and four numbers. For example, ABC 1234.
The license plate should also have a sticker on its top right corner indicating the next renewal date. Typically, the sticker only shows the month and year for the next renewal.
Finally, the plate is aluminum with the letters and numbers super-embossed.
Michigan License Plate Laws
Here are the Michigan license plate laws you should know:
All vehicles need to register with the Michigan Secretary of State to receive a license plate. These include personal cars, trailer coaches, off-road vehicles, and watercraft.
You need to provide one of the documents below:
Proof of ownership in the form of a vehicle title.
Proof of insurance from an authorized insurer.
Previous owner registration documents.
All vehicles must display the license plate at the rear of the car. Additionally, the license plate should have a tag showing the month and year of your next renewal.
You need to appear in person to apply for a Michigan license plate.
Applications for a license plate are within two weeks of purchase for new owners. Furthermore, the state applies a 6% use tax for each license application. However, you can get an exemption if the sale is between relatives.
The state requires you to replace your license plate every ten years. You can also replace it sooner should you notice any damage to the plate.
Michigan License Plate Cost
Below are the charges you can expect for a Michigan license plate.
Standard license plate fees are dependent on car weight, value, and age.
Michigan license plate transfers cost $8.
You will pay $5 for a license plate or sticker renewal.
It costs $30 to order a personalized plate and $15 for renewal.
Specialized plates:

Charity plates cost $35 to order and $10 to renew.
Military plate fees depend on the plate type.
Historical plates cost $30 to order and are valid for ten years.
Special organization plates cost $25 to order
The above costs are accurate as per the time of writing, so check with the Michigan SOS office for up-to-date Michigan license plate pricing.
Types of License Plates Available in Michigan
The Michigan Secretary of State issues the following types of license plates:
Standard license plates
Military/Veteran service plates
Fundraising license plates
Historical plates
Collector license plates
Special Organization license plates
Personalized license plates.
Check the Michigan SOS website or visit the nearest office for more details on each license plate type.