Maine License Plate Lookup
As per 2020 data from FHWA (Federal Highway Administration), 1,121,106 registered vehicles were plying on the roads in Maine. The Bureau of Motor Vehicles assigns each vehicle a unique license plate number. In certain situations, one might be interested in finding the owner details of a certain vehicle in Maine. The BMV does have a record of all the vehicles, but it only provides owner details of the vehicle if you have a permissible reason to do so. However, you've alternatives to find the owner's details.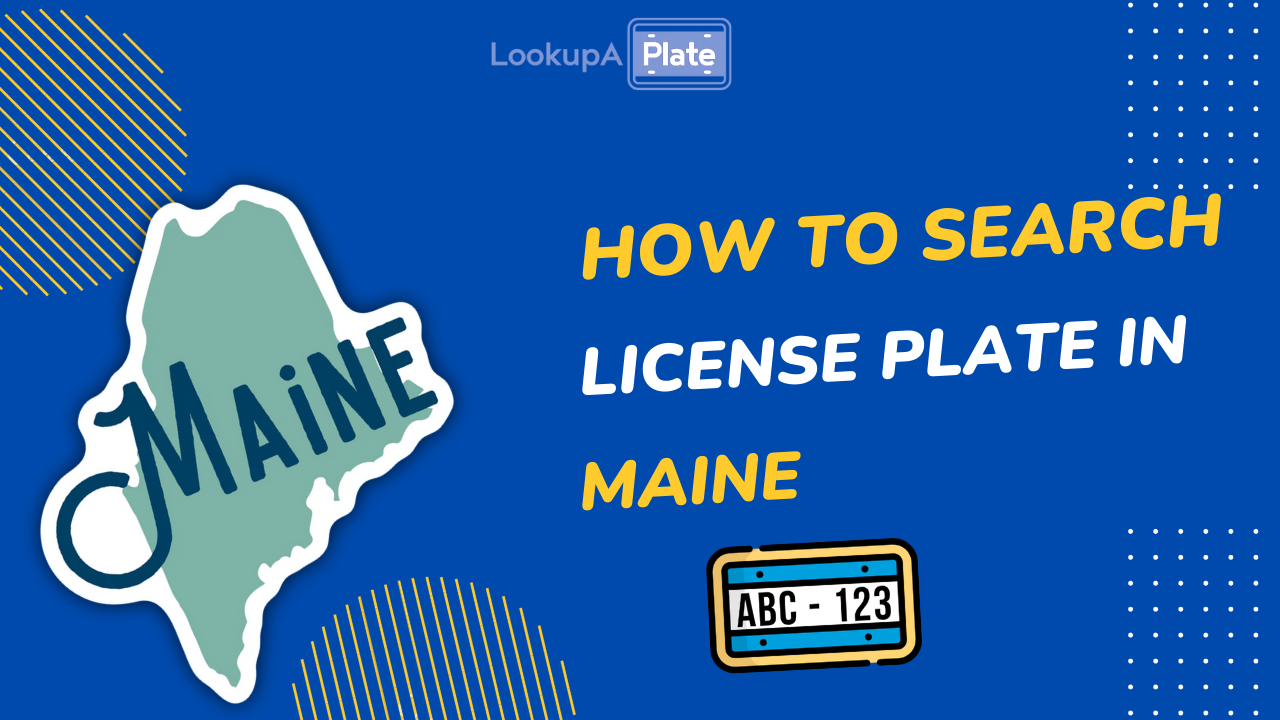 How to Search a Maine (ME) License Plate
1) Maine BMV InforME Service
InforME is an official service of the Maine BMV, providing access to vehicle registration records maintained by the agency. It's a subscriber-only service, and you must be an authorized user to gain access. Note that the vehicle owner's PII (Personally Identifiable Information) is protected under DPPA (Driver's Privacy Protection Act) and you must be or represent a permissible user to view such information. You can read more about the InforME DPPA guidelines here.
2) Private Database Search
Several online companies offer license plate lookup services in Maine. The search results mostly contain more technical data about the vehicle, like odometer readings, accident history, service recalls, etc. Such reports are mostly requested by users looking to purchase a used vehicle in Maine.
These services usually rely on private databases and don't have access to BMV records. However, they are helpful if you want to get a comprehensive report on the vehicle quickly.
3) Private Investigator (PI)
Hiring a private investigator might sound overkill, but PIs are authorized to run license plate lookup requests. Yes, it isn't cheap, but hiring a PI might be worth considering if you need to find owner information urgently.
Name and Shame - Post on LookupAPlate.com
The internet never forgets! If you have been in where someone is driving recklessly or cut you off on the road, you can always post a comment or upload pictures and dashcam footage on our website. While not an option to find the owner's information, you can 'name and shame' the offending driver and leave a note for other drivers to be aware of the said vehicle.
Note that we do not publish the personal information of the vehicle owner, and all reports stay anonymous.
How to identify a Maine license plate?
Before running a license plate search, one must ensure the license plate belongs to a marine vehicle. There are a few key design features to look for:
Maine license plates measure 6" by 12".
The background of the plate is white, with a chickadee and pine tassel graphic on the left.
The state name "MAINE" is written across the top of the plate in dark green.
At the bottom center of the plate, "Vacationland" is printed in green.
The plate number is printed in dark green in the center.
The validation sticker is placed at the bottom right.
The license registration number is six characters long, with the first four being numbers and the remaining two numbers.
Maine license number format: 1234 AB.
*The current series was introduced on July 1, 1999.
Types of Maine license plates:
There are various license plate types available in Maine, from standard passenger vehicles to vanity and disability plates.
Standard plate: The general chickadee theme plate is a common sight on Maine roads. It's issued to all passenger vehicles that don't opt for custom plates.
Specialty plates: Specialty plates are available for a wide range of interests, causes, professions and organizations. There are over 25 different specialty license plates available in Maine.
Agriculture
Conservation
Maine Lobster
Lighthouse Trust
Sportsman
Breast Cancer
University of Maine
University of Maine Black Bear
Barbara Bush
Wabanaki
Support Your Troops
Purple Heart
Prisoner of War
Pearl Harbor Survivor
Special Veteran
Disabled Veteran
Veteran Disability
Congressional Medal of Honor
Gold Star Family
Police Municipal
Sheriff
State of Maine
Disabled Veteran MC
Motorcycle
Coach
Apportioned
Vanity plates: Besides the standard and specialty plates, there is also an option to customize the license registration number on a plate. For a fee, one can select a 6-character combination that is not already in use and is not profane or offensive.