Kentucky License Plate Lookup
A license plate record holds key information about the vehicle it is assigned to, including make, model, year, color, and ownership details. License plate lookup can be useful for a variety of reasons. Maybe you're considering buying a used car in Kentucky and want to know if it has a clean history, or perhaps you're an insurance agent or claims adjuster looking to verify coverage on a vehicle.
Searching for a license plate in Kentucky, one needs to be wary of the fact that the federal DPPA (Driver's Privacy Protection Act) places some restrictions on what personal data can be made available and who can access it. However, technical vehicle data, as well as service record history, can be obtained by anyone.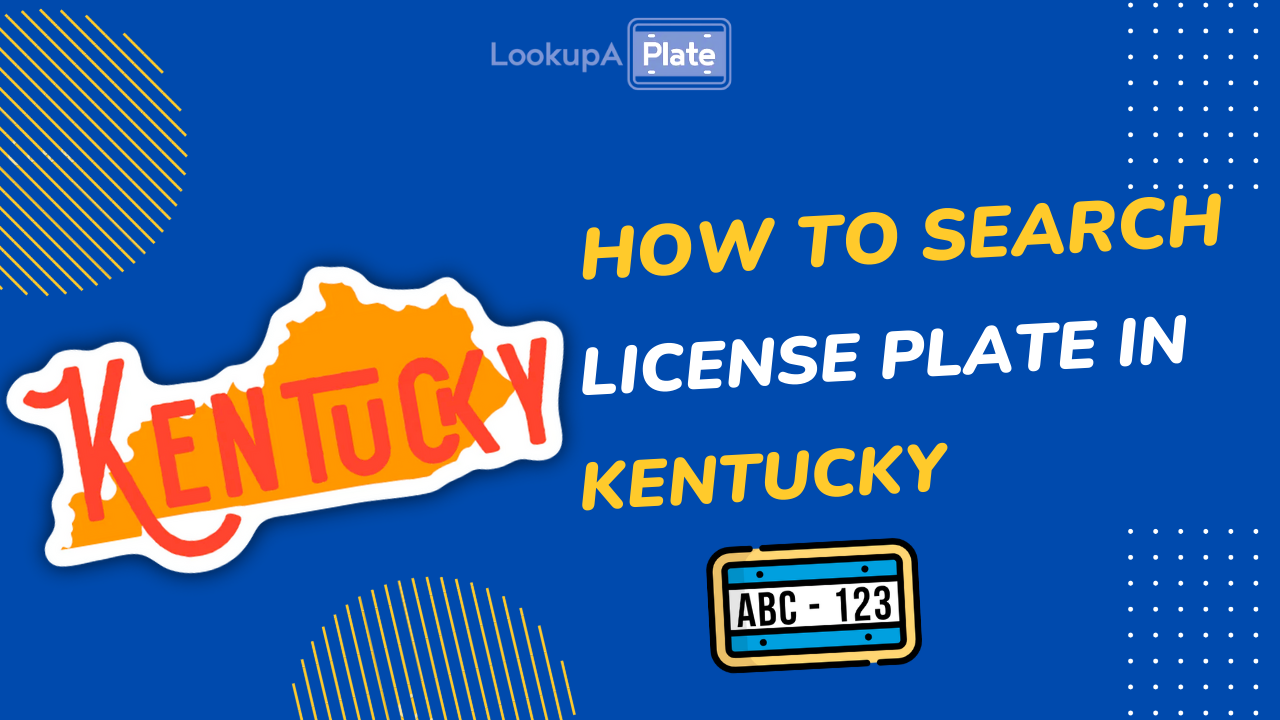 How to search for a Kentucky (KY) license plate?
1) Kentucky Transportation Cabinet, Division of Motor Vehicle Licensing
The Division of Motor Vehicle Licensing, a subunit of the Kentucky Transportation Cabinet (KYTC), is responsible for issuing and maintaining records of all license plates in the state of Kentucky.
The KYTC provides an online search tool known as Online Vehicle Information System (OVIS) that allows authorized users to search and view vehicle records in the state. OVIS is a subscription-based service, and one needs to create an account to be able to use it. The cost of the subscription is $75/year and $0.44 for every record.
Only authorized users, as defined in the DPPA, are allowed to access personal information such as names and addresses. Authorized users include, but are not limited to, government agencies, law enforcement officers, transport or security services, towing companies and insurance companies.
For questions or concerns about OVIS, please contact the KYTC at (502) 564-5301.
2) Public Records Search
Several third-party websites allow you to search for a licence plate. These services are not affiliated with the state of Kentucky, but they have access to several private and public sources. Usually, these services offer more in-depth technical vehicle data like service records, odometer readings, salvage records and more. Some of the services may share basic data for free, but on average, you can expect to pay $5 to $20 per report.
LookupAPlate.com - An online community to report bad drivers and search plates for free.
You can also search for a plate for free on our website and view basic information about the vehicle. Additionally, you can also view if any other users have reported the plate and submit your comment, including images and dashcam footage.
What does a Kentucky license plate look like?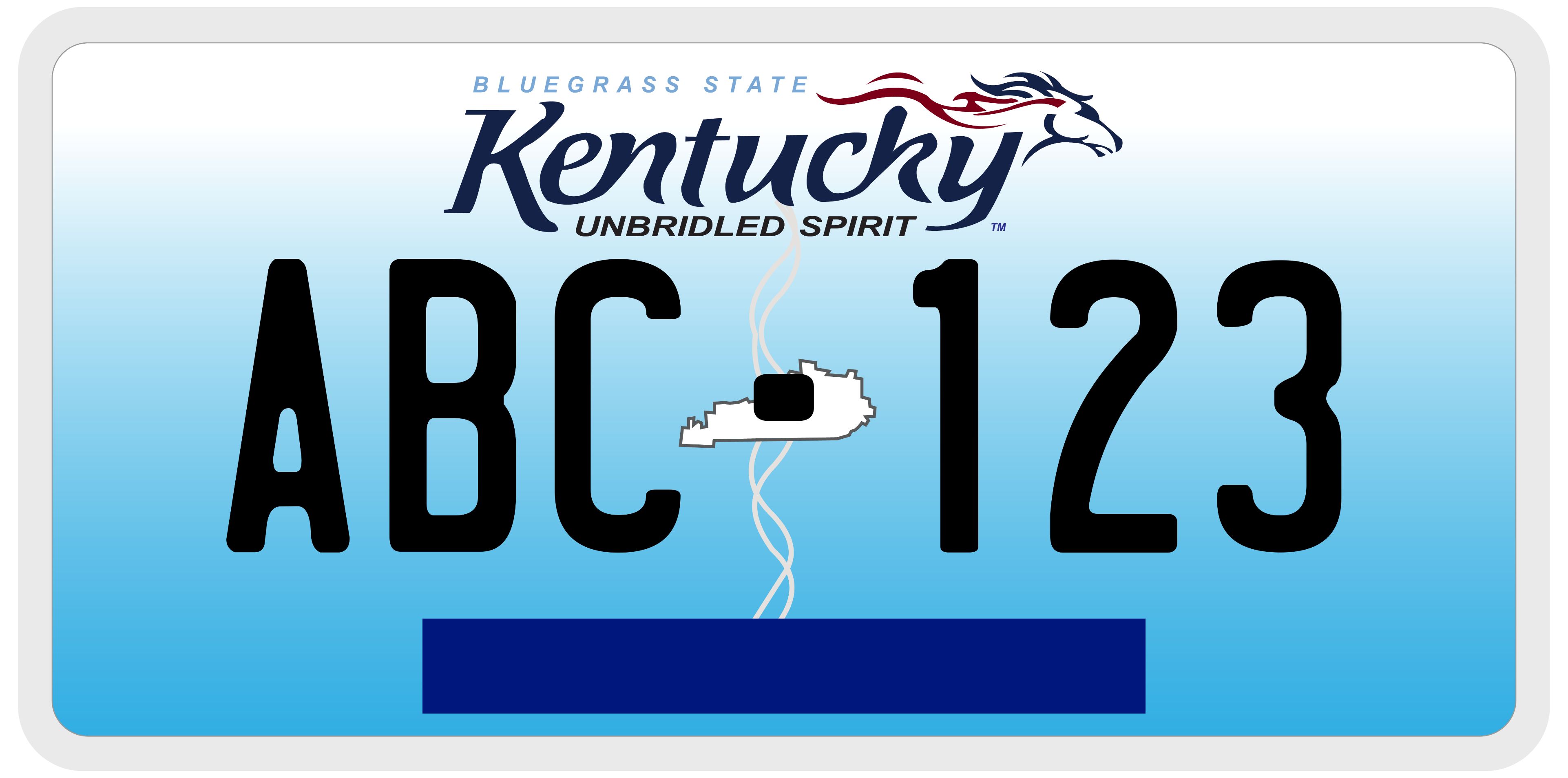 Kentucky has four standard license plate designs and a variety of specialty license plates.
Standard license plate designs:
1) White and light blue gradient with a state map silhouette in blue in the center-left. The word "Kentucky" is written across the top in blue letters, while the bottom of the plate has either the county name.
2) In addition to the "county" name, this design features the "In God We Trust" slogan at the bottom of the plate.
3) Team Kentucky design has been a recent addition. The plate has green grass and blue sky background with "Team Kentucky '' written at the center-left of the plate. A great way to show team spirit and support local sports teams.
4) Team Kentucky design is also available with the option to display "county name" at the bottom of the plate.
The license number is screen printed in dark blue on the plate and the verification sticker is on the right side of the plate. The license plate measures 12 inches by 6 inches which is also the standard size for license plates in the United States.
The license number is a unique 6-digit alpha-numeric code assigned by the Kentucky Transportation Cabinet. The first three characters are letters followed by three numbers.
Typical KY license number format: ABC 123.
Types of license plates in Kentucky
Kentucky has the widest range of license plate designs to choose from. In total, there are about 150 designs.
1) Personalized license plates: Also known as vanity plates, one can customize standard and specialty plates to the license number of their liking as long as it's available and adheres to the DMV regulations.
2) Specialty license plates: These plates represent a cause, profession, alma mater, or support for a sports team.
Special License Plates like Alzheimer's, Amateur Radio, Autism Awareness, Bobcat, Breast Cancer etc.
Special Motorcycle License Plates
Disabled License Plates
Military License Plates
Military Motorcycle Plates
University License Plates
Independent College Plates
Government/ Official Plates
Miscellaneous License Plates