Kansas License Plate Lookup
Conducting a license plate lookup enables one to gather key information about a vehicle, such as its make, model and year, title records, lien records and more. However, it's important to note that not all data might be made available to all individuals to protect the driver's privacy.
Keep reading to learn more about how to search for a Kansas license plate, what kind of information you can expect to find and the cost involved.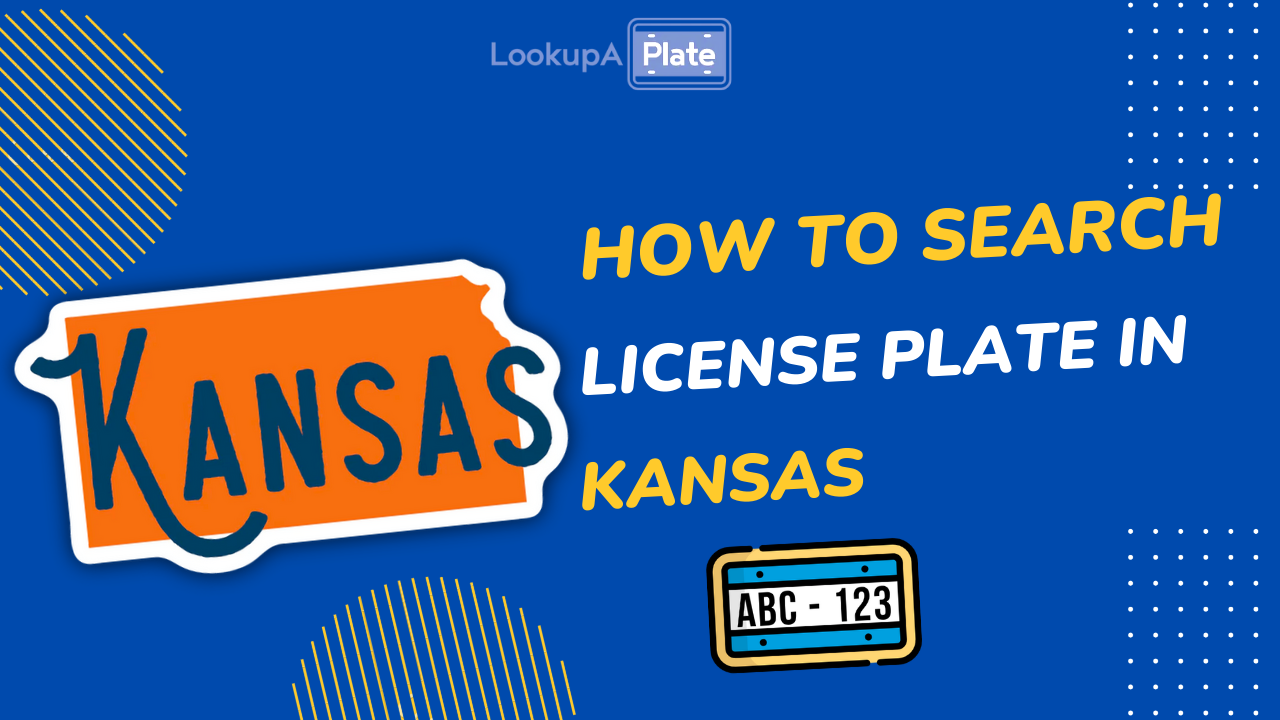 Three Ways to Conduct a Kansas (KS) License Lookup
Basically, there are three ways that you can go about searching for a license plate in Kansas. Each option has its pros and limitations, which are important to keep in mind.
1) Kansas Department of Revenue, Division of Vehicles
The Kansas Department of Revenue, Division of Vehicles, is the official agency in charge of issuing license plates and maintaining records in the state. So the official way to search for a license plate would be through DOV.
The Department of Revenue offers an online tool to search and view motor vehicle records. The service costs $125/year, and one must signup for the subscription. Alternatively, one also fill in this form and mail it to the following address:
Kansas.gov
534 S Kansas Ave., Suite 1210
Topeka, KS 66603-3406
Phone: 1-800-452-6727
The information is made available only to authorized individuals, law enforcement bodies, insurers and more in accordance with the federal DPPA laws.
2) Third-party public records services
Public records services like truthfinder, instantcheckmate, intelius and others may also help you look up a plate. Usually, such services rely on government, public and private sources to provide the information. It's also worth noting such services offer a comprehensive report of the vehicle, including history, make and model, lien information and more that the DOV may not provide.
The cost can vary anywhere from free to up to $20, depending on the service.
3) LookupAPlate.com
You can also search for the license plate for free on our website and see basic information about the car, such as make, model and year. Additionally, you can also view if there were any community-reported incidents involving the vehicle and submit your own.
How to identify a Kansas license plate?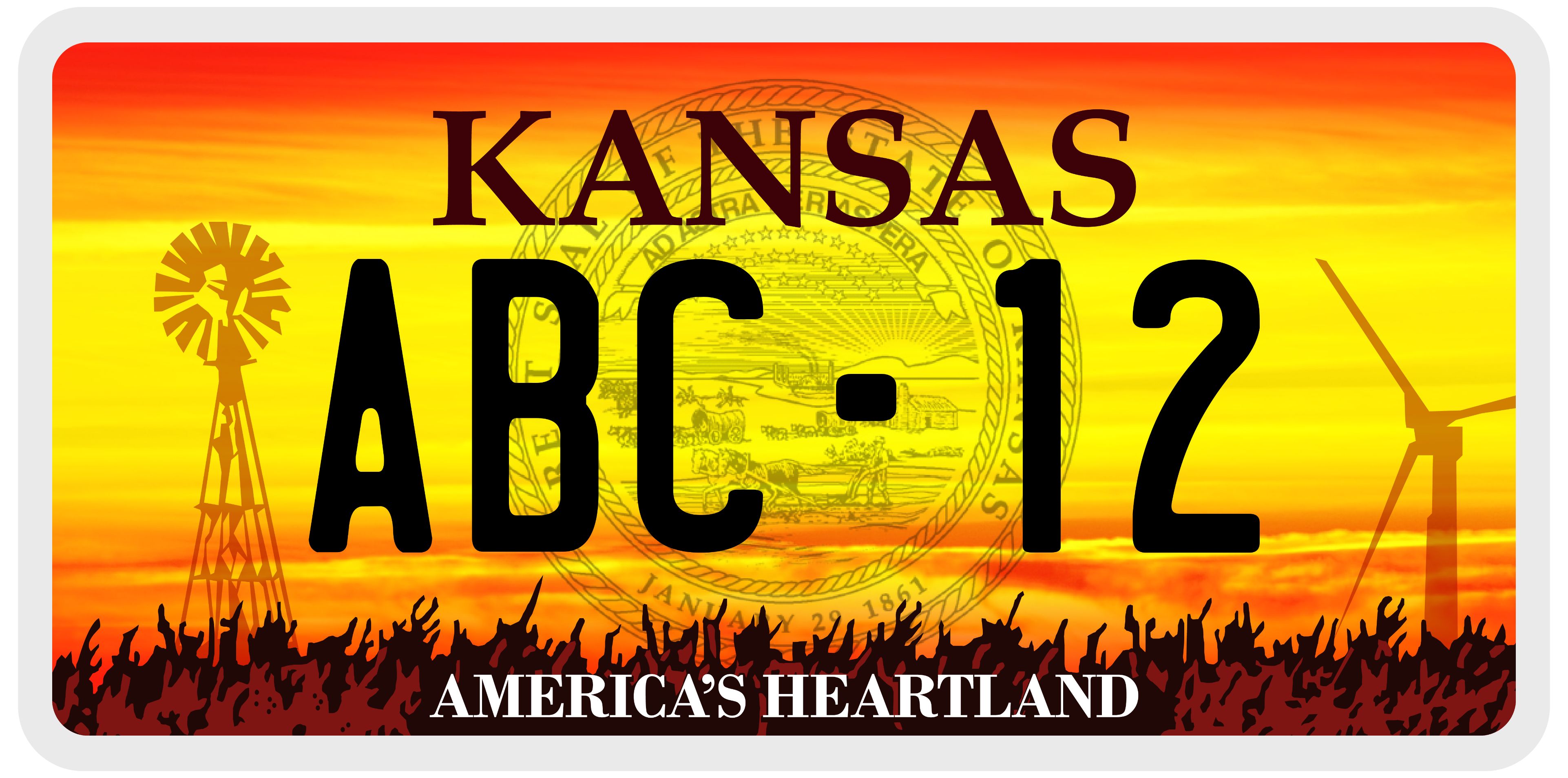 Kansas license plates have a light blue background with a state seal in white in the center. The state name "Kansas" is written at the top in black and the license number is screen printed in black at the center. Additionally, the county code is written at the top right in black and the verification sticker is placed in the top right corner.
The license plate measures 12 inches in width and 6 inches in height which is also the standard size for license plates in the United States.
The license number is a unique 6-digit alphanumeric code assigned to the vehicle by the Kansas Department of Revenue. In standard license plates, the first three characters are numbers followed by three letters. The current series was introduced in April 2007.
Kansas license number format: ABC 123.
Kansas license plate types:
In Kansas, besides the standard plates, there are a few different types of license plates and designs that you might see on the road.
Personalized Plates: These plates have a personalized image and are available for disabled, antique cars, and leasing company cars. For an additional fee, vanity license plates are also available that allow you to customize the license plate number.
Specialty Plates: There are over 60 different types of specialty license plates in Kansas. They support various causes and organizations, such as environmental organizations, universities, and military veterans.
Educational Institution License Plates
Benedictine College
Emporia State University Alumni Association
Fort Hays State University Alumni Association
Friends University Alumni Office
Kansas State University Alumni Association
University of Kansas Alumni Association
Pittsburg University Alumni Association
Washburn University Alumni Association
Wichita State University Alumni Association
Organizational Distinctive License Plates
Amateur Radio Operator
Antique Vehicles
Autism Awareness
Braden's Hope
Children's Trust Fund
City of Wichita
Donate Life
Ducks Unlimited
Eisenhower Foundation
Emergency Medical Services (EMS)
Firefighter Plate for Automobiles
Gadsden Flag
Kansas 4H Foundation
Kansas Arts License Plates
Kansas Breast Cancer Research and Outreach Plate
Kansas Foundation for Agriculture in the Classroom
Love, Chloe Foundation
Masonic Lodge
Shriner
Special Olympics
Military Distinctive License Plates
New Military Plates
Combat Wounded Purple Heart
Congressional Medal Of Honor
Disabled Veteran
Ex-prisoner Of War
Korean War Veteran Plate
National Guard
Operation Desert Storm Plate
Operation Enduring Freedom Plate
Operation Iraqi Freedom Plate
Pearl Harbor Survivor
U.S. Veteran
Vietnam Veteran
Specialty plates may have their own eligibility requirements, such as being a member of the organization or having served in the military, and there is usually an additional fee for these plates.