Iowa License Plate Lookup
License plate lookup can come in handy for insurers, towing companies, law officers, government bodies, and anyone who needs to find out the vehicle or its owners. But there is more to it than just keying in a license plate number. Before conducting a search, one needs to know what, why, where, and how.
In this guide, we'll look at different options to search for a license plate in Iowa, what type of information is available from such searches, and how much it would cost you.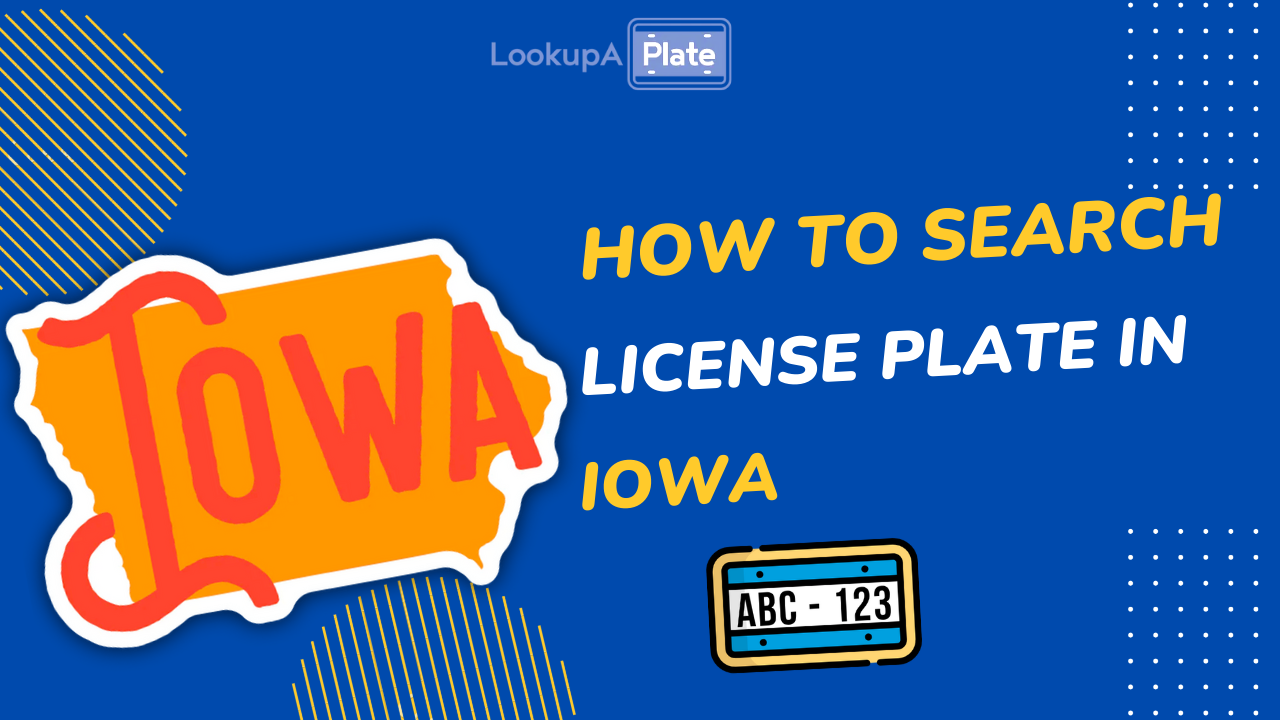 Three Ways to Conduct Iowa (IA) License Plate Lookup
There are three ways you can go about an Iowa license plate lookup - by going through the state's DMV, hiring a private investigator, or using an online public records search service. Let's look at each of these options in detail.
1) Iowa Department of Transportation, Motor Vehicle Division
The most obvious plate to start your search with is the state's DMV. The DMV maintains the records of all the vehicles registered in the state. However, to safeguard the vehicle owner's privacy, the DMV only releases the records to authorized individuals, agencies or if you have written consent from the vehicle owner.
The privacy agreement needs to be duly filled out and mailed to the following address:
Systems and Administration Bureau
Iowa Department of Transportation
P.O. Box 9204
Des Moines, Iowa 50306
The cost per report is $5.
2) Hiring a Private Investigator
If you're willing to shell out some money (usually $100 to $500) and have a valid reason, you can hire a private investigator (PI) to search on your behalf. PIs have access to DMV and other private records that can help track down the vehicle owner. Do note that even PIs must follow certain guidelines the state laid out while conducting such searches.
3) Public record services
These third-party websites source data from multiple public, private and government sources. These services usually offer more in-depth vehicle-related information like sale history, maintenance history, VIN, salvage records, odometer and more. The best part is the whole process is online and doesn't require you to fill out any forms or get anyone's consent. The downside is only basic information is related for free and for more detailed reports, you'll need to pay a nominal fee ($5 to $20).
LookupAPlate.com - An online community to report bad drivers
You can also search for the license plate for free on our website and view basic information about the vehicle. Additionally, you can also join our community and report bad drivers or rash driving incidents. You can leave comments and upload images and videos to help others be more aware on the road.
What does an Iowa license plate look like?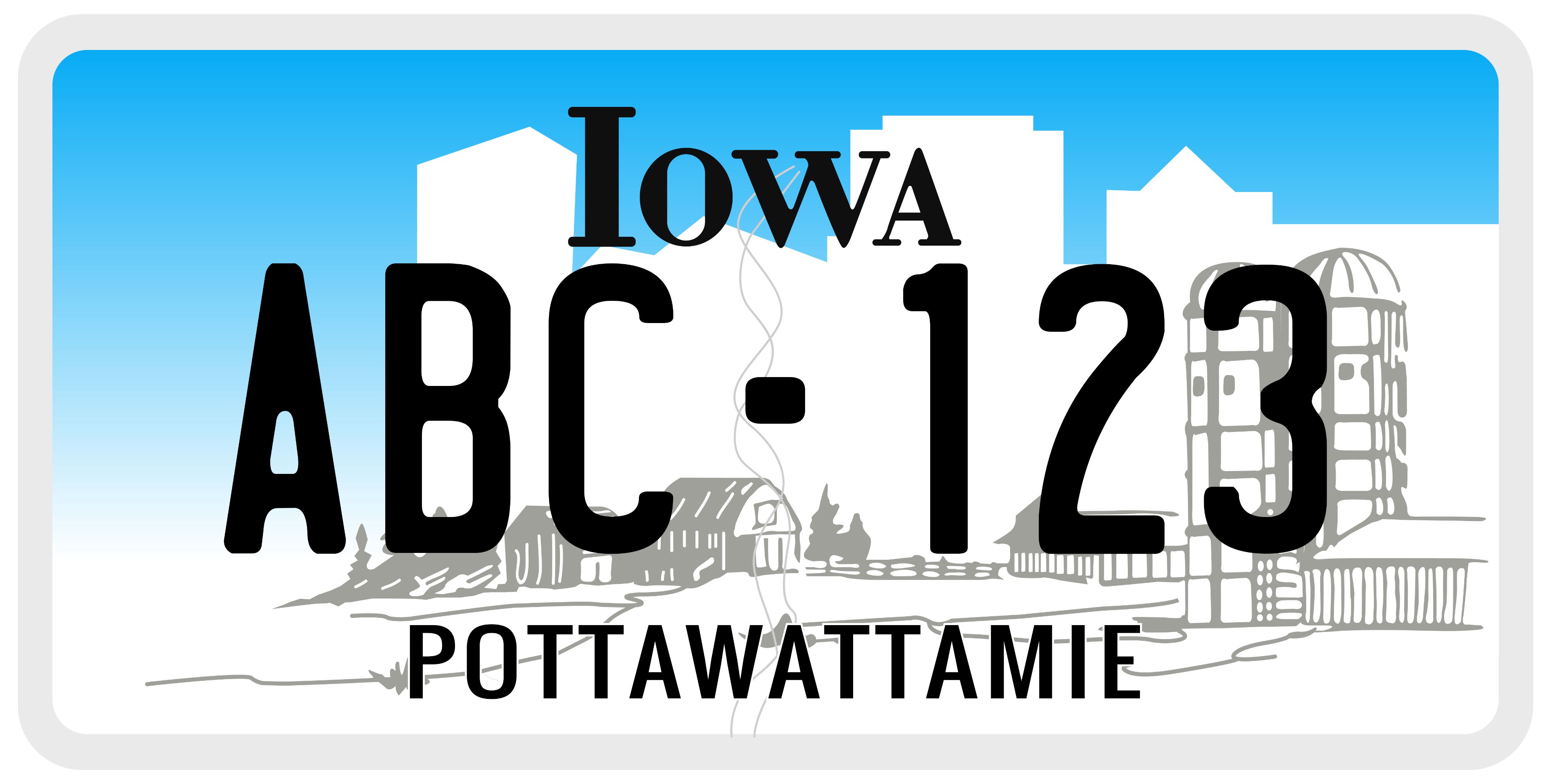 Standard Iowa license plates have a blue sky with a farm, city skyline, wind turbine and green grass background representing the state's natural resources and economy. The plate also has "Iowa" printed in white letters on a blue backdrop, and at the bottom, the county name is printed where the vehicle is registered. There are 99 counties in Iowa, so the bottom text varies quite a bit.
The plates are made of aluminum and have embossed (raised) lettering. Each plate has a unique serial number, which is assigned by the Iowa Department of Transportation and measures 6 inches by 12 inches.
The license number is 6 characters long, with the first three being alphabets and the last three being numbers. The current series was introduced on April 1, 2018.
Typical Iowa license number format: ABC 123.
Iowa license plate types:
There are a few different types of license plates that are available in Iowa, which include the following:
Standard Plates: These are the most common type of license plate and are available for passenger vehicles, RVs, trucks, buses, motorhomes and motorcycles. They have a standard blue Iowa scenery and black lettering design.
Special Interest Plates: These license plates support different causes and organizations and have a special design to represent the cause.
Organization license plates: These license plates represent different organizations, Amateur radio operators, breast care awareness and more.
College and university plates: These license plates represent different colleges and universities in Iowa, like Clarke University, William Penn etc.
Military Service Plates: These license plates be availed by different branches of the military and veterans, such as the Air Force, Army, Coast Guard, Marines, National Guard, Navy, etc
Additionally, one can opt for vanity plates which can be a minimum of 2 and a maximum of up to 5 characters long, and one can choose their own combination of letters and numbers.