Indiana License Plate Lookup
Do you need to look up an Indiana license plate? Maybe you've just been in an accident and need information about the other driver. Or maybe you're thinking of buying a used car and want to make sure it's not stolen. No matter the reason, there are several ways to pull up vehicle information just by the plate. This guide will discuss the different options to search and what data you can expect from the lookup.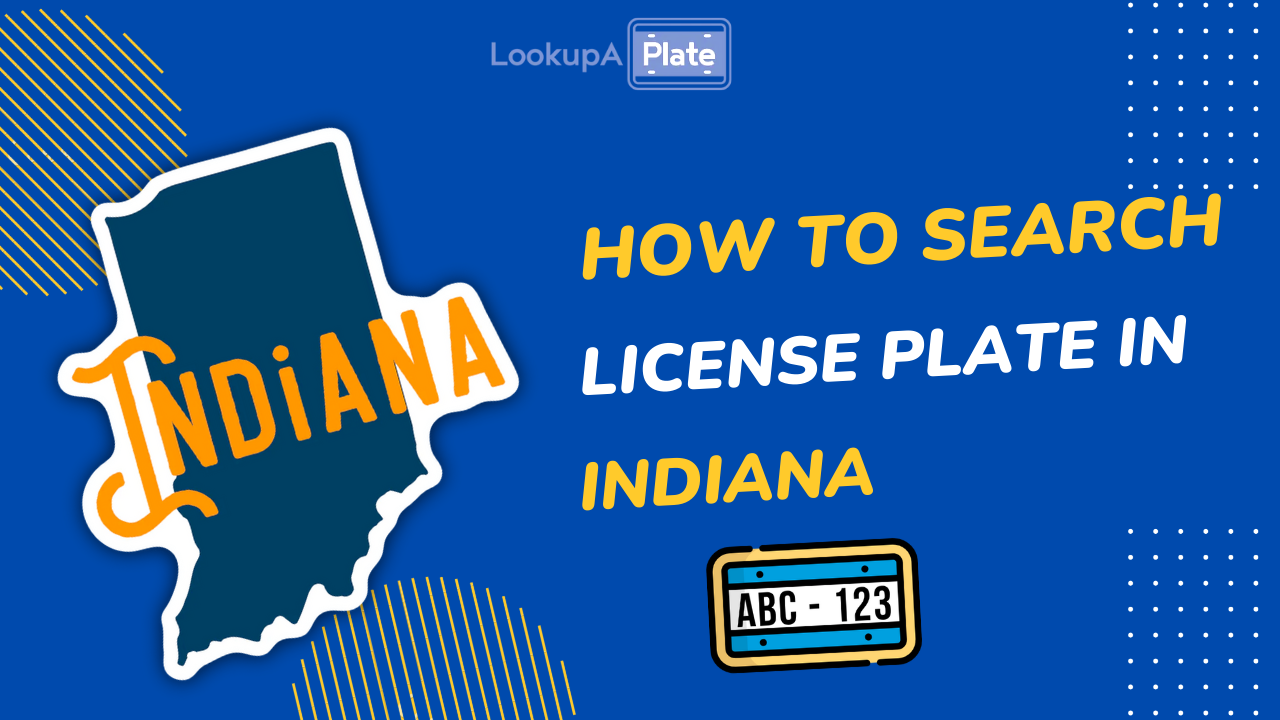 How to Search a License Plate in Indiana (IN)
There are broadly three ways to search for a license plate in Indiana - contacting the BMV directly, using a third-party lookup service and hiring a private investigator.
1. Indiana Bureau of Motor Vehicles (BMV)
Residents of Indiana can search for a license plate using the BMV online database. But because of the strict Driver's Privacy Protection Act (DPPA), the details granted to most people are limited and do not include personal information about the owner of a vehicle. The first step is to create a BMV account. Users then have the options of Basic or Enhanced Access:
Basic access will cost you $16.32 per record, granting you access to the BMV Vehicle Registration search. Using a Vehicle Identification Number (VIN) or a Social Security number will grant you information such as:
Vehicle check reports
Accidents and thefts
Total mileage
Salvage records
Vehicle title
Vehicle specifications (manufacturer, color, engine, etc.)
Out-of-state title information
Recall record
Enhanced Access carries a larger fee of $95 (it includes ten user names and passwords) and operates on a yearly subscription basis. This option will then cost users $5 per record search. This premium service provides more detailed search results, including:
State services that are not available to private citizens
Ten individual user names and passwords for your organization
Monthly billing summaries and usage tracking
Service discounts
Toll-free customer service hotline
However, enhanced access is, typically, only available to the following trades:
Attorney
Debt Collection Company
Private Investigator
Sheriff and Police Departments
Security Guard
School Corporations
Insurance Agent
Bail Bond
Auto Dealer
Insurance Company
Tow Company
Mobile Home Parks
Recovery Agent
Alternatively, if you do not belong to any one of the above professions, you still have the option to apply for enhanced access. You would need to fill out State Form 1014(R5/ 11-20) and either email it to [email protected] or send it at:
Indiana Government Center North
Room 402100 North Senate Avenue
Indianapolis, IN 46204
You'd need to mention the reason and include your name, address, phone number, and place of business.
2. Third-party online lookup services
If you don't want to go through the hassle of contacting the DMV or waiting weeks for the report, 3rd party lookup services are worth considering. Such services offer a fast and easy-to-use way to search license plates but aren't always free. These services don't have access to the official DMV records; instead, they rely on several public, private and proprietary databases to fetch the details.
You can expect to find detailed vehicle history, which may include service records, accident history or whether the vehicle was ever reported stolen. Some of the services may also be able to fetch the vehicle ownership records but would require a DPPA-compliant reason.
There are several online lookup services, but we'd like to highlight our service and what sets us apart. LookupAPlate.com allows you to search for a license plate in Indiana and other US states for free. Our free report itself is very detailed and includes vehicle specs, images, history and more. You can also view if there were any community-reported incidents filed against the license plate on our website. You can also opt for a comprehensive report from our partner for an additional fee.
3. Private Investigator
As your third and last option, you can hire a professional investigator, who will likely have connections in the right places and the legal means to dig up the information that will serve your best interests.
How to Identify an Indiana License Plate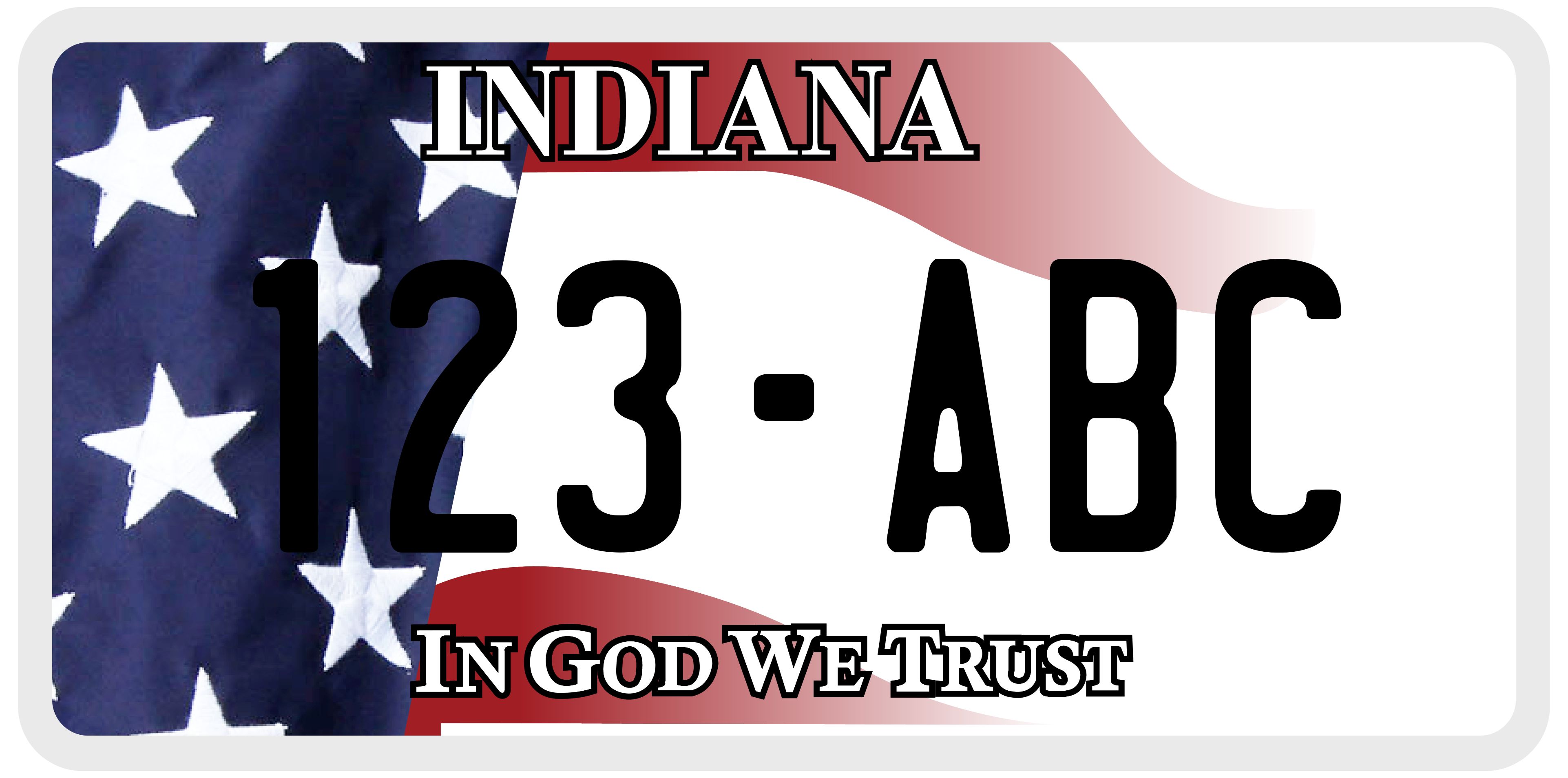 Just like other states, the Indiana license plate measures 6 inches by 12 inches and is made of aluminium. Indiana only requires the plate to be mounted on the vehicle's rear. It is not necessary to have a front plate.
The standard passenger plate features a green forest with covered bridge and blue sky background. The top of the plate has "INDIANA" printed while the license plate number is screen printed in the centre in dark blue.
The license number is six characters alpha-numeric and follows the pattern: 123ABC
Indiana License Plate Types
Indiana has a slew of options for different license plates. Of course, there are standard plates for passenger vehicles, but there are also specialty plates and options for customization. The specialty plates support organizations, charities, and foundations. A portion of the additional costs for these plates goes to fund these groups.
Some examples:
DARE
4-H Foundation
Abraham Lincoln's Boyhood Home
Autism Awareness
American Foundation for Suicide Prevention
American Legion
American Diabetes Association
Amateur Radio
The Boy Scouts
Breast Cancer Awareness
There are even plates that honor universities and sports teams, as well as plates for military personnel, veterans, and disabled Americans.