Hawaii License Plate Lookup
A license plate lookup can help find whether a car has been in an accident, was previously stolen, has any outstanding parking tickets and who the current and previous owners of the vehicle were. But how much information you can see depends on who and where you are running the search.
To save you the hassle, here's a no-fluff guide on how to go about searching for a Hawaii license plate. We'll share your options, what data you can see, and the associated cost.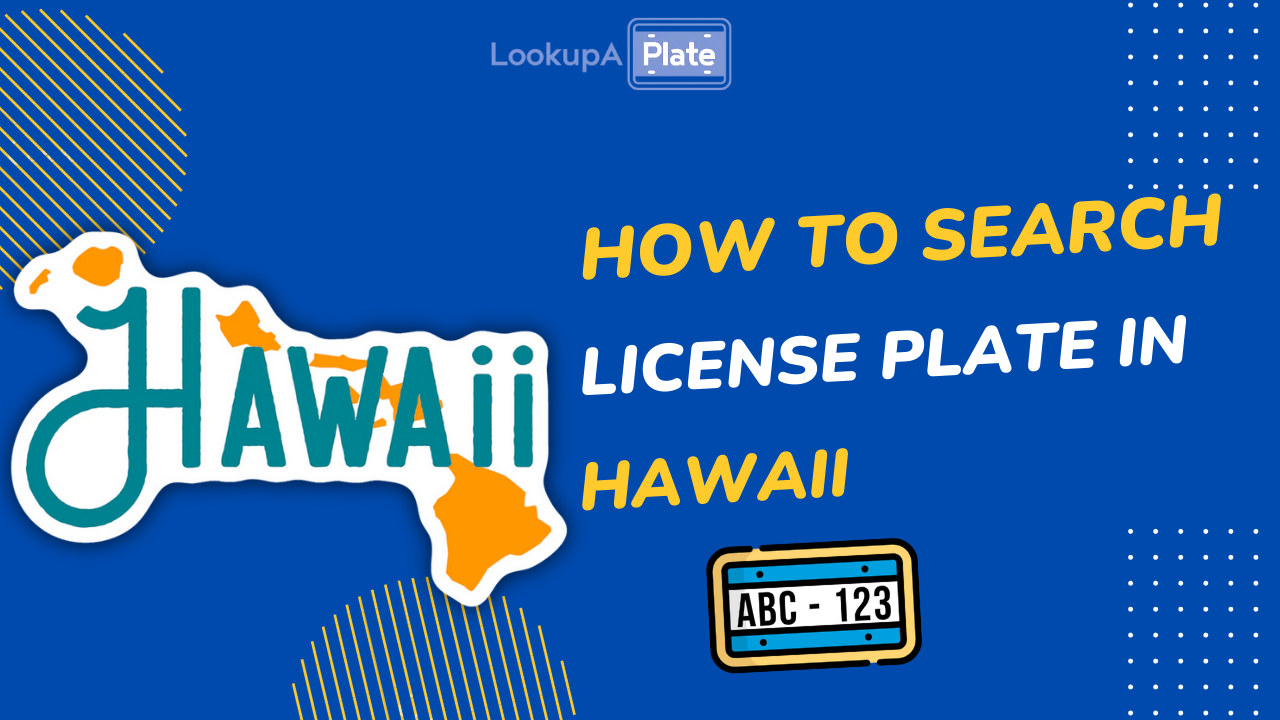 Three ways to search for a Hawaii License Plate
1) Vehicle Registration and Licensing Division or Hawaii DMV
A good place to start is the Hawaii DMV which maintains all the data on vehicle ownership. Basic information related to the license plate, like registration status, vehicle type and model, can be searched online for free (link). You need to enter the license number and click the search button.
To request owner information, you need to have a permissible use for the data as per the Federal Driver's Privacy Protection Act (DPPA). The DMV only shares personal information like the owner's name and address with:
Law enforcement agencies
Government agencies
Attorneys and private investigators
You need to mail your request to the following address, and the cost is $9/report.
Licensing Branch-License Verification
P.O. Box 3469
Honolulu, HI 96801
2) Public record services
Several public record services have mushroomed in recent years. These services rely on public and private data sources and give more comprehensive information about the vehicle than what DMV offers. Sale history, accident reports, lien details etc., can be found in these reports. Basic information is usually free but on average such services cost anywhere from $5 to $20 for a full report.
3) LookupAPlate.com
You can also search for a license plate on our website and see basic vehicle details. You can leave a comment if you find the vehicle owner driving rashly or involved in an incident. Additionally, if you have dashcam footage or a picture of the vehicle, you can upload it to help others.
What does a Hawaii license plate look like?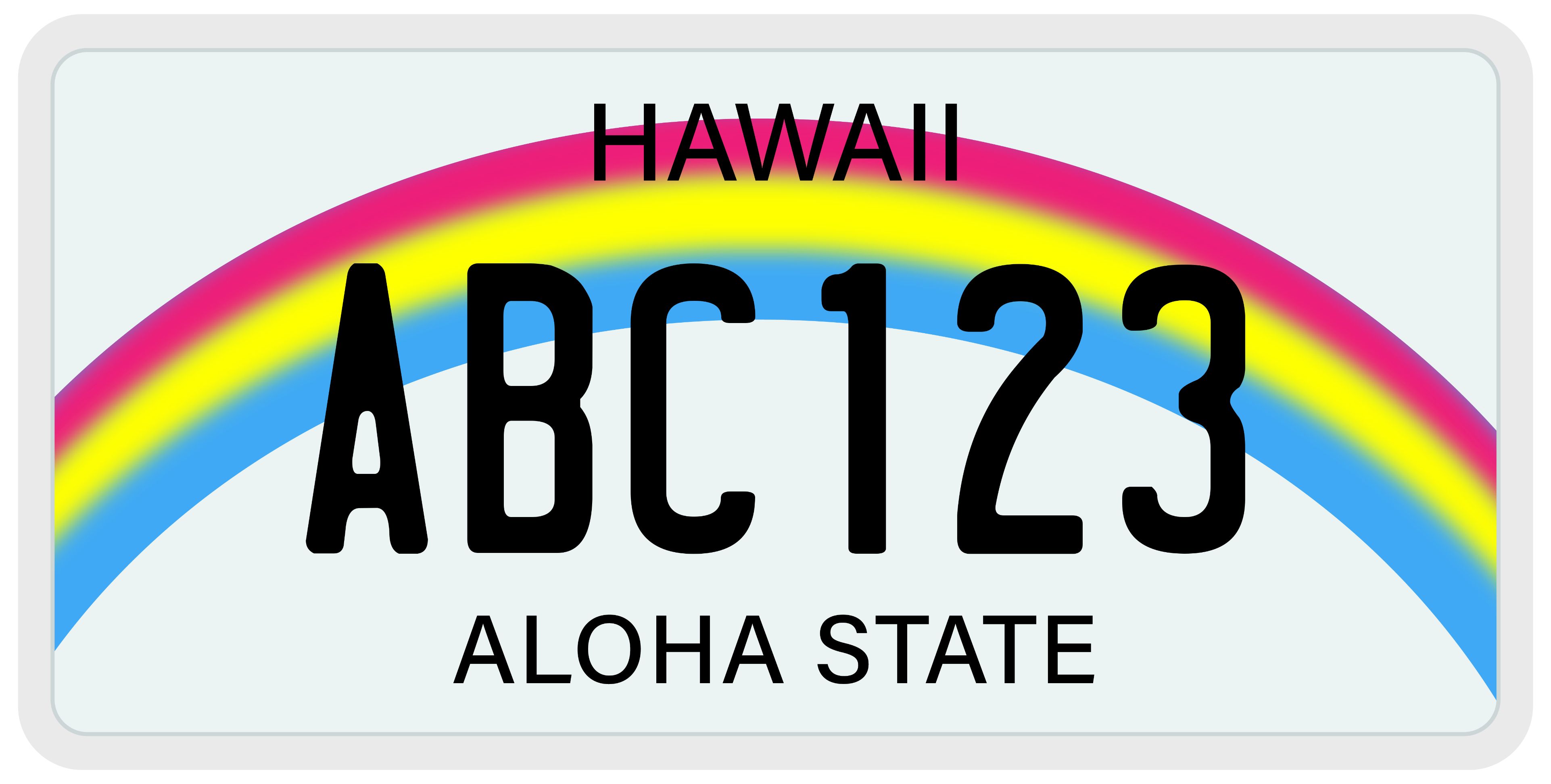 A Hawaiian vehicle license plate is probably the easiest to spot on the road. The state's license plate has a white background and a rainbow graphic. The word "Hawaii" is also printed on the top of the plate, and "Aloha State" is printed on the bottom. The plate also has the island chain graphic along the bottom. The license number is printed in black, and the verification sticker is located in the top right corner of the plate.
The plate is made of Aluminum and measures 12 inches by 6 inches.
The license number is six characters long, and the first three characters are letters followed by three numbers. The current series was introduced in 1991 and hasn't been changed since then.
Typical license or registration number format: ABC123
Types of license plates in Hawaii:
Hawaii offers a few different types of license plates to vehicle owners besides the standard plate. Some of these include:
Standard plates: Default license plates for vehicles registered in Hawaii with a white rainbow background.
Veteran specialty plates: Veteran plates are available for certified military or war veterans with an honorable discharge. The plates are available for:
Veteran
WW II Veteran
Purple Heart
Combat Veteran
Persian Gulf Veteran
Korean Veteran
Vietnam Veteran
Prisoner of War
Pearl Harbor Survivor
Organization specialty plates: These are available to members or supporters of various organizations, and part of the cost of the plate usually goes towards supporting the organization. Some examples include:
Aloha Pregnancy Care and Counseling Center
America United
Bishop Museum
DLNR - Division of Forestry & Wildlife
Haleakala National Park
Hawaii Alliance for Arts Education
Hawaiian Humane Society
HPU Sharks
Honolulu Fire Department Fireman's Fund
Honolulu Police Relief Association
Hui Ho'ona'auao
Ke Ali'i Pauahi Foundation
Kahiau - A Tennis Foundation
Polynesian Voyaging Society
University of Hawaii Foundation
Volcanoes National Park
Vanity plates: Vanity license plates are available for an extra cost and allow the vehicle owner to choose their own custom license plate number. The number must be six characters and can only include letters and numbers (no spaces or special characters).