Florida License Plate Lookup
Looking to find a vehicle owner's details of a Florida (FL) vehicle? Maybe you want to check if the car has ever been in an accident, or perhaps you're looking to report a bad driver. You aren't alone. Every 30 seconds, there is a vehicle crash in Florida and the numbers are rising.
Did you know? As per 2020 data, Florida had over 17,712,856 registered vehicles and 17,981,457 licensed drivers, indicating a clear rise in vehicle ownership and movement. However, there were 341,399 vehicle crashes involving 569,182 drivers in the same year, including 92,247 hit-and-run crashes. While the crash statistics are quite close to the national average, those numbers are still mind-boggling.
Florida license plate lookup serves many purposes. Using the lookup tool, one can find vehicle title records, check accident or service history, and find the vehicle owner information (with a valid reason).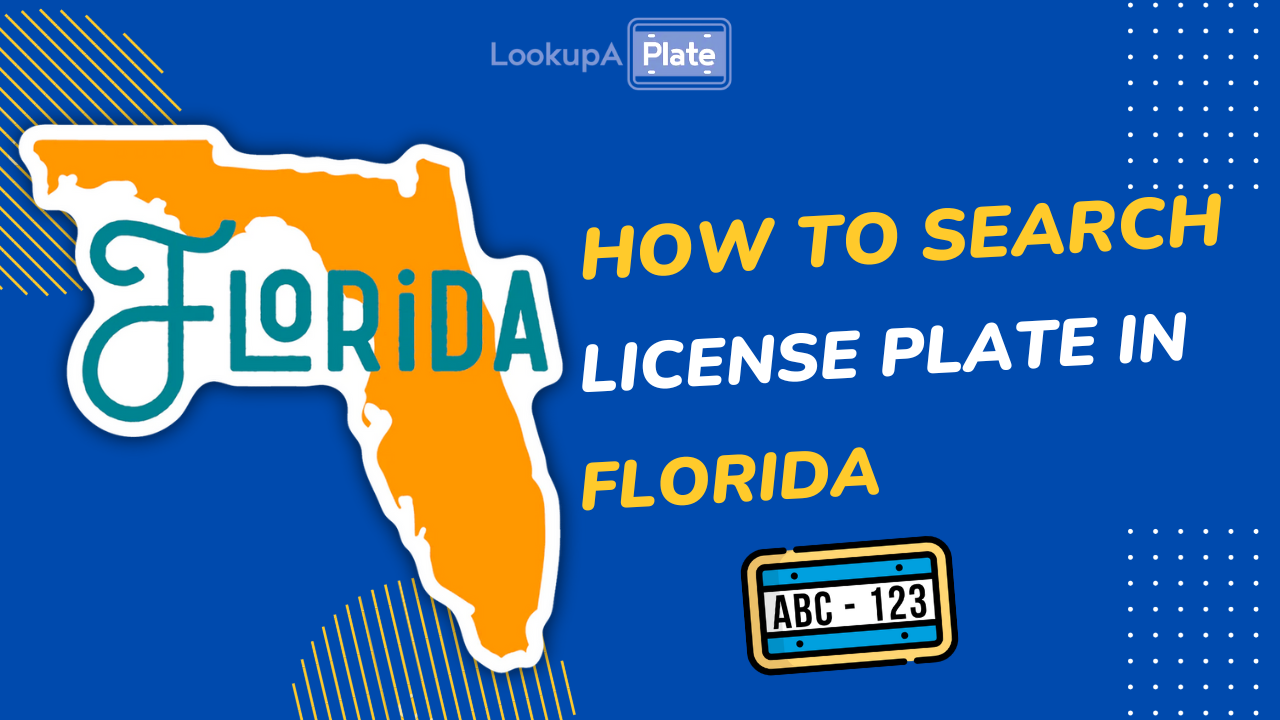 Ways to lookup a Florida License Plate
1) In the state of Florida, the Florida Highway Safety and Motor Vehicles (or FLHSMV) maintain license plate records. If you have a valid reason (as per the DPPA act), you can directly request licence plate owner details from the DMV. However, make a note that this process is usually the lengthiest.
Here are the contact details of the DMV.
Phone number: (850) 617-2000
Address: License Section, 2900 Apalachee Parkway, Room A312 – MS 65, Tallahassee, Florida 32399.
2) Our website LookupAPlate.com allows you to view basic vehicle information, submit feedback on vehicle owners driving, and request vehicle owner details using our third-party partner.
3) Hire a private investigator or agency to conduct vehicle owner lookup searches. Private investigators have special access to the DMV records and can run a licence plate search with a valid cause.
How to identify a Florida license plate?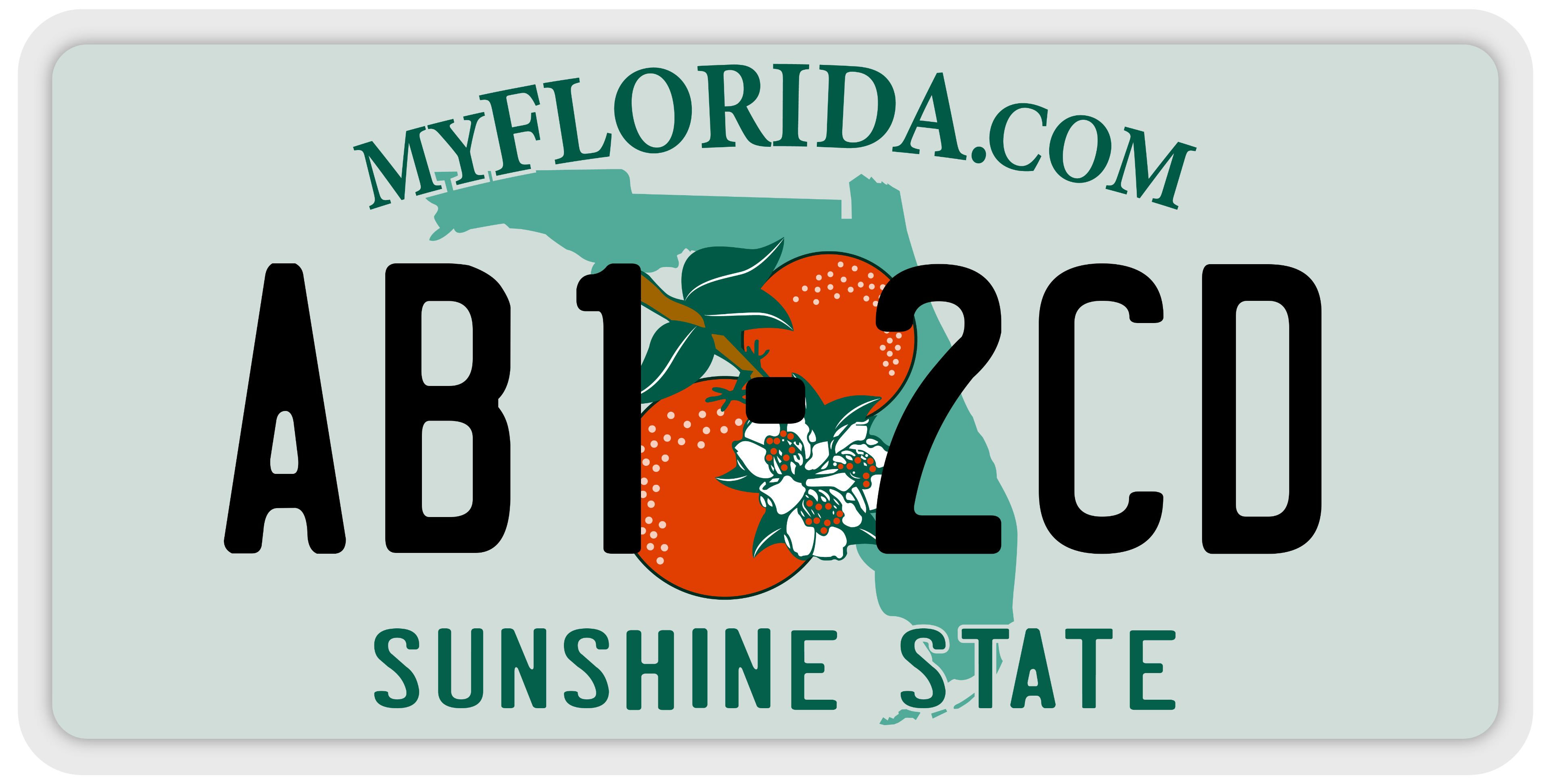 The Florida license plates measure 6" x 12" (same as standard American plates) and have a Florida state map with citrus orange in the background with myFLORIDA.com (with or without county name) written at the top and "Sunshine State" or "In God We Trust" printed at the bottom. The license plates are made of aluminium, and the tag number is embossed on the plate.
The license plates are issued by the Florida Department of Highway Safety and Motor Vehicles (often referred to as Florida DMV). Besides standard license plates, Florida DMV offers specialty license plates that allow you to show your support for something like the Florida State University Seminoles or the Miami Dolphins. Additionally, Florida also has a personalized license plate option that allows you to pick a registration number of your liking.
The Florida license plates are six characters in length and follow the following patterns:
PQ1 2RS
PQR S12
P12 3QR
12P QRS
Florida License Plate Laws
Florida law states that your vehicle's license plate must be attached in a "prominent place" on the rear of your car. The only exception to this is for older vehicles manufactured before July 1, 1972. If you own a car that was made before 1972, it is your choice whether to display a license plate on the back or not.
There is no requirement for the front license plate in Florida. The law only specifies that if a front license plate is present, it must display valid registration information and be firmly attached to the vehicle.
Types of License Plates
Apart from the common standard plates, the Florida DMV has over 100 specialty plates designs on offer. From supporting charities to showing off your alma mater or affiliation with the military or any organisation, there are plenty of options to choose from.
Additionally, you also have the option of a personalized plate (also known as a vanity plate), where you can pick any combination of 7 characters plus space or a hyphen. This is subject to approval from the state and availability. To check for plate availability, use this link.
STANDARD
Sunshine State
County Name
In God We Trust (State Motto)
SPECIALTY - COLLEGIATE
Advent Health University
Ave Maria University
Barry University
Beacon College
Bethune-Cookman University
Eckerd College
Edward Waters University
Embry-Riddle Aeronautical University
Everglades University
Flagler College Florida
A&M University Florida
Atlantic University
Florida College
Florida Gulf Coast University
Florida Institute of Technology
Florida International University
Florida Memorial University
Florida Southern College
Florida State University
Hodges University
Jacksonville University
Etc.
SPECIALTY - ENVIRONMENTAL/WILDLIFE
Animal Friend
Aquaculture
Conserve Florida's Fisheries
Conserve Wildlife Discover
Florida's Horses Discover
Florida's Oceans
Endless Summer
Explore Off Road
Explore Our State Parks
Everglades River of Grass
Fish Florida
Go Fishing (Largemouth Bass)
Helping Sea Turtles
Survive Indian River
Lagoon Protect
Florida Springs Protect
Florida Whales Protect
Our Oceans Protect
Our Reefs Protect the Panther
Etc.
SPECIALTY - MILITARY
American Legion
Salutes Veterans
Support Our Troops
U.S. Air Force
U.S. Army
U.S. Coast Guard
U.S. Marine Corps
U.S. Navy Blue Angels
SPECIALTY - SPORTS
Florida Panthers (NHL)
Golf Capital of the World
Jacksonville Jaguars (NFL)
Miami Dolphins (NFL)
Miami Heat (NBA)
Miami Marlins (MLB)
NASCAR Orlando Magic (NBA)
Play Tennis
Police Athletic League
Share the Road
Support Florida Special Olympics
Tampa Bay Rays (MLB)
Tampa Bay Buccaneers (NFL)
Tampa Bay Lightning (NHL)
Etc.
SPECIALTY - SPECIAL INTEREST
A State of Vision
Agricultural Education
Agriculture
America the Beautiful
Big Brothers Big Sisters
Choose Life
End Breast Cancer
Fallen Law Enforcement officers
Challenger - Columbia
Family First
Family Values
Florida Sheriffs Association
Etc.
SPECIAL - COMMERCIAL VEHICLE
Apportioned "IRP"
Fleet Heavy Truck (Dual Plates)
Permanent Trailer
Restricted Transporter Wrecker (Standard)
Wrecker (Gross Vehicle Weight)
SPECIAL - DISABLED PERSON
Disabled Person (Wheelchair Symbol)
Disabled Veteran
Disabled Paralyzed
Veterans of America