District of Columbia License Plate Lookup
You might want to conduct a District of Columbia license plate search for several reasons. Maybe you're considering purchasing a used car and want to check the vehicle's history to see if it's ever stolen or has a salvage record. Or, perhaps, you're trying to track down the owner of a car that hit you and drove off. If it's the former, the process is pretty straightforward, but if it's the latter, it's a little more complicated (more on that below).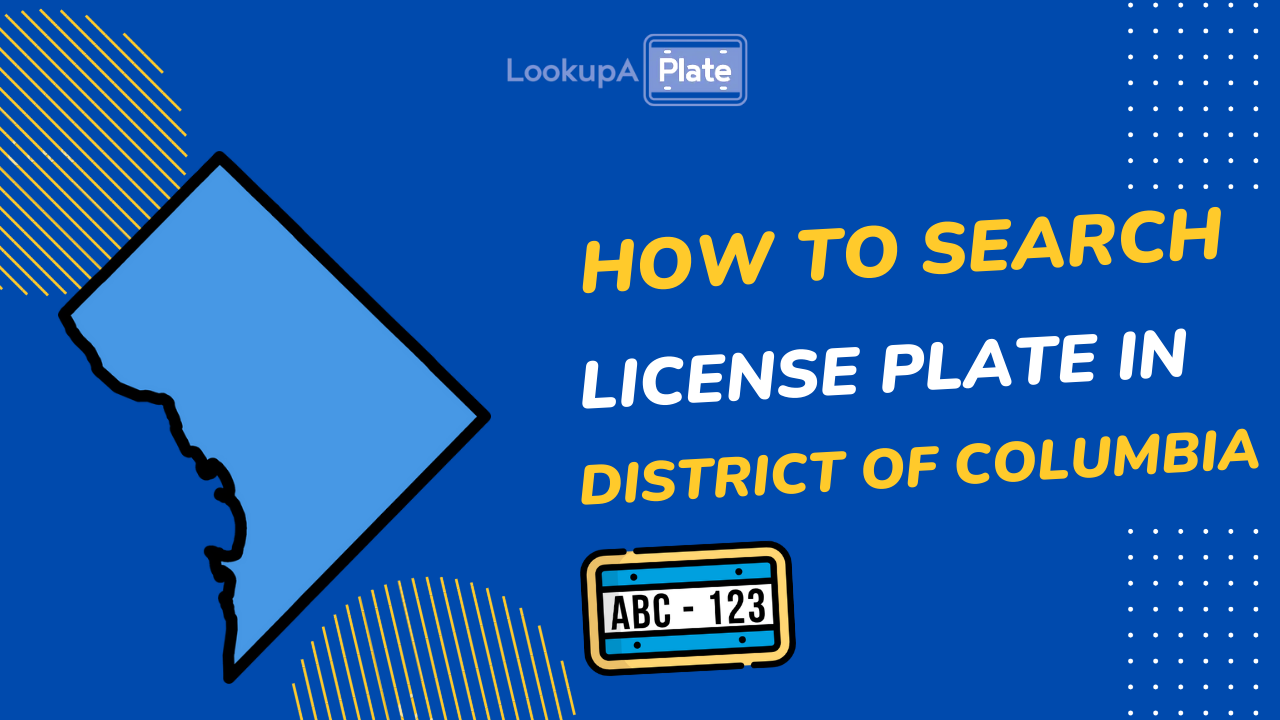 How to Conduct District of Columbia (DC) License Plate Lookup
There are a couple of ways to conduct a license plate lookup in the District of Columbia, depending on whether you need owner-related or vehicle information.
1) DC DMV
The District of Columbia Department of Motor Vehicles (DC DMV) maintains records of all registered vehicles in the district. This includes information on the vehicle's owner, such as their name and address. However, to protect vehicle owners' privacy, the DC DMV releases this information to authorized individuals and agencies as defined under the federal Driver's Privacy Protection Act (DPPA).
However, if you think you have a valid reason, you can request the details online, over the mail or directly walking to one of the DMV centres.
Phone: (202) 737-4404
TTY: 711
Online request: https://mydvasupport.zendesk.com/hc/en-us/requests/new?ticket_form_id=5917311022103
Mailing Address:
DC DMV
Attn: Driver Record
PO Box 90120
Washington, DC 20090
DMV Centers:
Georgetown Service Center
3270 M Street, NW
Canal Level – Suite C200
Washington, DC 20007
Rhode Island Service Center
2350 Washington Place, NE
Suite 112N
Washington, DC 20018
Southwest Service Center
95 M Street, SW
Washington, DC 20024
Benning Ridge Service Center
4525 Benning Road, SE
Washington, DC 20019
2) Third-party, public record search services
Public record services collate data from multiple sources and usually offer more compressive vehicle history reports, including sales, lien and title records. Some services might be free, but the better ones come at a fee.
3) LookupAPlate.com
You can search for the license plate for free on our website and check or leave a report against the plate.
What does a District of Columbia license plate look like?
Vehicle license plates in the District of Columbia feature a white background with blue lettering. The plate includes the state name, "District of Columbia," and the state motto, "Taxation Without Representation." The plate also features the state's official flag in red in the center. The license number is screen printed in blue in the center of the plate. The size of the plate is 6 inches by 12 inches.
The current series, which was introduced in August 2017, is six characters long, with the first two characters being letters and the remaining four characters being numbers.
Types of License plates or tags in the District of Columbia
In the District of Columbia, there are multiple types of license plates available for purchase.
1) Standard tag: By default, all vehicles get an "End Taxation Without Representation" license tag unless the vehicle owner opts out.
2) Membership Organization Tags: Members of certain organizations or alums of certain colleges and universities can purchase license tags representing their affiliation.
3) Specialty license tags: License tags that support specific causes or represent specific interest groups are also available for purchase, like veteran support, environmentalism, or breast cancer awareness.
4) Personalized license plate: For an additional fee, vehicle owners can select a personalized registration plate with up to 7 characters (5 for motorcycles) as long as the plate is not offensive and is not already in use.
5) Temporary license plate: A temporary license plate is available for those who have recently purchased a vehicle. The temporary plate is valid for 45 days.