Connecticut License Plate Lookup
Are you looking for information on how to lookup a license plate in Connecticut? You may be in the process of buying a used car and are looking to verify title records, or you may be trying to find information about a suspicious vehicle in your neighbourhood.
A typical license plate lookup can help you find the following:
Make, Model & Year
Vehicle Identification Number (VIN)
Odometer tampering
Vehicle Details
Vehicle Specs
Title Records
Recalls & Defects
Current Owners
Past Owners
Public Records
And More'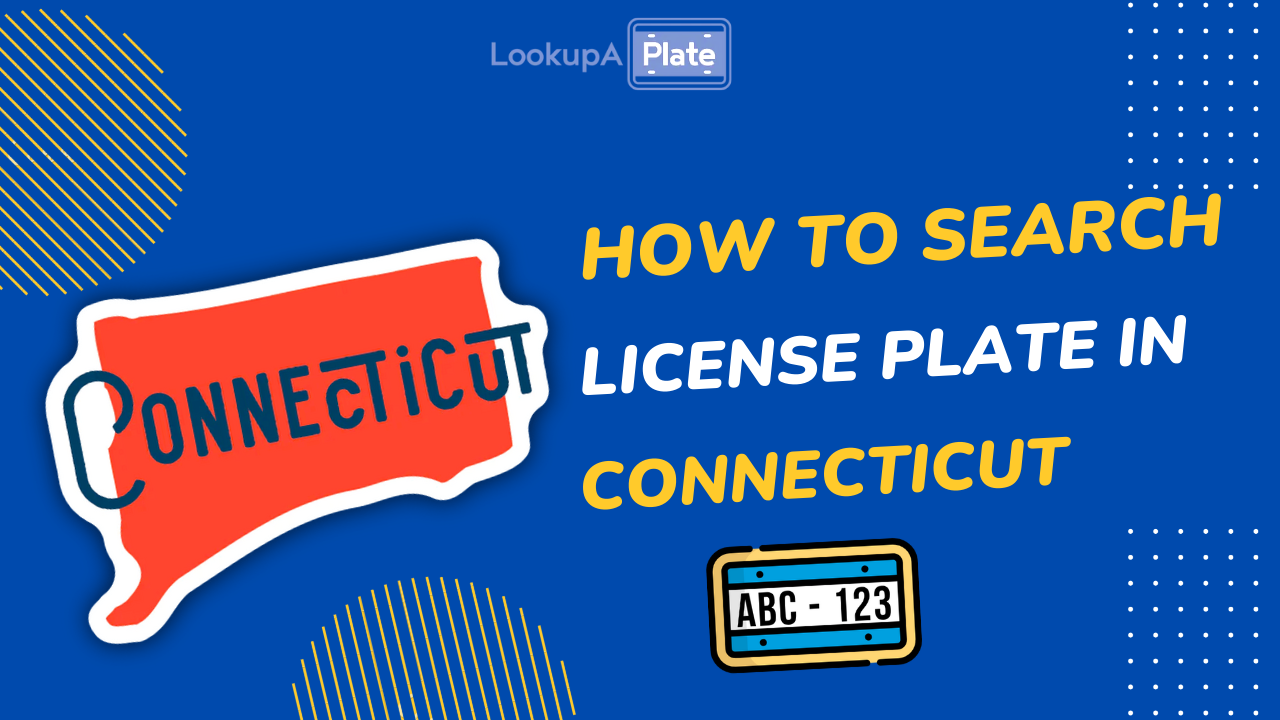 How to Search a Connecticut (CT) License Plate?
Depending on what kind of information you are looking for, there are a few different ways you can go about searching for a license plate in Connecticut:
1) Connecticut Department of Motor Vehicles (DMV)
The DMV is always a good place to start when you need to find information about a vehicle or license plate. The DMV offers a tool to verify the license plate, which can help you find basic information about the vehicle, like the type and till when the license is valid.
The personal information of the license plate owner is protected under the DPPA (Driver's Privacy Protection Act). Still, for specific purposes like law enforcement or with a court order, this PII (Personallly Identifiable Information) can be released. If you have a valid reason, you can mail your request to the DMV or reach out over the phone.
Mailing Address:
DEPARTMENT OF MOTOR VEHICLES
60 State St.
Wethersfield, CT 06161
Email [email protected]
Phone:
860-263-5700 (within Hartford area or outside of Connecticut)
800-842-8222 (elsewhere in Connecticut)
2) Public records services
Third-party public record services source their data from public and private sources and can give you certain information about the vehicle which DMV records might not have. The whole process is online, takes a few clicks and may take a few minutes. The report generally highlights vehicle history like service history, reported accidents, title records etc. Select service may also be to find vehicle owner details as long as you have got a permissible reason.
However, remember that not all public record services are free, and some services might not be entirely reliable.
3) Our offering: LookupAPlate.com
You can use our free license plate lookup tool to search for vehicle information in Connecticut and other US states. The basic search yields, vehicle specs and any community-reported incidents.
If you see someone driving rashly on the street or see someone suspicious, you can also search for the license plate on our website. You can put a report against the plate [commnets, pictures and videos], which is publicly visible and may help fellow drivers.
What Does a Connecticut License Plate Look Like?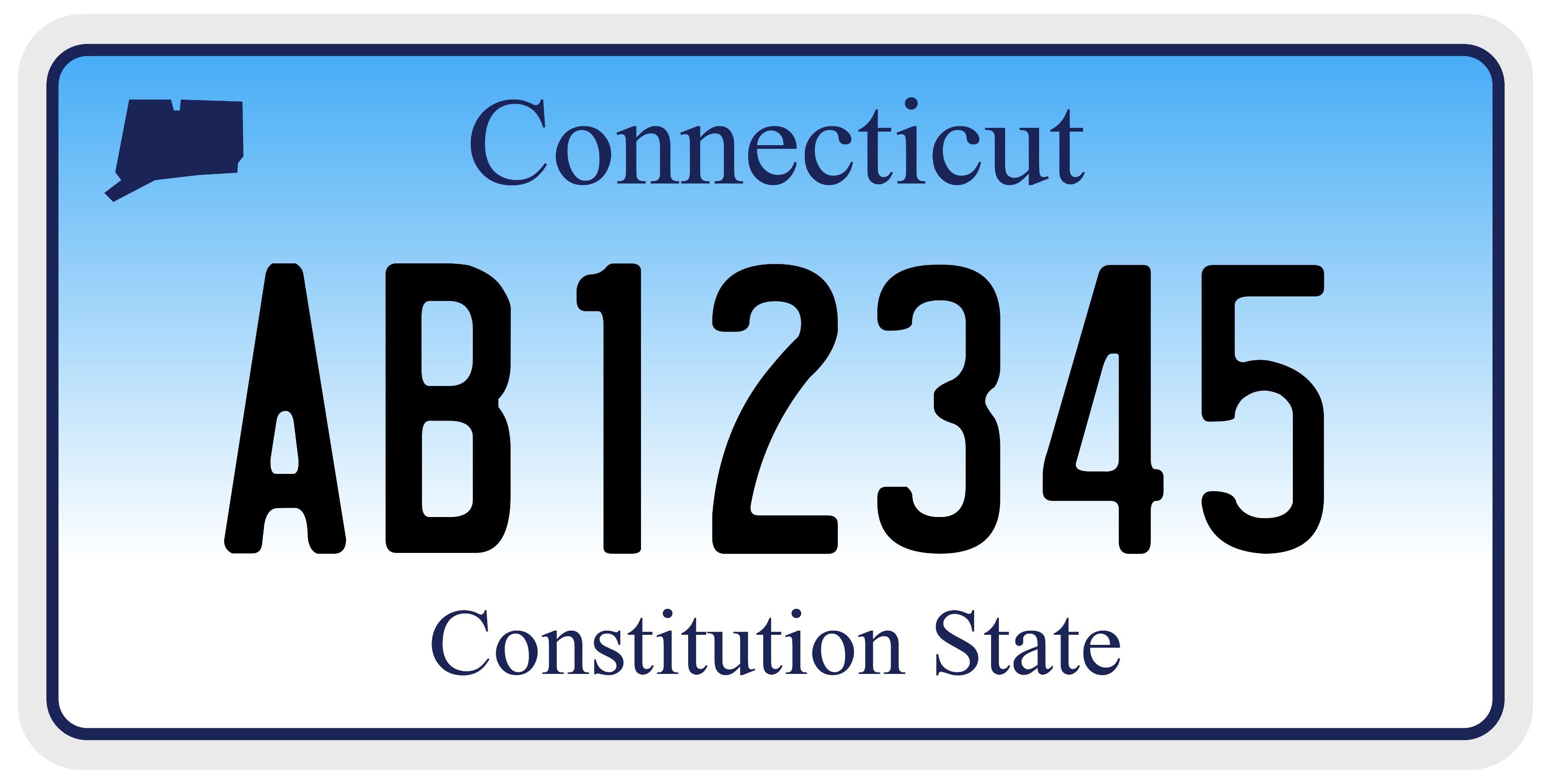 The current standard issue Connecticut license plate features the state name "Connecticut" at the top, with "Constitution State" at the bottom. The plate has a blue and white gradient background with a small solid blue color state map located at the top left center of the plate. The license number is embossed in dark blue color at the center of the plate.
The license or registration number is seven characters long and is typically made up of two letters followed by five digits. However, the license serial number can be customized for a fee as long as it is still seven characters in length. The current series was introduced on January 1, 2000.
Types of License Plates in Connecticut:
There are three types of licenses plates in Connecticut:
Standard: The standard license plate is what most people have. It has the state name, slogan, and a gradient blue and white background.
Specialty plates: Specialty license plates can be purchased for an additional fee and support various causes or organizations. Some specialty plates have different graphics, while others may have different bottom slogans.
Vanity plates: One can further customize their specialty or standard plates by choosing the license number of their liking, subject to availability.
Specialty Plates in Connecticut:
Connecticut DMV probably offers the most specialty license plate designs of any state, with over ten categories and over 100 license plate designs.
One can choose from the following categories:
Cities and towns
College plates
Environmental- Special Interest Plates
Military plates
Recreational Style Plates
Police and Fire Organization Plates
Plates for Organizations with Varied Interests
Organization Plates