California License Plate Lookup
Do you need to find information about a vehicle in California? Perhaps you're thinking of buying a used car and want to check the service or accident history. Perhaps you want to ensure that the vehicle doesn't have any outstanding tickets or warrants. Or maybe you're just curious about who owns a certain car. Whatever the reason, doing a license plate lookup in California is a quick and easy way to get the information you need. In this article, we'll discuss what are your options as well as the limitations of the search.
Did you know?
As of 2019, there were 31,247,270 registered vehicles in California, which accounts for 11.3% of total vehicles in America. This includes 15,443,454 trucks, 14,894,912 automobiles, 808,377 motorcycles and 100,526 buses. There were 27,213,650 licensed drivers in California in the same year, equalling 11.9% of the national total.
California has the highest fatal car crash rate in America with a crash reported every 3 minutes.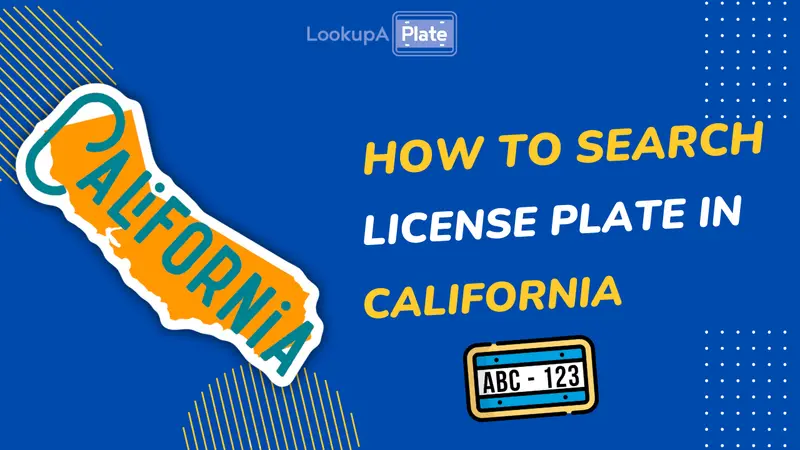 Ways to Look Up a California License Plate
Due to the state's stringent rules cited above, there are only a few ways to legally look up a license plate and its owner. But, it is not impossible.
There are fewer regulations regarding the vehicle's data than the owner, and information is more readily available in these cases.
1. California Department of Motor Vehicles (DMV)
The DPPA stands for the "Driver's Privacy Protection Act." The DPPA requires the DMV of California to protect a person's private data. This Act ensures that personal information, such as Social Security Numbers and home addresses, is not carelessly released.
This private data is only released to government officials with a subpoena or authorization in California. This means even a police officer is barred from this information without court authorization.
It is possible to access private data with a license plate number. But, you need to be sure you are seeking it by legal means. The California DMV provides request forms that you can fill out and either email or mail to the respective office. Or you can request the information by calling: (916) 657-8098.
There is a $5.00 fee for in-person and mailed forms. You can send your requests to:
DMV Information Release Unit
MS G199
PO Box 944247
Sacramento, CA 94244-2470
The online form is available on the DMV website. There are two online forms. One is for requesting a personal driver's license copy, and the other is for requesting information on someone else. For other people, use this form here on the DMV website.
2. Private Investigator
In California, private investigators are not permitted access to sensitive personal information. Therefore, while the DMV can provide them with information regarding the vehicle (citations, accidents, etc.), they cannot give the address.
Private investigators may be capable of finding the whereabouts of your person of interest, perhaps by snooping around neighbourhoods. But, they won't receive this information simply by providing the license plate number to the DMV.
Only private investigators working for insurance companies or the government may be granted personal information. It depends on the purpose of the search and the authorization they have.
3. Free and Paid Online VIN/License Search
You can use free and paid online services to perform your private vehicle research. These databases usually have access to dealership networks, repair shops, several vehicle marketplaces and public sources. Such services usually yield comprehensive vehicle history, which may include service history, odometer reading, any reported accidents and more. Some services may also be able to fetch the vehicle owner's details, provided you have a valid cause.
How to Identify a California License Plate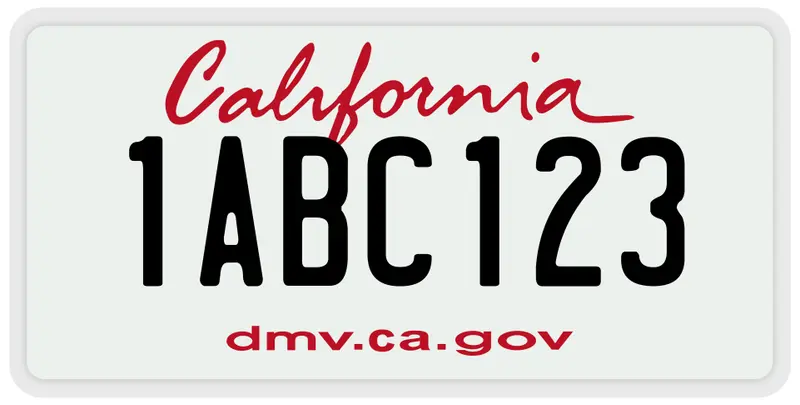 California has been issuing and requiring license plates since 1905. Back then, the plates were primarily identified by the state's name inscription on the bottom.
Plates issued in 1963 are still permitted on the roadways. These can be identified with their plain black background and golden letters/numbers. Over the years, the plates have become more distinct and elaborate.
In 1998, the inscription "California" across the top of the plate was changed to script (and has been retained to this day). The state's name is still written in red cursive script across the top. Also, the black background of the '60s has been switched to a white background.
Today, non-specialty California license plates are identified by several distinguishing factors, including:
California License Plate Laws
California requires all private or commercial automobiles to have an official plate affixed to the front and back. The only exceptions are trailers, motorcycles, and authorized vehicles. They must be displayed, unobscured, and undamaged.
All state license plates issued on or after 1963 are considered valid today. Earlier plates are no longer accepted. The registration sticker is an important and unique aspect of the California license plate.
After renewing your registration every year, you will get a decal sticker. This sticker must be affixed to the corner of both the front and back license plate. Without this, your vehicle is not authorized.
California License Plate Cost
Your fees will vary based on your local city regulations. According to the California state website, you can use the estimation tool they provide to help you find the total costs.
The cost of getting a license plate does not stop with the purchase of the plate. You must pay for:
On average, you can expect to pay anywhere from $20-$30 for your license plate. If you choose a specialized plate, the fees may be higher due to the specialization or donation.
Type of License Plates Available in California
Above, we described how to identify general California license plates. Note that the physical appearance can vary if they are specialized plates. There are eight different types of license plates.
Here's a list of license plates available in California:
General plates

Specialized plates for a cause

Disability plates

Special plates for acknowledgment of services

Decal authorized vehicles (motorcycles, etc.)

Green vehicles
Specialized plates have charities and other causes displayed in some manner on the plate itself. A portion of the fees goes to support your cause.
Acknowledgment plates are presented to those who have significantly contributed to society. These include decorated war heroes and other virtuous individuals.