Arkansas License Plate Lookup
Running an Arkansas license plate number search can help find details about the vehicle, lien records, title records, maintenance history, sale history and much more. The information can be particularly helpful when buying a used car or wanting to know more about a passing vehicle.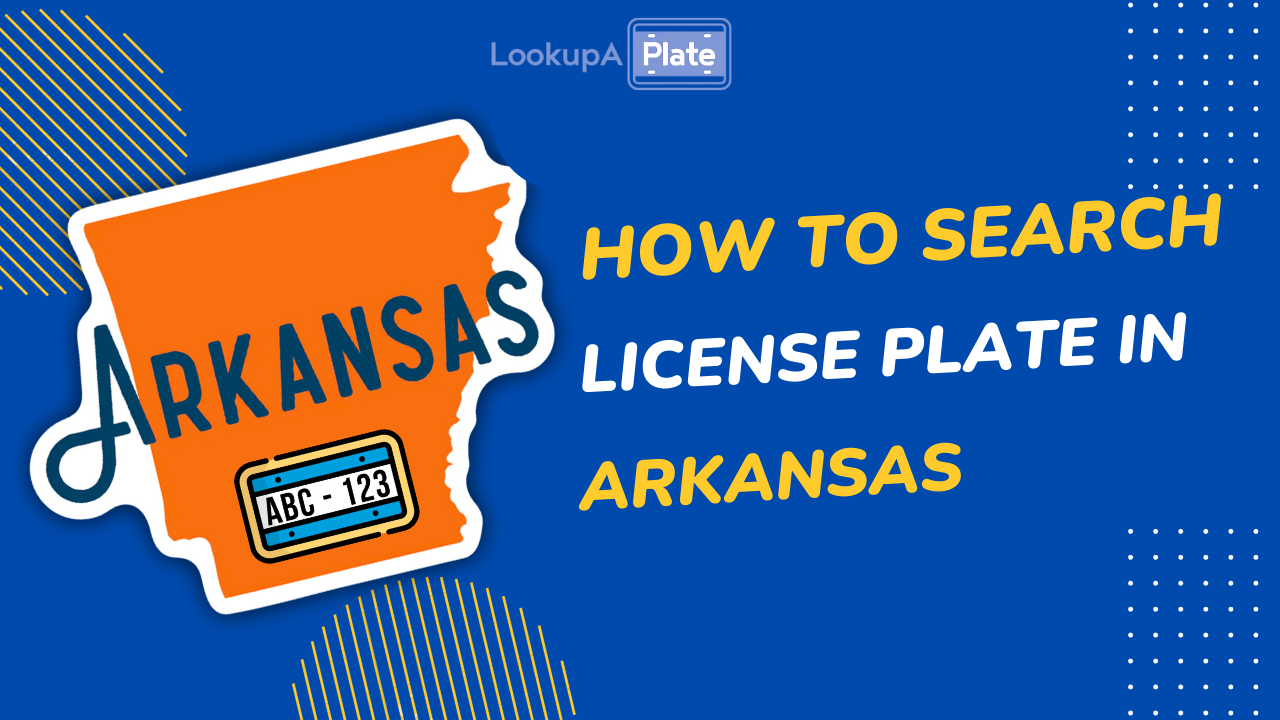 How Search Arkansas (AR) License Plates
Depending on what your purpose is and what information you're seeking, there are a few different ways you can go about the search.
1) MyDMV Arkansas
The DMV (sub-department of the Arkansas Department of Finance and Administration) maintains records of all vehicles registered in the state, including violations and crash reports. For valid reasons as defined under the DPPA (Data Privacy and Protection Act), you can request the DMV for a license plate report that may include the owner's name, address, and other contact information. The request can be made online through the MyDMV Arkansas, at any Arkansas Revenue Office, or by Mail.
The cost per report is $10 online and $8.50 offline (mail or in-person).
Form: https://www.dfa.arkansas.gov/images/uploads/driverServicesOffice/Requestor_Form-2022.pdf
Department of Finance and Administration
PO Box 1272 Room 1130
Little Rock, AR 72203-1272
Phone: (501) 682-7204
For online requests, you need to create an account with the "Subscriber Services Portal" - Link. There is a yearly fee of $150 for using the service.
For clarification, you can reach out to the DMV at:
2) Public record databases (Free/Paid)
Several public record websites allow you to search for a license plate number owner. These services usually source their information from NHTSA, dealership networks, repair shops and other private databases. The main advantage of searching through a public record website is that it's quick, easy and completely online.
You can find vehicle-specific information such as make, model, year, sale records, maintenance history and a whole lot more. However, if you're looking for the owner's personal information, you would need a DPPA-compliant reason to request the details.
3) LookupAPlate.com
If you were in a hit-and-run or encountered a bad driver, you can search for the vehicle on our website. You will need to enter the license plate number and state, then choose whether you want to look up the tag or submit an online report (Video, comment or image).
What Does an Arkansas License Plate Look Like?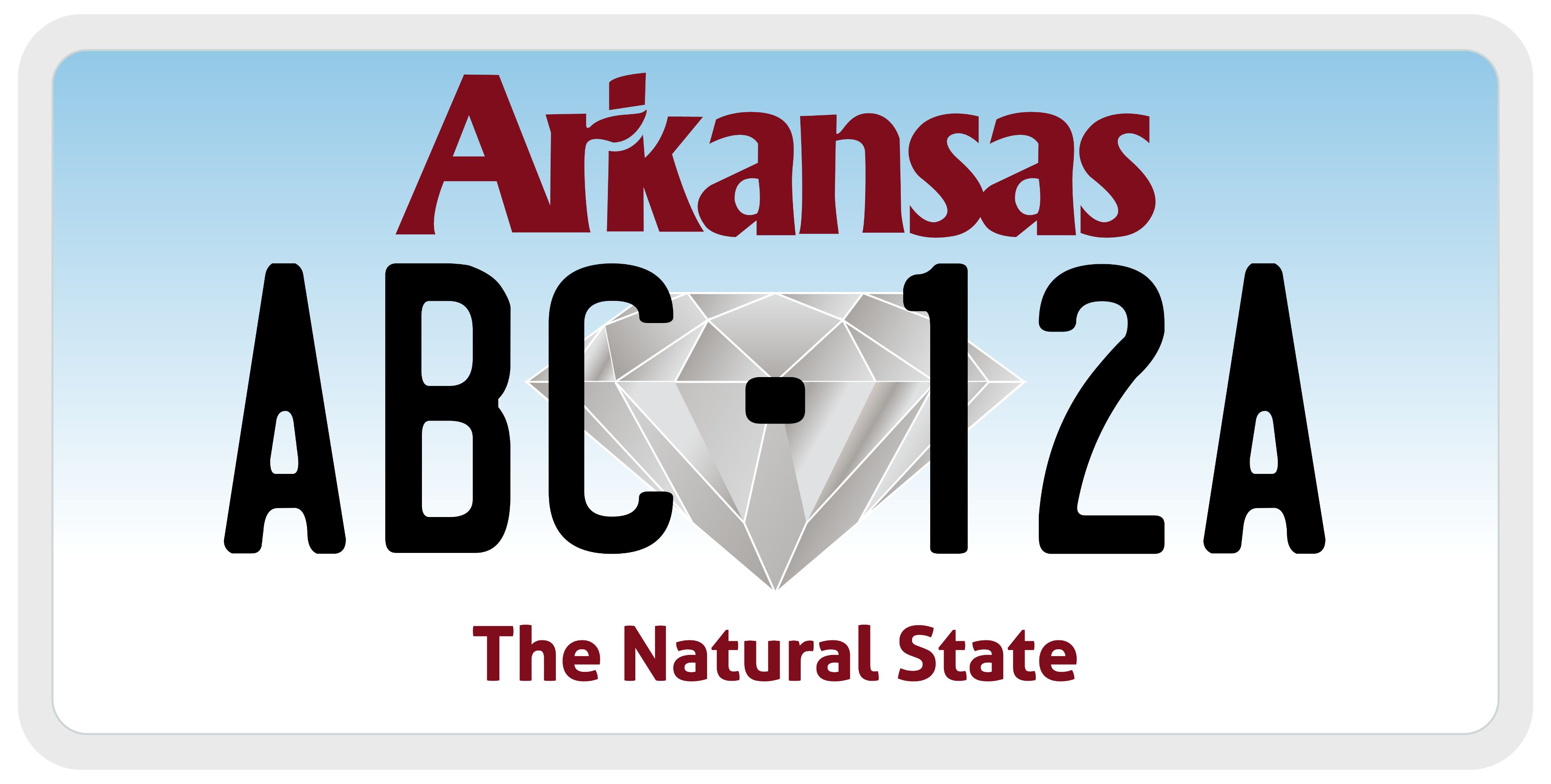 The license plates in Arkansas have a blue and white background with a silver color diamond in the center. The word "Arkansas" is written across the top of the plate, while the bottom of the plate typically reads "Natural State." The bottom slogan varies if one opts for a vanity plate. The license plate measures 6 inches by 12 inches, which is also a standard size for license plates in the United States.
The license number on the Arkansas license plate is embossed in black and follows an "ABC 12A" format. The number starts with three letters followed by a space and then two numbers followed by a letter. The current license number series was introduced on March 1, 2006.
Types of License Plates in Arkansas:
Besides the standard license plates, one can choose from about 150 personalized license plate designs in Arkansas. Clearly, there are plenty of license plate options in Arkansas!
Some of the license types include:
Standard: This is the default license plate design in Arkansas. The background is blue and white with a silver diamond in the center.
College: Arkansas offers 23 different college license plates. Each design is different and features the name and logo of the school.
Persons With Disabilities: This license plate is available to Arkansas residents with a qualifying disability.
Military: Those with military affiliations can choose from a variety of different license plates. From the armed forces to Vietnam war veterans, there are plenty of options to choose from.
Special Interest: These plates are for non-profit organizations, environmental causes, and other special interest groups.
Arkansas License Plate Laws & Regulations
All vehicles registered in Arkansas must have a license plate such that it is clearly visible at all times. Arkansas is among the 22 states in America which require the license plate to be shown only on the rear of the vehicle.