Arizona License Plate Lookup
Do you need to perform an Arizona license plate lookup? Maybe you've recently been in a hit-and-run accident and need to track the vehicle's details, or you want to ensure a car for sale isn't stolen. Either way, to avoid being caught off guard, you need to know more about the car in question – vehicle specifications, previous owners, odometer readings, etc.
Here we will discuss the different methods available to you and provide step-by-step instructions on conducting an Arizona license plate search.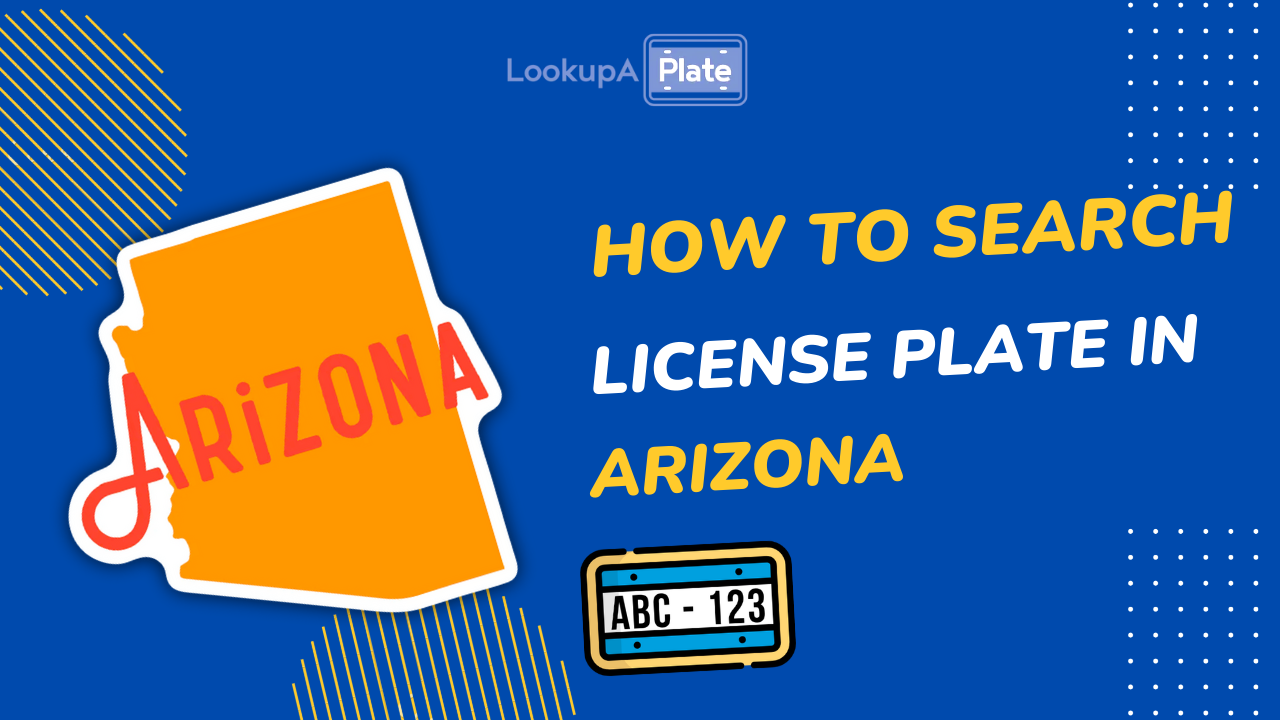 How to Look Up a License Plate in Arizona
There are three main ways to search up a license plate in Arizona:
1) Arizona Department of Transportation, Motor Vehicle Division
Arizona DOT's Motor Vehicle Division (MVD) is responsible for the registration, titling and record-keeping of all vehicles registered in the state. While the MVD has license plate records, it only releases them to authorized individuals, for permission reasons and under certain circumstances. The federal DPPA (Driver's Privacy Protection Act) prohibits MVD from releasing Motor Vehicle Records (MVR) information to just anyone.
If you're eligible, you can request the records online by registering at https://azmvdnow.gov/home. You can also fill out the following form and either mail it or bring it MVD office in person.
When filing your request, you must take care to abide by the strict DPPA laws and provide a legitimate, legally sound reason for making the request.
That being said, according to Arizona's Department of Transportation, below are the only permitted reasons for looking up a license plate:
For market research (including surveys)
If you're a private investigator
To acquire a copy of your record
If requested by a government agency or court
For an insurance company that insures that vehicle
For an employer (with signed consent from the owner)
Anyone else with a signed consent form can obtain a copy
If notifying someone of an impound or abandoned vehicle
Toll services can receive a copy
When requested by a company for the purpose of a CDL license
A copy can be granted to a business to verify the accuracy of personal information to collect a debt
Other (with approval upon request)
Contact details:
AZDOT's office hotline is: 602.255.0072
Hearing/speech impaired hotline service: 602.712.3222
Hours: Monday-Friday (excluding state holidays): 08:00 – 16:30
2) Online lookup services
There are several services that allow you to look up vehicle information using the license plate number for a nominal fee ($5 to $20). These services usually source data from public, private and proprietor sources and fetch the results in seconds. Usually, the reports include comprehensive vehicle history, service history, whether the vehicle was in an accident or ever reported stolen and more. You can also request the vehicle owner's details as long as you have an acceptable reason.
We can't recommend any particular service, but we'd like to chime in that LookupAPlate allows you to search for license plates in Arizona and others states in the US for free. You can view basic vehicle details like the make, model and other specs. You can also request a comprehensive report from our partner data vendors.
3) Private investigator
As your last – and most expensive – resort, you can hire a private investigator to track down the information. This has the potential to yield the desired results the fastest, especially if your search is sensitive, in which case it's wiser to hire a licensed professional to handle it.
Identifying Arizona License Plates: Standard vs. Specialised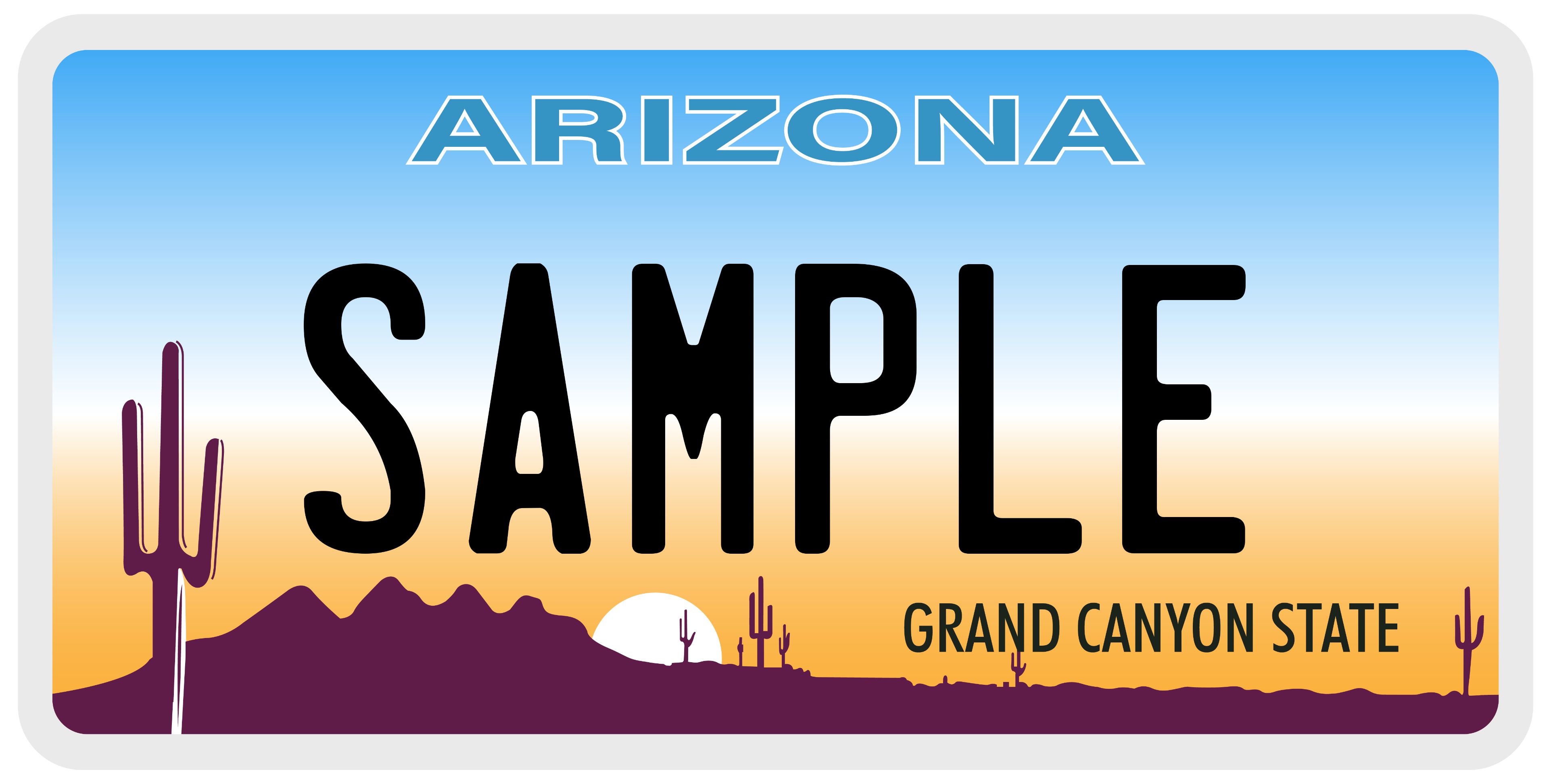 The standard license plate in Arizona carries the title of "Grand Canyon State" over a majestic scene of a sun setting behind mountains. You may also find specialty license plates that come in designs associated with:
Organizational & Charity License Plates
Military License Plates
Historic & Classic Car License Plates
Arizona License Plate Cost and Fees
You can title and register your vehicle at the Arizona MVD. The fees are:
Register: $8
Title: $4
Air Quality Research: $1.50
Fees for a permit to bring your vehicle to the MVD:
3-Day Permit: $1.5090
Day Registration Fee: $15
In Arizona, you are expected to pay a license tax for registering or renewing a vehicle. You will be charged in increments of $100 using these rates:
Alt. Fuel Vehicles: $4
New Vehicles: $2.80
Used Vehicles: $2.89
The way this tax is evaluated is by determining your vehicle's value. It will be calculated using 60% of the manufacturer's retail price. Each year you renew your vehicle, the cost will be lowered by 16.25% to reflect depreciation.
Note: Those purchasing specialized or personalized plates will accrue additional fees.