Alaska License Plate Search
Looking for information on how to look up a license plate in Alaska? You may be buying a used car from a dealership or a private seller and want to do a bit of research on the vehicle's history. Or maybe there is a stolen or suspicious vehicle in your neighbourhood. Whatever the reason, an Alaska license plate lookup may help you find the answers you're looking for.
Did you know?
As per the 2020 IIHS report, Alaska ranks 12th in terms of the number of fatal crashes per capita.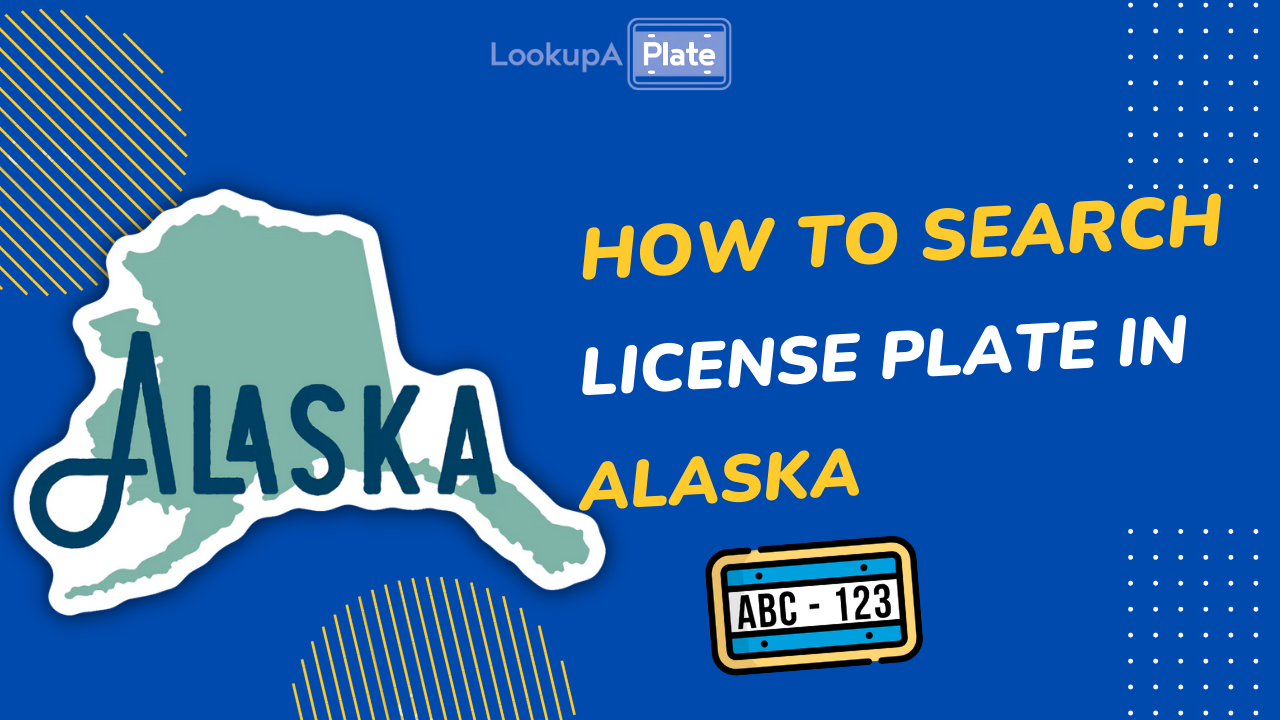 How To Search Alaska License Plates?
There are a few different ways to conduct a license plate search in the last frontier state.
1) The first and official way to request vehicle information is by filling out form 851 and submitting it to the State of Alaska Division of Motor Vehicles. You would need to provide the license plate number, a brief description of why you're requesting the information, as well as your contact information. The state charges a $10 fee for this service, and the report can be requested to be sent over email or mail.
The form can be sent to the following address:
3901 Old Seward Highway,
Ste 101 Anchorage,
AK 99503
Email: [email protected]
Fax: (907) 269-5202
Only authorized individuals like law enforcement officers, government agencies, licensed private investigators, and insurance companies can request personal information like name or address associated with vehicle registration.
2) Third-party lookups: You can also find vehicle information from third-party websites, some of which are free but may not offer as much in-depth information as the paid options. Third-party services usually have access to a wider range of data, including lien records, maintenance records, mileage history, and more. Such sites typically source their data from public sources like NMVTIS, private databases and dealership network. While there is no guarantee, you might be able to find out about the vehicle owner's information with a little bit of digging.
3) Private investigator: Licensed private investigators in Alaska can also help you conduct a license plate search and provide you with detailed information about the vehicle and the owner if you have a valid cause.
What is an Alaska license plate?
An Alaska license plate is a unique identifier for each vehicle registered in the state (AK Stat § 28.10.161). Upon registration, every vehicle is assigned a license plate number, which must be displayed on the rear of the vehicle along with the validation sticker. The license plate must be readable and unobstructed at all times. If a license plate is lost, damaged, or stolen, the owner must apply for a replacement from the state Division of Motor Vehicles.
How to identify an Alaska license plate?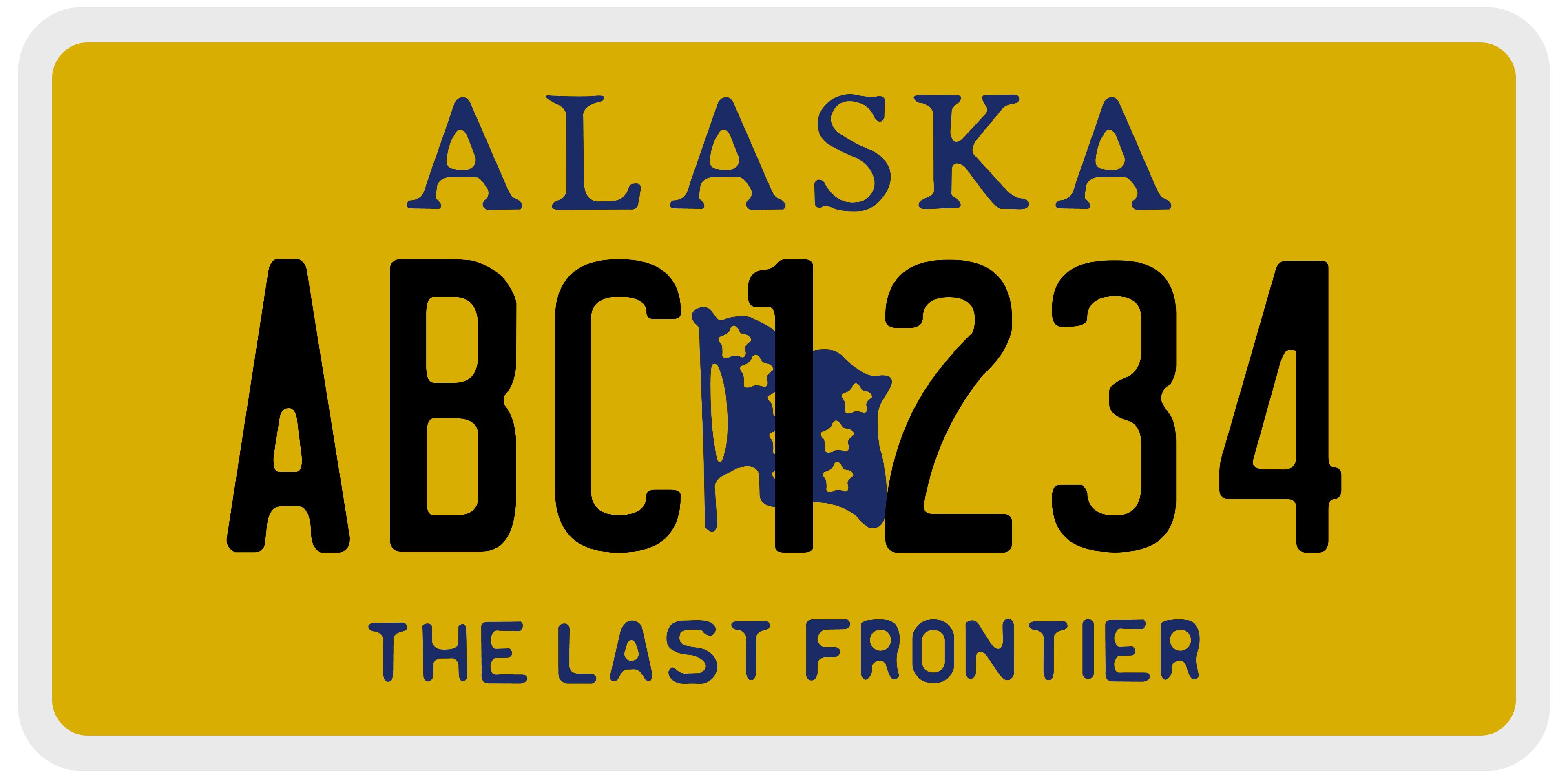 With the popularity of personalized license plates, it can be a bit tricky to identify state-issued license plates. Personalized plates have custom backgrounds and text, which can make it difficult to tell what state the vehicle is registered in
Standard Alaskan license vehicle plates measure 12"x6", just like most other states in America. The plate features a golden background with a state flag and has "Alaska" written at the top and "The Last Frontier" written at the bottom. The license plate number is embossed in the middle in blue colour. The license plate is only required to be shown on the rear of the vehicle.
The license number is six digits long and starts with three letters, and is followed by three numbers.
Alaska license plate format: ABC 123
The current series was introduced by the Alaska Department of Administration, Division of Motor Vehicles, in January 2010.
Alaska license plate types:
Besides the standard license plates, which are available to all vehicle owners in Alaska, there are also several different types of vanity plates that the state can issue. These include plates for disabled veterans, Air Force members, and more.
Standard plates:
Standard gold
Grizzly Bear
Supporting the art
Personalized/Vanity License Plates
Supporting the cause:
Alaska Children's Trust, Blood Bank of Alaska, Breast Cancer Awareness, Choose Life, National Rifle Association, Pro-Family, Pro-Choice, Support Our Troops, Veterans Commemorative
More information on personalized plates can be found here: https://doa.alaska.gov/dmv/plates/index.htm.
Applying for license plates in Alaska?
Whether you're buying a new or second-hand car, you'll need to register it with the Alaska DMV.
New Alaska residents have 10 days to title and register their out-of-state vehicles once they have residency or have started a job.
Alaska residents must register their vehicle (old or new) within 30 days of sale.
Most of the time, the dealer will take care of the paperwork, but if you're bringing an out-of-sate car, you must handle the registration process yourself.
If the DMV office is within 50 miles, the registration process can be done over mail, but if it is more than 50 miles, you will need to visit the office in person.
You will need the following:
Vehicle's title and registration
Fill out form 812 (Application for Title & Registration)
Proof of insurance
VIN inspection is to be done by an authorized DMV inspector
Required fees
The documents need to be mailed to:
State of Alaska
Division of Motor Vehicles
ATTN: CORRESPONDENCE
3901 Old Seward Highway, Suite 101
Anchorage, AK 99503
LookupAPlate - Report bad drivers
If finding the license plate owner is not your goal, but you still want to help make Alaska's roads safer, you can report bad drivers with LookupAPlate. You can submit your comment, pictures and videos anonymously. The information will be published against the license plate on the website post-verification and becomes part of the public record. Of course, the original poster will always stay anonymous, but the vehicle owner can respond to the reports.